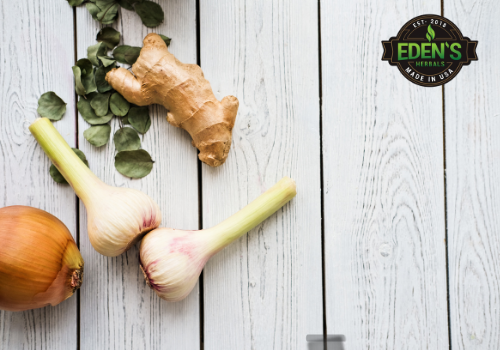 Are you looking for herbs to boost immune system?
Many people would like to do something, but they often don't know where to start.
Even if you take a daily multivitamin, you can still increase your immune support with specific dietary supplements and foods.
A diet rich in foods loaded with fresh and dried herbs will not only please your taste buds, but it can lower inflammation in your tissues and reduce your risk against the yearly cold or flu virus.
Here are our top five best herbs to boost immune system.
1. Turmeric
Turmeric is commonly found in Indian curries. Don't worry though. If you're not a fan of spicy food, you can still make a mild curry dish, and you can get better absorption of the product if you also incorporate just a pinch of black pepper.
For those who prefer something sweet, you can also gain the benefits of turmeric form a warm cup of turmeric milk or cider on a cold day.
When cold and flu season hits, having these recipe ingredients in place can allow you to fight inflammation and shorten the time your body has to suffer the symptoms of seasonal virus discomfort.
For those who love spicy foods but pay for it later with indigestion, experts recommend pairing your curry dinner with aloe vera juice or chamomile tea.
Those who struggle with IBS will want to take care. Use aloe vera juice to reduce the risk of constipation and chamomile tea if turmeric-based foods cause diarrhea.

2. Cinnamon
Cinnamon is extremely high in antioxidants, which help our bodies shed toxins known as free radicals.
Free radicals are unavoidable. Every breath we take and each bite we eat increases our risk of taking in toxins. As these toxins are broken down by our bodies, free radicals are released. Free radicals then travel around in our bloodstreams, causing tissue damage and inflammation.
While we can't avoid free radicals, we can get rid of them, protecting ourselves from the damage they may inflict. Antioxidants bind to these free radicals and carry them out of our bodies via our cleansing organs.
For those who struggle with blood sugar problems or are diagnosed with insulin resistance, the addition of cinnamon to your spice rack can be extremely beneficial.
Additionally, those who suffer from high levels of cardiac inflammation, including high blood pressure, can get wonderful benefits from this herb.
In much of the world, cinnamon is a spice to be added to sweet baked goods. To increase your use of cinnamon without upping your sugar intake, try using cinnamon as a savory spice.
There are many stews and roasted vegetables that can include the benefits of cinnamon for your heart and brain without having to increase your intake of white flour and sugar.

3. Ashwagandha
Ashwagandha is an herb that has long been an important part of Ayurvedic medicine.
Those who struggle with osteoarthritis and fluid retention have found great benefits from the effects of ashwagandha. Most people take this herb in capsule form.
It should be noted that ashwagandha is very high in iron and may cause mild upset if taken on an empty stomach. Additionally, this powdered herb is bitter and may leave an unpleasant taste in your mouth or cause nasty belches.
You can also use ashwagandha when cooking. Consider making up a batch of Grounding Trail Mix to use as a snack when you're hungry but don't have time to stop for a full meal.
Many users find that this herb has a sedating effect, so consider using it before bed to help you sleep deeply. It could easily be paired with your evening sublingual CBD dose.
If you are pregnant, breast-feeding, or on thyroid medications, don't use ashwagandha. Discuss this supplement with your doctor before adding it to your routine.

4. Garlic
Raw garlic is highly recommended as a way to reduce bacterial overgrowth, kill parasites, and ward off vampires.
And hey, even if you have no vampires in your neighborhood, this versatile little bulb is loaded with sulfuric compounds that fight infection with very little effort on your part.
Cooking garlic breaks down those sulfuric compounds, so for best results, you want to consume raw fresh garlic. Many find this is quite uncomfortable; garlic can burn your mouth and even irritate your esophagus.
To make it a bit easier, you can mix your raw garlic with a bit of olive oil, add mint leaves or fresh apple, or add lemon.
If you struggle with heartburn or reflux, you may do better to go ahead and cook your garlic or make a garlic tea to get most of the benefits without the discomfort.
5. Ginger
If garlic ties your tummy in knots, you may feel better after ingesting a bit of ginger. Not only is this rhizome useful in supporting weight loss and lowering cholesterol, but raw ginger, sliced and savored, can help to reduce chronic digestive upset and occasional nausea.
The main active ingredient in ginger is gingerol. Gingerol can be helpful in fighting oxidative stress and the inflammation commonly linked to dementia and heart disease.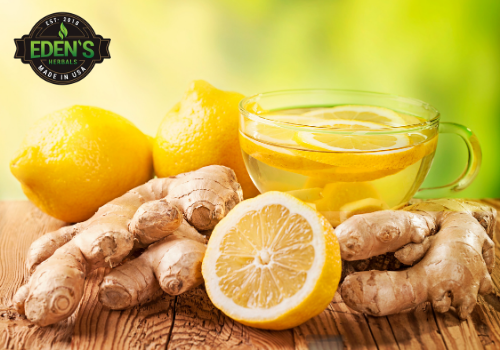 Raw ginger can also help you fight gum disease. Try not to take more than four grams per day, including the powdered ginger included in many recipes.
Like cinnamon, ginger is often used as a spice in the baking of sweet treats. Because sugar and white flour are not good for your immune system, consider adding a sprinkle or a slice of ginger to chicken dishes, roasted veggies dishes including grilled asparagus and salad dressings.
Unsweetened coconut and fresh pineapple can pair beautifully with fresh ginger for a delicious fruit salad.
Whether you choose to ingest fresh ginger or chow down on a clove of garlic, pay particular attention to your gut reaction. There are many folks who simply can't tolerate some products.
Consider keeping a journal of side effects to track your body's response to your ashwagandha supplement; you may be able to take a capsule with your dinner, put the sedative effects to full use and gain all the benefits with no bitter kickback.
With a bit of tracking and experimentation, you can find the perfect dosage to start naturally boosting your immune system today!
Want to learn more? Contact us at Eden's Herbals and we'd be happy to answer any questions you have!