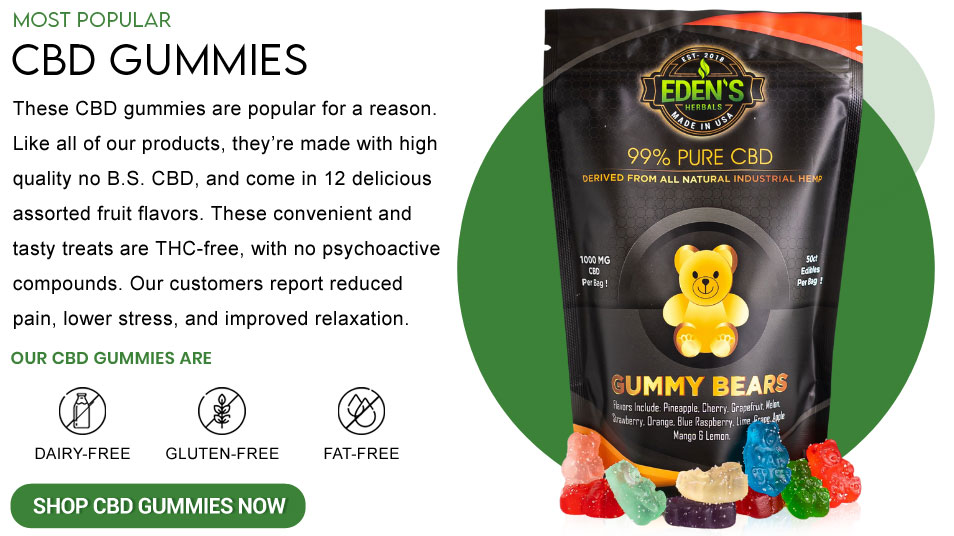 Eden's Herbals CBD Products
We'll make your online shopping experience both quick and easy! You may select from a wide range of CBD products including CBD Gummies, CBD Pet Treats, Full Spectrum and Non-THC Tinctures, CBD Topicals and more - all of which are offered online and shipped directly to your door for free! Whether you are at home, in the office, or anywhere in the world, you can use our advanced Online Product Shopping Cart to select from a wide range of CBD infused products to be delivered, free, right to your home.
Here is what our customers have to say:
"'I started using CBD cream, gummies and oil almost a year ago. It took me a few trials and errors to find a reputable company. I started using your gummies and oil a short time ago. The results are unbelievable! I also give it to my eight-year-old Silkie Yorkshire Terrier for her seizures. Last week, I accidentally poured boiling water on all four of my fingers on my left hand. Thankfully, I missed my thumb. I immediately put CBD cream on my scalded fingers. To my amazement, I NEVER felt pain from these burns. My fingers are almost completely healed. I am now a huge advocate for your products. "
Kathy R
"
I ordered the dog treats taking a chance on our fussy eater using them. They came today and she loved them! She scrounged around getting every little crumb off the floor! From that I take it she liked them (and how!) Thank you so much for making this product for dogs as she suffers from diabetes, as well as other problems. Any relief she can get from her pain will be much appreciated by both the dog and us. Thank you thank you thank you!!!"
Betty B. from California
Forbes Magazine's Best CBD Gummies...
Eden's Herbals is a no B.S. CBD company, which is easy to see by their offerings. They currently price based on the MG, ranging from 500mg, 1,000mg, and 1,200mg, as well as come in the flavors of Cherry, Pineapple, Grapefruit, Strawberry, Melon, Orange, Blue Raspberry, Lime, Grape, Apple, Mango, and Lemon. The 1,200mg is branded separately as Eve's Sour Apple, which comes with 20 apple gummies. All stemming from isolate,
Eden's Herbals
is a smart choice
among
CBD fans.
Joresa Blount Forbes Magazine
-->
As Seen On