What is CBG
Posted by Eden's Herbals Staff on 1/31/2022 to
Information
Since the passing of the Farm Bill Act in 2018, interest in CBD (cannabidiol) has exploded. Most are familiar with CBD and its cousin, THC (tetrahydrocannabinol). But why are people becoming more interested in a previously unknown, "minor" component of the cannabis plant, known as CBG?
After all, aren't we receiving the full benefits of cannabis through the ingestion of a quality, full-spectrum CBD oil? In this post, we'll dive into all the benefits of CBG and why adding this overlooked compound can make a positive impact on your health.
What Is CBG (Cannabigerol)?
Identified by scientists as one of over 100 cannabinoids found in the plant Cannabis Sativa, CBG was first isolated in 1964. Researchers discovered that cannabis starts life as CBG and turns into other cannabinoids as the plant grows. By the time cannabis and hemp are producing ample amounts of their famous relatives, CBD and THC, only residual quantities of CBG are left intact.
Because of the low amounts of CBG left in the cannabis plant compared to THC and CBD, most people weren't interested in this minor ingredient.
By 1992, however, scientists discovered that our central-nervous functions, such as mood, sleep, and behavior, are moderated by the ECS (endocannabinoid system).
When ingested, cannabinoids such as CBG and CBD bind with CB1 and CB2 receptors in the ECS to provide therapeutic relief.
What's the Difference Between CBG and CBD?
While research showed incredible potential with CBD, CBG has just emerged as a component that might outshine its famous relative. The most significant difference is the ratio of CBG found in mature plants. The amount of CBG in cannabis is 1%, while CBD amounts to 25% of the plant's structure. Even though the CBG component is less abundant, new studies show that it binds more efficiently with our CB1 and CB2 receptors. Thus, giving it more bioavailability.
The low CBG amounts also make it difficult to extract, making it less abundant online and on store shelves. Other differences include:
In one study, CBG was shown to increase appetite.
CBD significantly reduces appetite, according to another study.

CBG is produced through earlier flowering cannabis plants.

CBD's produced through fully mature plants.
How's CBG Made?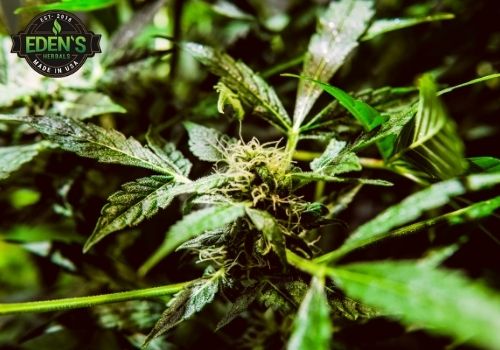 CBG is made using immature hemp plants because they contain more CBG than fully mature plants. Young plants have an abundance of CBGA, known as cannabigerol acid. In fact, CBD and THC start life as CBGA before they mature. CBG isolate is created by heating cannabigerol acid and then extracting it through decarboxylation.
Because of the machinery involved in the extraction process, CBG is more expensive to produce than CBD. The costs of extracting and supplying CBG to the marketplace make it scarcer and more difficult to buy than other CBD products. There is also evidence that CBG might be more effective and potent than CBD because it comes directly from the 'mother' plant.
Top Five Potential Benefits of CBG
We're still in the early phases of CBG research, unlike its more known counterparts, CBD and THC. Below is a list of the top five potential benefits, according to science, found by incorporating CBG into your daily regimen:
May Increase Appetite
By now, we're all familiar with the 'munchies' produced from traditional marijuana. New studies show that CBG can be an effective appetite stimulant, as well. Best of all, you won't have to deal with any psychedelic effects experienced with THC.
May Improve Eye Health
In a 1990 study, researchers found that CBG showed potential for treating patients with glaucoma. Scientists administered CBG to animals with glaucoma and observed a reduction in intraocular pressure. While also supplying the eye with valuable nutrients.
May Fight Colon Cancer
Recently, scientists studied the effects of CBG on rats with colon cancer - with promising results. The cancer studies determined that CBG helped block the receptors that cause colon cancer cell growth. This shows good potential for people living with colon cancer.
Might Offer Neuroprotective Benefits
In 2021, researchers studying CBG found that, when ingested, it offered potential neuroprotection. This is shown to help people with Parkinson's, MS, and Huntington's disease.
Antibacterial Properties
In 2020, a medical study demonstrated CBG's effectiveness in treating drug-resistant staph infections caused by MRSA. This shows CBG as a potential game-changer in the medical community as our population becomes more antibiotic-resistant.
What Is CBG Isolate?
Like CBD Isolate, CBG Isolate comes in a powder form and is tasteless and odorless. CBG Isolate is the purest form of CBG and is oil-soluble, making it perfect for smoothies, coffee, or tea. Chemically separated from other ingredients in hemp, like THC, CBG Isolate is perfect for those that aren't looking for any psychedelic effects.


In fact, CBD isolate can be added to just about anything. Sprinkle it on your food for an extra anti-inflammatory boost, or even add it to your bath to make an antibacterial soap.
Because of its oil-soluble structure, CBG isolate is an excellent addition to a full-spectrum CBD oil. Just add a little to your CBD tincture to receive all the benefits of CBD in addition to CBG.
How To Find The Best CBG
One of the first things you'll want to look for is quality. That means finding a manufacturer that supplies a lab certificate. Having a lab certificate ensures the following:
You know exactly what ingredients you're putting into your body.

The product is third-party tested, meaning the tester is independent.

Your product is labeled correctly and 100% legal.
In addition to a lab certificate proving accuracy, consider looking for CBG that comes from all-natural, organic sources. This ensures you're not ingesting any pesticides. Our CBG isolate, for example, contains:

Lab Tested to be free of pesticides and all other residual solvents.

It is manufactured using American, organically grown, non-GMO industrial hemp.

Contains 0% THC.

Additionally, our CBG comes in a convenient, 5ml concealable twist-lock container and provides 1,000 mg of CBG.
CBG Side Effects
Some people have reported dry mouth, increased appetite, and diarrhea with excessive use of CBG. A study published in 2016 showed that rats tolerated CBG very well. You won't have to worry about getting high, either, as CBG is separated from its psychedelic cousin, THC. CBG, like CBD, is also legal and sold as a dietary supplement.
Final Word: What Is CBG Good For?
CBG has not been studied as extensively as CBD, but the early trials are promising. As researchers continue to isolate each of hemp's 100 compounds, more exciting discoveries will occur. For now, we can enjoy many of the health rewards that come with this product. CBG is still scarce and not as widely available as CBD, but you can shop for it right here at Eden's Herbals.
We also offer CBD edibles, like our gummies, which come in twelve delicious fruit flavors. You'll also find CBD topicals to treat painful inflammation right on contact, as well as supplements like hemp oil and Vitamin D.
If you want to learn more about CBG, contact Eden's Herbals at [email protected] today!
*These statements have not been evaluated or approved by the Food and Drug Administration and are not intended to diagnose, treat or cure any illness. Medical advice should be taken from a medical professional.
All of the articles on this site are written by 3rd party content providers, expert bloggers or doctors not directly affiliated with Eden's Herbals.