What do 1000mg CBD Gummies Do?
Posted by Eden's Herbals Staff on 7/7/2022 to
Information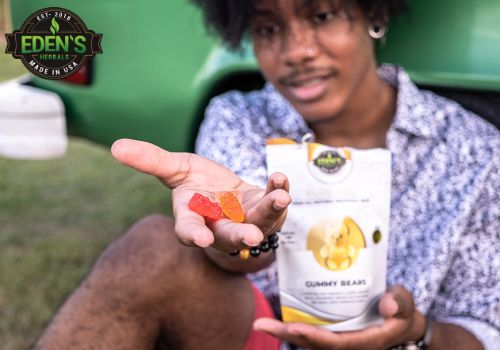 Compared to most CBDs on the market, 1,000 mg gummies provide the most relief. It is generally the highest amount of CBD gummy available, but you can also often find good value, as there's more CBD per gummy. If you've never tried a CBD gummy and want to learn about the most potent option, this article is for you.
After all, not all CBD gummies are created equal. For example, if you've seen CBD gummies marketed as "candy," you'd be missing out on all the therapeutic information it may provide. We'll cover the following topics to help you better understand 1000mg CBD gummies.
What are CBD Gummies?

How do 1000mg CBD gummies work?

Benefits: 1000mg CBD gummies

Will 1000mg CBD gummies make you high?

Where to buy 1000mg CBD gummies
What Are CBD Gummies?
CBD gummies are more than just candy. They're CBD infused, meaning they provide a whopping 1000mg of CBD per serving. Usually fruit-flavored, CBD gummies are known for their excellent flavor profile.
For example, Eden's Herbals 1000 mg gummies come in 12 delicious flavors. We also have Eve's Sour Apple, which is our best-selling gummy. Sourced from hemp, CBD gummies are known for the following:
Taste Great

Convenient

Easy to take on the go

THC-Free

Discreet
1000mg CBD Gummy Ingredients
CBD gummies are extracted from hemp, one of two varieties of cannabis - the other being marijuana. Once extracted, CBD is isolated and infused into a gummy-based solution containing the following ingredients:
Sugar

Corn Syrup

Water

Gelatin

Natural and artificial flavors

Citric Acid

Coconut Oil

Canola Oil

Pectin

FD&C Yellow 5

Red 40

Blue 1

Carnuba wax

CBD (Cannabidiol)
How Do 1000mg CBD Gummies Work?
CBD, short for cannabidiol, is one of over 100 ingredients found in the cannabis plant. The two most prominent compounds, THC and CBD, are the most studied and, to date, show the most medical promise. A CBD-based drug, Epidiolex, was recently FDA approved to treat severe epilepsy.
When you ingest CBD, it's thought a bio-physical change occurs within your ECS, or Endocannabinoid System, to provide therapeutic relief. Every mammal has an ECS regulating brain, tissue, organ, and emotional well-being.
Unlike CBD oil, which is metabolized sublingually, CBD gummies are first metabolized by the stomach before moving on to the liver. Because your stomach acids first metabolize CBD gummies, they generally take a little longer to feel the effect.
Benefits: 1000mg CBD Gummies
We're still in the beginning stages of knowing everything about CBD's benefits, but what researchers have found so far is impressive. The top benefits include the following:
May Improve Arthritis Symptoms
CBD may provide potent analgesic effects, especially in patients with disorders like arthritis. Researchers applied 20-30mg of transdermal CBD to patients with hand osteoarthritis to study the effects. After 12 weeks, the primary outcome was lessening the pain symptoms.
Relieves Anxiety
CBD has been shown to relieve symptoms associated with several types of anxiety, including Generalized Anxiety Disorder (GAD) and Post Traumatic Stress Disorder (PTSD). In one study, researchers demonstrated CBD's ability to treat anxiety with minimal side effects.
May Help With Insomnia
Preliminary findings show CBD shows potential in treating insomnia. Although research is still limited, there's also good evidence CBD may hold promise for several other sleep-related disorders.
May Help With Asthma and Allergy Symptoms
Asthma is a significant public health issue characterized by chronic lung and airway inflammation. In studies on patients with asthma, CBD showed the ability to decrease airway hyperresponsiveness and reduce lung inflammation.
May Reduce Appetite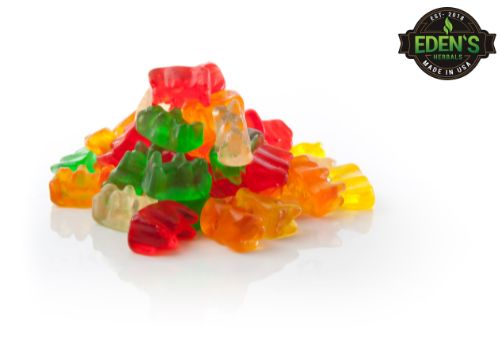 Although it sounds like an oxymoron, CBD may have the opposite effect of its more famous counterpart, marijuana. Known by many as giving you the "munchies," marijuana has long been touted as an appetite stimulant.

Conversely, CBD may have the ability to curb appetite and control cravings. In a 2012 study, researchers showed that CBD (cannabidiol) reduced food intake in test subjects.
Will One 1000mg CBD Gummy Make Me High?

No. CBD gummies will not make you high. First legalized in 2018 by The Farm Bill Act, CBD is considered safe and well-tolerated by the World Health Organization (WHO).

CBD gummy's main ingredient, cannabinol, is sourced from hemp - a very low THC variety of cannabis. By law, CBD only contains 0.3% THC, far below the amount needed to make you high.
How Many 1000mg CBD Gummies Can I Eat?
There is no "set" amount you can or can't eat. Because CBD gummies are made with all-natural CBD, there is no harm in eating a set amount. To date, there's been no documented evidence of someone overdosing on CBD. At worst, you may get a bellyache or feel a little bloated.
Dosage Recommendations
Because CBD gummies are so convenient, it can be easy to get carried away, but there is a science to dosing. For example, if you're starting a CBD regimen, you'll want to get some good dosing instructions before tearing off the top of the bag and chewing.
Dosage:
Start with the smallest possible dose. If you're new to 1000mg CBD gummies, try one gummy daily and see how your body feels. Increase one gummy per day until you find your optimal dose.
Where To Buy The Best 1000mg CBD Gummies
When shopping for CBD, you'll want to consider a few of the following things.
Is Your CBD Brand Organic?
With global warming making a huge impact on our lives, many of you are now turning to organic products. This has two benefits - the environment and your body. Eden's Herbals sources all our CBD from American-made, organic hemp. No pesticides. No harmful chemicals enter your body.
Is Your CBD CO2 Extracted?
CO2 extraction, which we use, is a far superior way to extract CBD from its mother plant. Although more expensive than chemical extraction, CO2 extraction leaves a final product free of chemicals and harmful solvents.
Does Your CBD Include A Lab Report?
Lastly, does your brand include a lab report, or certificate of analysis, on its website? Eden's Herbals provides all our customers with a lab report, ensuring THC content and purity.
Key Points: 1000mg CBD Gummies
1000mg CBD gummies are the chef's kiss regarding CBD performance. Not only are they the strongest available, but our 1000mg CBD gummies also come in 12 delicious flavors - Lemon, Pineapple, Cherry, Strawberry, Melon, Orange, Blue Raspberry, Grapefruit, Lime, Grape, Apple, and Mango.
Because each gummy contains more CBD than most, you also get great value. Other highlights include:
20mg CBD oil per gummy

non-GMO

No THC

50 Gummies per bag

Dairy-Free, Gluten-Free, Fat-Free

Lab Tested to be free of pesticides and residual solvents.
If you want to learn more about CBD gummies and what strength would be best for you, contact Eden's Herbals at [email protected] today!
*These statements have not been evaluated or approved by the Food and Drug Administration and are not intended to diagnose, treat or cure any illness. Medical advice should be taken from a medical professional.
All of the articles on this site are written by 3rd party content providers, expert bloggers or doctors not directly affiliated with Eden's Herbals.
Individuals should learn the risks and side effects prior to taking CBD. Make sure to always check with a medical professional before starting any new CBD treatment or medication that is not FDA-approved.