What Does CBD Stand For
Posted by Eden's Herbals Staff on 1/4/2021 to
Information
CBD has become an extremely popular wellness product. If you live in the United States, where it has been federally legalized, it might seem like CBD is everywhere. Health spas provide CBD facials, cafes offer CBD latte, and beauty enterprises are quick to include CBD lotions or hemp oils in their offerings. Everybody, from an anxious colleague to an arthritic father, seems to be using CBD gummies to manage their ailments.
However, despite it's popularity, many individuals still find it confusing. What is CBD and what does it do?
What is CBD?
CBD, meaning cannabidiol, refers to a chemical compound found in the marijuana or hemp plant.
Over 80 chemicals, known as cannabinoids, are found in the cannabis plant. Delta-9-tetrahydrocannabinol (THC) is the chief active cannabinoid in marijuana. THC causes the euphoria associated with that drug.
CBD alone does not cause any "high", especially when harvested from hemp, which contains very little THC levels.
The 2018 Farm Bill legalized the sale of hemp products in the United States. This has made CBD very easy to find across the country.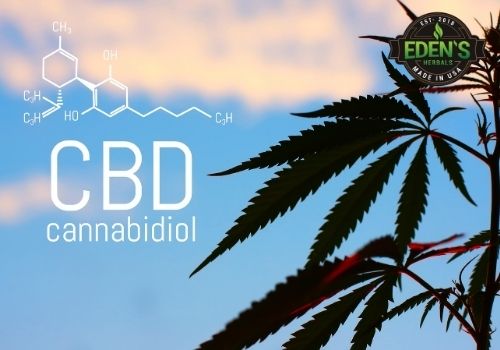 Cannabidiol is often used for epilepsy (seizure disorder) treatment. In addition CBD works well for pain, anxiety, and a muscle disorder referred to as dystonia, Crohn's disease, Parkinson's disease, and several other conditions.
CBD works by interacting with your bodies endocannabinoid system. This system is very important and helps your body to maintain homeostasis.
What Types of CBD Products are Available?
1. CBD Oil
CBD (cannabidiol) oil is a product derived from hemp or cannabis. Crude CBD is extracted and then combined with oil in order to make it edible and easily measurable.
Although it can be extracted from marijuana plants, cannabidiol alone does not generate the intoxication caused by THC.
How to Use CBD Oil
CBD Oil can be consumed by mouth or rubbed onto the skin. How you should use CBD depends greatly on the intended use.
We recommend speaking with your doctor before you use CBD oil. It is not yet been approved by the FDA (Food and Drug Administration) for medicinal use. CBD has been shown to be very safe but can cause some rare side effects.
Side Effects of CBD Oil
CBD oil generally does not pose many risks and has been proven to be well tolerated in most users. The rare but possible side effects include the following.
Dry Mouth

Diarrhea

Reduced appetite

Drowsiness and fatigue
Is CBD Oil Legal?
CBD oil is becoming more and more common nationwide. In the US, CBD oil is legalized federally and available for use in most states. Some countries that accept CBD for medicinal use may need users to apply for a special license. The Food and Drug Administration has not approved cannabidiol for any therapeutic conditions.
2. CBD Gummies
CBD gummies are an edible candy that contain CBD. They can come in a rainbow of CBD flavors, shapes, colors, and concentrations. Gummies provide a discreet and easy method to consume CBD.
Can CBD Gummies Make You Feel High?
No. As we mentioned, CBD does not have psychoactive properties. Cannabidiol is obtained from hemp and is virtually free of THC. According to law, hemp should not contain over 0.3% THC. Otherwise, producers run the risk of being prosecuted under state law.
With such small amounts of THC, CBD cannot get you high and is unlikely to show up on a drug test.
Why Take CBD Gummies?
CBD is known to relieve inflammation, anxiety, restlessness, and pain. Many people use CBD as an all natural solution to a variety of ailments, or to improve overall health.
3. Topical CBD
There are many ways to use CBD; however, if you are looking to relieve pains and aches, or help treat skin conditions, topicals may be your best option.
Topical CBD refers to any CBD lotion, cream, or ointment that can be applied directly to your skin. Topical CBD provides local comfort and also benefits the general appearance and well-being of your skin. In this regard, CBD topical products provide you with many benefits in one.
CBD oil and topical CBD recipes differ in their choice of ingredients. Topical products typically contain common skincare ingredients; essential oils, vitamins, and herbal extracts.
Full Spectrum vs Broad Spectrum vs Isolate
There are three major categories of CBD products; full spectrum, broad spectrum, and isolate.
Full spectrum CBD products contain other cannabinoids besides just CBD, including THC. The combinations of these various cannabinoids creates an extra effect. This is known as the entourage effect.
Broad spectrum CBD products include other cannabinoids but do not include THC. These are a great option for those who want to get the entourage effect without the THC.
Lastly isolate CBD products contain only CBD and no other cannabinoids. These products are great for those who would like to try CBD alone.
Where to Buy CBD
CBD is not approved or regulated by the FDA, so it is important to find a CBD store you can trust. Luckily, this is easy, if you know what to look for. A trustworthy retailer should be able to provide a third party lab analysis of their CBD, responsive customer service, competitive prices, and transparency of where their products are made.
There are many online CBD stores such as Eden's Herbals that meet all of these requirements. They will even ship the order to your door for free!
Conclusion
CBD is not as confusing as it might seem. CBD is simply a shorthand for the word cannabidiol, a cannabinoid extracted from hemp and/or marijuana. CBD is non-psychoactive and provides a variety of benefits for the user.
There are several forms of CBD products on the market. Some of them include CBD gummies, CBD oil, and topical CBD. These products are not hard to find, and can even be purchased online and shipped directly to your door!