What Are 1000mg CBD Gummies Good For?
Posted by Eden's Herbals Staff on 4/7/2022 to
Information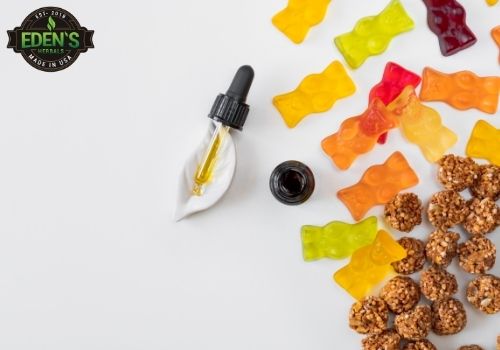 Sweet, chewy, and discreet CBD gummies are among the best ways to get your CBD. If you want to get an optimal dose, 1000mg CBD gummies are even better. CBD gummies are edible candies infused with CBD.
While some CBD-based products, like the drug Epidiolex (used to treat epilepsy), are FDA-approved, CBD gummies are not approved for any specific condition. CBD was, however, legalized in 2018 in all 50 states, and mounting evidence shows it may help treat a variety of diseases and their symptoms.
CBD gummies are dairy and fat-free and make an excellent addition to vegetarian diets as they're also vegan. 1000mg CBD gummies also pack a punch and, best of all, have few side effects. Keep reading to learn what 1000mg CBD gummies are good for and the best dose for your condition.
What Do 1000mg CBD Gummies Do?
CBD gummies are the nectar of the gods. They're an all-natural tasty treat you can take with you anywhere you please. Mounting evidence shows they're effective at treating a number of conditions associated with inflammation - the number one cause of most diseases.
CBD gummies, like ours, come in multiple flavors and are easy to take on the go. But when we talk of 1000mg CBD gummies, we're also talking about potency. CBD gummies work with our ECS (Endocannabinoid System), a bio/physio system responsible for regulating most mental and bodily functions like mood and sleep.
What Are the Health Benefits?
Once you eat (or suck) a CBD gummy, they interact with your ECS to provide many desirable states. Users who have insomnia report feeling more relaxed before bedtime, and people who have trouble keeping food down may show improved hunger after taking CBD for a while. Other benefits include the following:
How Many 1000mg CBD Gummies Can I Eat?
CBD gummies, even in relatively high doses, are safe. According to the World Health Organization (WHO), CBD is safe and well-tolerated in most adults. You can choose a lower dose per gummy if you're new to CBD, as most 1000mg CBD gummies are on the higher dosage side.
For 1000mg CBD gummies, most people start with one CBD gummy per day and then work their way up to as many as five per day, depending on your condition and metabolism. Because everyone is so unique, each dose is different. The good news is that we all have an ECS that will, over time, respond to CBD.
How Will 1000mg CBD Gummies Make You Feel?
Most CBD research has been conducted with CBD oil, but there are a few exceptions. Some studies with rat models had them ingest CBD for specific conditions. Although CBD won't hit your ECS as fast as CBD gummies because they have first to be digested, you'll notice longer-lasting effects.
After around 45 minutes to one hour, you should notice the following effects:
More relaxed

Calmer

Enhanced mood

More joint mobility

Less impulsive
Do 1000mg CBD Gummies Make You High?
CBD, or cannabidiol, is separate from its psychoactive cousin THC, the component known for making you high. CBD contains no THC and, therefore, won't make you high. Our CBD contains 99% pure CBD and is THC-free, assuring you won't get high from taking them.
Even if you bought a product with THC, like our Full-Spectrum CBD oil, there's not enough THC (0.3% by law) to make you high. Because of modern science and a complex sourcing method called CO2 extraction, all CBD compounds are separated from THC to deliver a clean, finished 1000mg CBD gummy.
Are CBD Gummies Legal?
Yes, CBD gummies are legal. Although state laws vary, CBD is legal to purchase in all 50 states. After Congress passed the Farm Bill Act in 2018, CBD was made legal as long as it contains less than 0.3% THC.
However, CBD's mother plant, cannabis, is illegal in some states. Other states allow its use recreationally, while other states allow cannabis and marijuana to be consumed with a prescription from your doctor.
The good news is that there are no concerns about using CBD in any state. CBD gummies, like ours, are made without any intoxicating compounds and are a safe and potentially effective way of helping you manage stress and other conditions.
Possible Side Effects
Because CBD gummies are also a candy, you may consider watching how many you consume, especially if you're on a diet. Some keto or paleo meal plans advise against eating carbs. Because CBD gummies also contain sugar, you may want to consider another CBD option, like CBD Isolates. Other possible side effects include the following:
Some may experience nausea, especially at high doses.

Not appropriate for children.

Overeating may cause obesity.

May interfere with ketosis.
Where To Buy 1000mg CBD Gummies
When shopping for CBD gummies, always consider the source. For example, Eden's Herbals extracts all of our CBD from American-made, organic hemp.
Why Is Organic Hemp Better?
Like shopping at the organic vegetable counter, knowing where your hemp comes from is always better. Consuming anything, especially nowadays, seems risky. Knowing exactly where your vegetables (and hemp!) come from and that your farmer didn't add any pesticides during production helps relieve any stress about the product.
What About Lab Reports?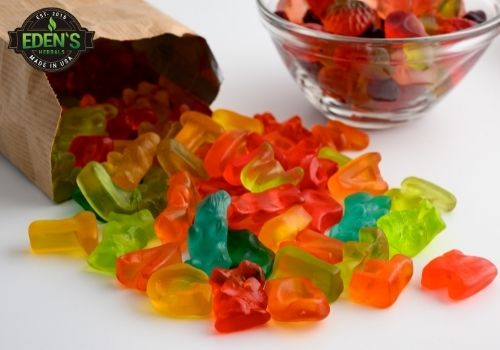 A lab report, or certificate of analysis, is a report, usually listed on the company's website, that ensures their CBD is tested for impurities and harmful solvents and to ensure you are getting quality CBD. Eden's Herbals has both a THC-Free lab report and a Full-Spectrum analysis, providing our products are what we say they are.
Final Word
1000mg CBD gummies are the perfect way to get your daily CBD dose. They're perfect for those that want to reap the benefits of CBD without getting high. They're easy to take on the road and make a discreet snack, especially if your boss or coworkers don't fully understand that CBD is not the same as smoking marijuana.
If you're more comfortable starting small, you can also try our 500mg CBD gummies, containing less CBD per bag. If you're feeling good on 1000mg CBD gummies, kick it up a notch and try our Eve's Sour Apple Gummies. One of our top sellers, Eve's Sour Apple, boasts 1200mg per bag and is one of the best-tasting treats.
If you want to learn more about 1000mg CBD gummies and their benefits, contact Eden's Herbals at [email protected] today!
*These statements have not been evaluated or approved by the Food and Drug Administration and are not intended to diagnose, treat, cure or prevent any illness. Medical advice should be taken from a medical professional.
All of the articles on this site are written by 3rd party content providers, expert bloggers or doctors not directly affiliated with Eden's Herbals.
Individuals should learn the risks and side effects prior to taking CBD. Make sure to always check with a medical professional before starting any new CBD treatment or medication that is not FDA approved.