Top 5 Useful Plants for All Natural Relief
Posted by Eden's Herbals Staff on 10/16/2020 to
Information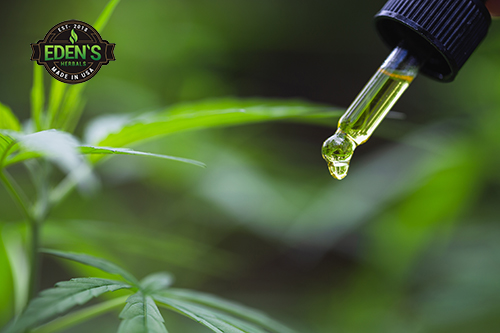 There are different types of plants that you can grow in and around your home. Some of these plants serve the purpose of decorating your outdoors and indoors while others have medical health benefits and uses.
Plants such as herbs are used to add flavor to your food and beverages. Some types of herbs have medicinal properties where you can use them at home to treat common ailments such as headaches, common cold, digestive problems, allergies, and serious conditions like arthritis. You can consume medicinal plants in food, teas, as a garnish, as essential oil, or taken as pills.
People who have chronic conditions that cause them constant pain may look to plant-based solutions instead of prescription drugs. A plant-like hemp has been proven to relieve chronic pain with mild side effects to the patient.
However, before you start consuming something new for your condition, you should consult your doctor. When growing the plants, care for them according to care guidelines and avoid using harmful chemicals or pesticides on the plants. The wrong chemicals will only exacerbate your health condition.
Here is a list of the top five useful plants, their proven benefits, and how to safely use them.

1. Hemp
Cannabidiol (CBD) is a substance derived from the hemp plant. Hemp belongs to the family cannabis sativa. The component Tetrahydrocannabidiol (THC, found in large quantities in marijuana, can also be found in some CBD products.
THC is the component in marijuana that causes a 'high' feeling for the person using it. Even in CBD products containing THC, the legal amount is so little that it won't cause any of those psychoactive effects. Legal CBD oil has less than 0.3% THC, which means that to get a high from CBD, you have to take over nine liters at once.
Benefits of CBD
• Pain Management
CBD is effective in treatment of chronic pain in adults; it reduces inflammation and pain associated with it. This is a benefit that favors people with arthritis.
Taking prescription pain relievers for a long time has side effects that include opioid addiction and liver problems. When you take CBD for pain, there very mild side effects, even when taken for a long time. CBD acts as a nerve protectant and reduces joint inflammation for people living with arthritis.
• Anxiety and Sleep Management
CBD calms the central nervous system. It reduces incidences of anxiety attacks and improves sleep episodes for those suffering from the conditions.
• Neuroprotection
CBD provides therapeutic properties for conditions such as head diseases and injuries, strokes, and spinal cord injuries. The same neuroprotective properties have also been seen to limit the progression of Parkinson's disease, amyotrophic sclerosis, and multiple sclerosis.
CBD also prevents damage to the nervous system and cells and also heals them. People with Parkinson's disease can take CBD to improve sleep and their quality of life.
• Treats Acne
Acne is a skin disease that affects about 9% of people. Several factors such as bacteria, genetics, dirt, excess oil, and dead skin cells contribute to the condition. Treatment of acne involves improved hygiene and reducing excess production of oil by the skin.
When applied to the skin, CBD reduces sebum production and provides an anti-inflammatory effect on sebum-producing glands. Thus, CBD is an efficient therapeutic tool in the prevention and treatment of inflammation and acne.

Why Choose CBD?
• 100% Natural
CBD is completely natural, meaning that it has no chemical additives in the production process, making it 100% organic.
• A variety of benefits
When used medicinally, CBD treats various medical conditions and offers natural pain relief. CBD has also been known to help the mind and provide depression and anxiety relief.
• Available in various concentrations
People have different health conditions that require different CBD concentrations. CBD comes in many different concentrations, from 1000mg to 4000mg, to suit individual needs.
• Suits long-term use
You can use CBD long-term if you have a chronic health condition. Humans are not known to build up a tolerance to CBD, due to the way that it binds to receptors. Its exclusive natural components have no known harmful effects on the body, even after long-term use.
Where can I find CBD for sale?
Looking to buy CBD, but don't know where to go? Even if there isn't a retailer near you, there is an online CBD store that will deliver to your door free of charge. Eden's Herbals offers a wide range of products and free shipping to anywhere within the United States.
2. Aloe Vera
The aloe vera plant has been in use for centuries to treat a myriad of health conditions. You can use aloe vera directly or buy it in gel form. The gel is incorporated in creams and ointments to treat skin conditions. It is also sold in liquid or capsule form for oral use to promote well-being and health.
Benefits of Aloe Vera
• Heals burns
Aloe vera soothes, moisturizes, and cools the skin, hence is preferred in treating burns. It produces works well for healing superficial burns. It relieves pain in wounds and heals them at the same time.
• Improve digestive health
Consumption of aloe vera benefits the digestive tract and helps in soothing and curing stomach ailments that include IBS (irritable bowel syndrome). This plant can also reduce the growth of H. pylori bacteria that causes ulcers; it is found in the digestive tract.
• Improves Oral Health
There are mouthwashes and toothpaste that contain aloe vera. They improve oral hygiene and reduce plaque. Studies have shown that the constant use of aloe vera toothpaste significantly improves oral health without adverse side effects.
• Treats Acne
Applying fresh aloe vera on the face clears acne. Also, there are products specially designed to treat acne, such as, toners, cleansers, and creams that contain aloe. Acne products made using aloe cause less skin irritation as opposed to using aloe vera in its raw form.

3. Mint
Zingy, refreshing, and delightful, mint sets almost everything right. It is among the oldest culinary herbs with medicinal properties. Mint has a variety of purposes from mood enhancement to treating digestion.
Apart from its healing properties, mint is a natural insect and pest repellent. When growing it at home, ensure you give it a lot of water.
Benefits of Mint
• Oral care
As you may have noticed, most toothpaste has mint as an ingredient. Chewing mint leaves instantly refreshes your breath due to its germicidal properties. Mint also inhibits the growth of bacteria inside your mouth and cleans plaque present on teeth.
• Aids digestion
Mint contains active oil, menthol, which has antibacterial and antiseptic properties. Menthol soothes an upset stomach and relieves indigestion.
• Treatment of the common cold
Inhalers and vapo-rubs also have mint. This is because mint clears nose congestion, bronchi, throat, and lungs. Apart from clearing respiratory channels, mint relieves irritation brought about by chronic cough.
• Treatment of asthma
Consuming mint brings a soothing effect for people suffering from asthma. It is laden with anti-inflammatory properties, is an excellent relaxant, and congestion reliever. But, do not take too much mint as it can irritate air passages.
• Cures headaches
Mint cures headaches when you breathe in its refreshing and strong aroma. Some balms are made with a mint base or mint oil to cure headaches and nausea.
4. Fenugreek
This is an herb that has been in use as an alternative medicine for a long time. It's commonly used in foods among Asian communities and sometimes taken as supplements. When taken raw, you simply soak the seeds in a glass of water and consume the water.
Benefits of Fenugreek
• Improves lactation
Fenugreek helps lactating mothers increase milk production. It is also beneficial to pregnant ladies and nursing mothers as it enhances their recovery.
• Regulates blood sugar
Fenugreek regulates blood sugar levels thus helping tackle insulin resistance by making it more sensitive and responsive.
• Weight loss
Fenugreek boosts metabolism thus aiding in weight loss. When you consume fenugreek water in the morning before taking breakfast, your body generates heat that helps in the management and loss of weight.
• Digestive benefits
Fenugreek water has antacid properties. When consumed regularly, it strengthens your digestive system and takes care of problems related to bloating and gastritis.

5. Ginger
Ginger has been used in medicine and cooking since time immemorial. It is a home remedy for stomach pain, nausea among other health issues.
Benefits of Ginger
• Reduces inflammation and pain, making it useful in managing headaches, menstrual cramps, and arthritis.
• Stimulates circulation and produces a warming effect
• It slows down rhinovirus, which causes the common cold
• Inhibits Salmonella that causes diarrhea, and protozoa
• Reduces painful spasms and gas in the intestinal tract
• Prevents stomach ulcers
Conclusion
As you have seen from the list above, there are useful plants available that can cure common health problems. Instead of rushing to the drugstore every time you have a headache, tummy problem, or scald your hand in the kitchen, use the plants first.
If there is not a CBD store near you, check online. There are many reputable CBD retailers, such as Eden's Herbals, offering free shipping anywhere in the United States. Modern medicine is made from chemical components while these plants are 100% organic.