Should You Take CBD Capsules With or Without Food
Posted by Eden's Herbals Staff on 7/18/2022 to
Information
There are many options for getting your daily CBD intake, including CBD capsules or soft gels. CBD capsules may be the easiest way to get your daily dose of CBD. Firstly, you don't have to worry about dosing out your CBD. Secondly, their convenient and easy to take anywhere.
The only real question many have is when you should take CBD capsules - especially on an empty or full stomach. If you're new to CBD or just wondering if you should take your capsules before or after a meal, this post is for you.
We'll help determine the best time to take your CBD capsules, according to your condition, and the best products to use before and after your meal. Keep reading to learn the optimal way to take your CBD soft gels.
What Are CBD Capsules?
CBD capsules are no different than any other CBD product, except that your CBD is pre-dosed for you in an easy-to-swallow tablet or soft gel. They're as easy to take as ibuprofen or any other over-the-counter medication.
You receive all the benefits as you would with CBD oil, for example, without having to fuss with a dropper or bottle. CBD capsules are also perfect for folks who have arthritis and prefer the simplest method of getting their daily CBD.
For easy absorption, our CBD capsules contain the following ingredients:
Broad Spectrum Cannabidiol (CBD) Extract

MCT Oil

Gelatin

Purified Water

Glycerin
Benefits: CBD Soft Gels
CBD is one of two primary compounds in cannabis, the other being THC (tetrahydrocannabinol). Unlike THC, however, CBD doesn't have any intoxicating effects - making it popular for people looking for all the benefits of cannabis without getting high.
Potential benefits include:
It May help fight pain

Heart disease

Diabetes

Depression

Seizures (FDA-approved, CBD-based drug)

Skin disorders, such as acne
How Are CBD Capsules Absorbed?
Traditional CBD-based products, like tinctures, are first absorbed under the tongue, then processed through the liver. CBD capsules are first absorbed through the digestive system before moving on to your liver.
Unlike tinctures, which bypass your digestive system, CBD capsules take longer to absorb. The advantage of CBD pills is that they typically stay in your system for as long as 8 hours (more about later).
However you ingest CBD, it eventually interacts with your ECS, or Endocannabinoid System. The ECS is a complex physiological system present in all mammals. When CBD is ingested, cannabinoid receptors, known as CB1 and CB2, send signals to your ECS and work to restore balance to your body.
What Happens When I Take CBD on a Full Stomach?
Most CBD products, like our Full-Spectrum Tinctures, contain a carrier oil such as MCT. That's because CBD on its own cannot be absorbed into the body without a carrier oil.
When you buy CBD capsules, it's the same concept as with oil, except all the ingredients, including the carrier oil, are pre-formulated inside each pill.
Even though each pill contains some calories, you'll increase bioavailability if you take CBD with food.
When you add CBD on top of a meal, the CBD interacts with food in your stomach. This increases absorption through the liver to maximize potency.
What Happens With CBD on an Empty Stomach?
As mentioned, CBD capsules, like CBD oil, are never truly taken on an empty stomach because of carrier oils. Carriers oils, like coconut oil, are very high in calories and work to increase bioavailability. One exception would be CBD isolate, the purest form of CBD on the market.
When you take CBD on an empty stomach, you risk wasting good products by not having it absorbed into your liver properly.
CBD on Empty or Full Stomach: Which Works Best?
It's best to take CBD capsules on a full stomach. You'll increase the absorption time and potency. For further benefit, include foods that are rich in medium-chain fatty acids. A 2013 study demonstrated that CBD was four times more effective if taken after a meal.
Best Foods To Take with CBD Capsules:
Oils (hemp seed, coconut, MCT, and Olive)

Avocados

Red meat

Fish

Nuts

Eggs
When Should I Take CBD Morning or Night?
Taking CBD in the morning or nighttime will depend on what you are suffering from. For example, if you're struggling with insomnia, you'd want to take your capsules before bedtime. In a 2014 study published by the National Library of Medicine, researchers found that CBD may have therapeutic promise for the treatment of insomnia.
One of the most effective ways to take CBD is with breakfast. If you plan on having a big breakfast, include plenty of medium and long-chain fatty acids into your meal. For example, when taken with some eggs and avocado toast, the CBD will work much more effectively (and longer!).
CBD can be taken anytime and be used for quick and long-lasting relief. Most people find relief throughout the day when taking CBD in the morning of:
Can CBD Capsules Hurt Your Stomach?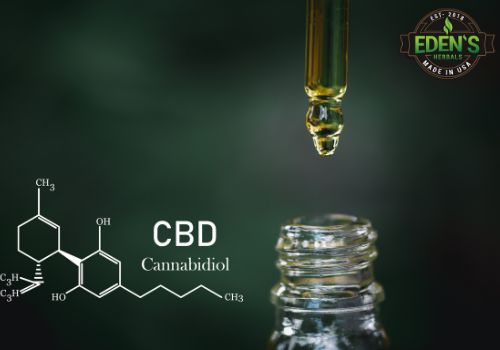 CBD, like all medications, may cause specific side effects. Some people have reported gastrointestinal issues, such as nausea and reduced appetite. Start with the smallest dose possible if you've never tried CBD capsules.
If you notice stomach discomfort, check with your doctor to see if other issues are occurring. The Bottom line: CBD is considered safe and well-tolerated by none other than The World Health Organization (WHO), the world's top health agency.
Key Takeaways
Consider a few things before purchasing your CBD, such as how it's extracted and where your hemp is sourced from. We buy all our hemp from organic, American-based farms, meaning your CBD is free of pesticides.
We also extract all our CBD using a CO2 extraction process, meaning your capsules are free of harmful solvents and residue. Additionally, Eden's Herbals provides all our customers with a lab certificate, ensuring potency and purity.
You can also check out our daily deals page to see if any of our other products are priced to buy today!
By incorporating some high-quality foods along with your CBD capsule, you can expect a return on your investment for up to 8 hours! Conversely, taken on an empty stomach, you might as well be throwing some of your CBD into the trash.
If you want to learn more about taking CBD capsules with or without food, contact Eden's Herbals at [email protected] today!
*These statements have not been evaluated or approved by the Food and Drug Administration and are not intended to diagnose, treat or cure any illness. Medical advice should be taken from a medical professional.
The articles on this site are written by 3rd party content providers, expert bloggers, or doctors not directly affiliated with Eden's Herbals.
Individuals should learn the risks and side effects prior to taking CBD. Make sure to always check with a medical professional before starting any new CBD treatment or medication that is not FDA-approved.