Making CBD Hot Chocolate
Posted by Eden's Herbals Staff on 5/12/2021 to
Information
Cannabidiol, or CBD, is one of the many beneficial compounds found in the cannabis family.
There's often confusion about what CBD is. Is it like marijuana? Does it get you high? The answer is no. While CBD can be extracted from the marijuana plant, it more commonly comes from the hemp plant, and CBD by itself is not psychoactive.
Full spectrum CBD can contain trace amounts of the psychoactive compound THC, but not enough to affect your mental state.
While it won't get you high, CBD can help you to relax, manage anxiety, overcome anxiety, and reduce your pain level.
Timing Your Dose
It's important to think about the dosage you need. CBD placed under the tongue goes into the bloodstream almost immediately, while the CBD you ingest needs to be digested to deliver best results.
If you struggle to fall asleep, you may need to enjoy your cocoa at least an hour before bed to get the full benefits.
However, CBD hot cocoa can be a wonderful way to microdose through the day. If you struggle with nerve pain or anxiety that gets in the way of focus, consider making a thermos of CBD hot chocolate in the morning that you can sip from throughout the day.

Microdosing CBD With Hot Chocolate
Microdosing involves tiny doses of CBD taken at regular intervals throughout the day.
The process of microdosing offers multiple benefits. For example, while a full dosage dropper may make you sleepy when placed under the tongue, many users, particularly vapers, find that CBD in very small doses actually boosts their energy while soothing their mind.
If you work in an office where vaping or microdosing would be challenging, a small thermos of CBD hot chocolate that you can mix up after lunch may be just what you need to enjoy a sweet treat, get a break from the stress of your job, and maintain discretion.
What Form of CBD is Best?
You can use CBD isolate powder or CBD oil for many beverages both hot and cold. Be aware that many CBD oils are lightly flavored. For example, a cup of hot cocoa could be easily enhanced with a dropper full of peppermint CBD oil, while a citrus or ginger flavored CBD oil would blend well into a cup of hot tea.
If you prefer not to use a product suspended in oil, you could mix a powdered CBD isolate into another powdered additive. For example, you could mix CBD isolate powder with stevia to make your own sweetener, or mix it into cinnamon and sugar for some yummy steamed milk.

A Little Goes a Long Way
Carefully check the dosage of CBD in your isolate powder. With all the fluids removed, CBD isolate powder is generally pretty potent.
To start using CBD, experts recommend that you start with 1 mg per 10 pounds of body weight. If you weigh 150, don't start with more than 15 mg until you know how you'll respond.
When mixing hot chocolate, you can keep things extremely simple and just use the powdered product for your first go round. Once you've added your hot chocolate powder to the cup, put in your CBD dose and stir it to incorporate the powders. Top it off with a bit of hot milk or water, stir to dissolve fully, and mix in the rest of the hot liquid.
If you have an oil that you'd love to try in your CBD hot chocolate, mix the full cup and add your dropper dosage last. Stir in and enjoy. For fun flavor combinations, you can try one of these;
Milk chocolate and coconut oil

Dark chocolate and orange oil

Any chocolate and cookies and cream oil
After adding oil, you may need to keep stirring as the product cools. A dollop of whipped cream would be a nice way to seal in your CBD oil and savor all that flavor!
Caffeine Considerations
Cocoa and chocolate both have caffeine. Additionally, both of these products are enhanced by sweeteners, some of which can be agitating. If you love a hot, sweet beverage before bed but really have to stay away from caffeine, you may want to try dried carob powder.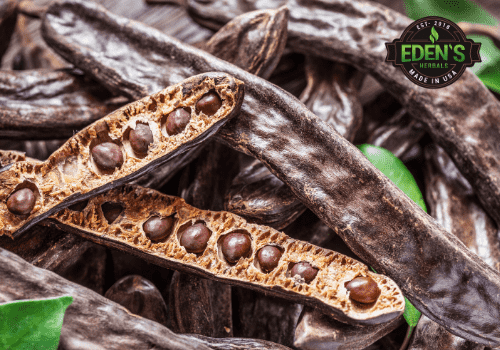 Carob isn't chocolate; it's milder and a bit nuttier, but it does have a simple sweetness and may work better for you before bed. To try it, you can replace cocoa powder with carob and cut the sugar in half, then sweeten to taste. If you find that sugar is agitating to your system, try stevia for a more soothing beverage.
Carob Alternative Recipe
Start with the powders in a separate container. Mix;
1 cup carob powder

.5 cup powdered sugar or .5 tsp stevia

.5 cup granulated cane sugar or .5 tsp stevia

Dash of salt
Shake this up to mix the powders thoroughly. Don't add your CBD isolate until you're ready to add the hot liquid.
Scoop two rounded spoonfuls of mixture into a mug to start, add your CBD isolate and top off with 6 ounces warm almond or coconut milk. You can add sweetener to taste; many times, carob powder can be overpowered with too much sugar.
If you want to try a dropper of CBD oil in this beverage, consider using a vanilla or coconut flavored product. Yum!
DIY Options: Chocolate
If you prefer a bit more flavor variety, you could mix up a large batch of DIY powdered hot chocolate to which you can add your isolate.
Follow this recipe for a great hot cocoa mix ;
10 cups powdered milk
4.75 cups powdered or confectioners' sugar
1.75 cups unsweetened powdered cocoa
1.75 cups non-dairy creamer powder in the flavor of your choice
Put 1/3 of a cup of this mixture in a mug, stir in your CBD isolate and add 3/4 cup of boiling water. To keep things tidy, stop after just a couple tablespoons of water and stir to make a syrup, then stretch it with the rest of the water for a soothing cup of chocolate plus CBD.

Conclusion
You can put CBD to work as a full dose before bed or to microdose throughout a long day at work. To keep things simple, mix powders with powders and liquids with liquids. Remember that a flavored oil will likely give off a stronger fragrance when you heat it up, so choose oils that either have no fragrance or mix well with the fragrance of chocolate.
Consult a qualified physician before beginning a new CBD regiment. This article is not intended to diagnose treat or cure any particular disease or ailment. These statements have not been evaluated by the FDA and CBD is not proven to treat, cure, or prevent illness.
If you have any further questions, or want to try making your own CBD hot chocolate today, contact Eden's Herbals at [email protected]