Is Eden's Herbals Legit?
Posted by Eden's Herbals Staff on 9/16/2022 to
Information
CBD is the new kid on the block in terms of legal supplements. So it's no wonder if you're wondering if Eden's Herbals is the real deal. After all, CBD isn't regulated by the FDA, even though it's legal.
That means, for companies like Eden's Herbals, you'll want to find out if they're legit before you pull out your wallet and take the CBD plunge.
The short answer - Yes, Eden's Herbals is legit (more on why in a minute).
In this post, we'll cover all the things that make Eden's Herbals legit, including:
It's certified

Extraction technology

Local hemp

Customer satisfaction

Free shipping

Use MCT oil (max absorption)
Brief Overview: Eden's Herbals
We're a no-BS company focusing on one thing - offering the highest quality CBD to our customers. After all, we want you guys coming back again and again. CBD is a way of life; after many of you have experienced its effects, long-time use is not uncommon.
For us to capture the ultra-competitive CBD market, we've taken extra steps to ensure our CBD stands out from the others, like sourcing our hemp from local family farms right here in the U.S. We also keep overhead low by delivering everything online.
This all adds up to a no-BS product at the best possible price.
What To Look For When Buying CBD
When buying CBD from any company, you'll want to inspect a few things first. Once you find their website (assuming they have one), check the following to see if you can trust their CBD.
Do They Offer Lab Reports?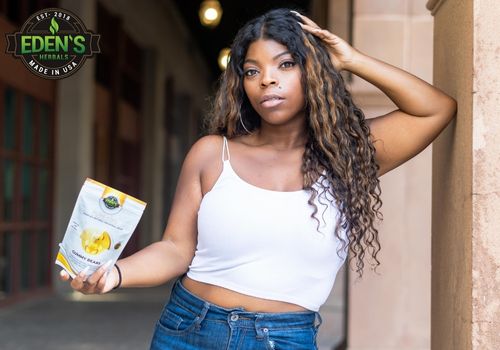 A lab report or certificate of analysis is the number one thing to look for when buying your CBD. As mentioned, the CBD brand industry is very young and, unfortunately, filled with unreputable vendors. A recent study by Penn Medicine found that as many as 70% of CBD extracts sold online are mislabeled.
Eden's Herbals offers comprehensive, third-party lab test on all our CBD. By reviewing our lab reports, you'll find the following information:
New analysis for every batch.

Name of product, product code, and batch number.

Date of test

Amount of cannabinoids present, including THC and CBD.

Solvents and other harmful chemicals.

Full spectrum and THC-free lab reports
Where Is Hemp Grown?
Where your hemp is grown has a significant impact on its quality. For example, if your hemp is grown in China, there may not be the same oversight you'd have here in the states. Regulations vary from country to country, and climate change may also affect growing conditions.
All our hemp is sourced from family farms in Colorado and Washington, which have ideal hemp growing conditions. In addition to local sourcing, our hemp suppliers practice organic farming methods - meaning no pesticides or harmful sprays wind up in your CBD.
How Is Your CBD Extracted?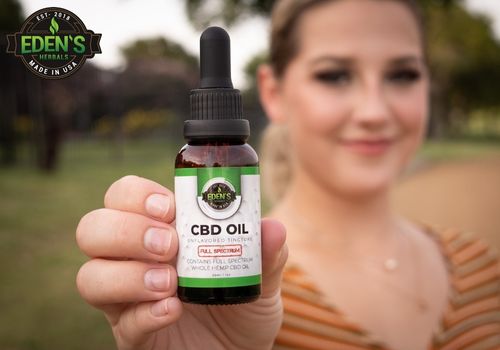 One of the biggest concerns about CBD is the number of contaminants in hemp during the extraction process. When hemp arrives at the manufacturing facility, it must be purified for the legal limit of THC (0.3%) and potentially toxic impurities.
Eden's Herbals uses CO2 extraction technology, a pricey yet far more superior way to extract hemp. Unfortunately, some companies may employ chemical extraction, which uses solvents and other chemicals to "break down" the hemp and extract your CBD. While cheaper, chemical extraction may often leave an unclean CBD.
Positive Customer Reviews
One important thing to consider is what others have said about your CBD. Sure, you can go on our website, but why just take our word for it? You can check out the third-party review site Trustpilot.
What To Beware Of When Buying CBD
Red flag warnings are essential to note when buying your CBD. Because there are so many companies vying for your business, combined with little regulation, we've taken the liberty to include a few things to watch out for before buying.
Do They Promote CBD as a "cure-all" for Your Symptoms?
CBD works excellent, and there's evidence it can help with several diseases and their symptoms, including:
But if your company claims they can "cure" your symptoms - you may want to dig a little deeper. Look for backlinks that provide descriptions of the symptoms CBD may help "cure." Most reputable CBD companies won't make such outlandish claims but rather point you to studies where CBD may help alleviate specific symptoms.
Claims of Zero Side Effects
When buying CBD, beware of claims of zero side effects. The FDA recently issued a warning letter to companies that marketed CBD improperly. Customers were led to believe the products they were being sold could "cure" certain diseases or exceed the legal limit of THC.
Ponzi Schemes
Unfortunately, Ponzi schemes, or MLM (multi-level marketing), can happen in any industry, including CBD. If a CBD company tries to offer you a "free trial" or says they need to dump some CBD stock in exchange for your personal information, you should take note.
Eden's Herbals uses discreet packaging using padded envelopes or priority USPS boxes. When you check out, we require you to enter your email account and provide you with a tracking number. Finally, we use surveillance video in our shipping department, verifying any customer discrepancies.
Celebrity Scam Endorsements
While not all celebrity endorsements are a scam, a few in the CBD industry have recently popped up. Keanu Reeves, for example, was recently identified in a scam that claimed he was the brand ambassador for CBD gummy bears.
After review, it was found he neither owns nor endorses any CBD products. Like most scams, the article was falsely written as "clickbait" to draw attention to their product.
Benefits of Buying Eden's Herbals CBD
To recap, Eden's Herbals is definitely legit. We've got you covered on all your CBD needs, including CBD tinctures, CBD gummies, CBD Isolates, and even CBD capsules. Other advantages of buying from us include:
Pesticide-free

No solvents

No chemical additives

Non-GMO

No prescription required

Value

Great customer service
Whether you are looking for a reliable CBD oil, CBD body lotion or even cinnamon flavored pure CBD oil, you can or even CBD dog treats, rely on Eden's Herbals for high quality CBD products.
If you want to learn more about if Eden's Herbals is legit, contact Eden's Herbals at [email protected] today!
*These statements have not been evaluated or approved by the Food and Drug Administration and are not intended to diagnose, treat or cure any illness. Medical advice should be taken from a medical professional.
All of the articles on this site are written by 3rd party content providers, expert bloggers or doctors not directly affiliated with Eden's Herbals.
Individuals should learn the risks and side effects prior to taking CBD. Make sure to always check with a medical professional before starting any new CBD treatment or medication that is not FDA approved.