How to Take CBD Oil Soft Gels
Posted by Eden's Herbals Staff on 6/21/2022 to
Information
No dosing. No-fuss. Easy to take. Welcome to the world of CBD oil soft gels. Because CBD soft gels are pre-dosed, you'll benefit from the easiest way to take CBD oil. While some of you might prefer your CBD gummies, this post is for those who prefer a straight-up CBD hit.
Since the legalization of CBD, thanks to the 2018 Farm Bill Act, CBD use has dramatically risen. And for a good reason. Good evidence is emerging on CBD's effectiveness in helping alleviate symptoms associated with various ailments. In 2018, the Food and Drug Administration (FDA) approved the first-ever CBD-based drug for treating severe epilepsy.
This article will cover CBD soft gels and how best to take them. Keep reading also to learn the best time to take CBD soft gels and how you can factor them into all your daily activities.
What Are CBD Oil Soft Gels?
CBD oil soft gels are similar to hemp seed oil soft gels in feel and texture. If you've taken fish oil, they use the same pill format. Each pill contains CBD oil within the capsule. Like hemp seed oil capsules, CBD oil soft gels are designed to swallow easily. You'll also digest them better because of their ability to dissolve within your digestive tract.
Some of the advantages of CBD oil soft gels include:
Each pill is pre-measured.

Superior digestion.

More convenient than other CBD products, such as oil or isolates.

Come in an easy-to-carry pill bottle.

Same ingredients as regular CBD oil products.
How Do CBD Oil Soft Gels Work?
CBD oil soft gels work the same as ordinary CBD oil, except they dissolve in your digestive tract. Once you ingest CBD oil soft gels, your body's cannabinoid receptors, CB1 and CB2, send signals to your ECS to limit the spread of certain diseases and inflammation.
The ECS, or Endocannabinoid System, is a complex physiological system that regulates virtually every system in your body, including organ and brain function and emotions. Because of its ability to help control your ECS, scientists are keen to understand more, aside from what they've already found. In 2022, congress passed the Cannabidiol and Marihuana Research Expansion Act, which could open the door for more CBD-based drugs to be approved by the FDA.
For now, however, buying CBD from reputable companies, like Eden's Herbals, which provides Analysis Profiles and Lab Certificates on our CBD oil, makes the best buying option. To date, studies have found CBD may help with the following conditions:
How To Best Take Your CBD Oil Soft Gel
Because most CBD is not FDA-approved, talking first to your doctor is recommended before starting a CBD regimen. The easiest way to take CBD is simply to take a pill and wash it down with a glass of water. You won't fuss around with a dropper or have to hold it under your tongue, either.
Depending on your condition or CBD tolerance, take 1-2 soft gels at a time. You can take this dose throughout the day, as needed, up to three times - for a max total of 6 pills a day. By following this regimen, you'd get around 100mg of CBD daily. You can obviously take less as six pills would be on the high side and more preferable for someone with chronic pain, for example.
How Long for CBD Oil Soft Gels To Kick In?
Because CBD Oil Soft Gels are absorbed through your digestive tract, they take a little longer to kick in than standard CBD oil formulations. Most CBD oils come with a dropper and are placed under the tongue for sublingual delivery. Taken sublingually, CBD oil can work in as little as 15 minutes.
Unlike standard CBD oil, CBD soft gels bypass the liver and get absorbed through stomach enzymes. Once broken down, you'll notice CBD Soft Gels kick in around 1-2 hours. Keep in mind that this is a general absorption time, but other factors matter, including:
Body Size

Metabolism

Taken on an empty stomach

CBD oil soft gel strength
When Is The Best Time To Take CBD Oil Soft Gels?
This really depends on your condition and reason for taking CBD. Busy executives, for example, might not have time to mess around with a dropper but need CBD to help calm their nerves before an important meeting. In that case, CBD oil soft gels make the perfect option.
If you have arthritis, consider taking CBD oil soft gels on an empty stomach first thing in the morning. That way, your ECS and internal pain sensors have a head start in alleviating symptoms. Continue taking throughout the day, as needed.
Because CBD has been shown to alleviate depression and anxiety and aid sleep, you can also take CBD oil soft gels at night. Consider taking them about an hour before bedtime. You also might want to consider not taking any CBD throughout the day, as it might diffuse the sleep effect of your nighttime CBD regimen.
Final Word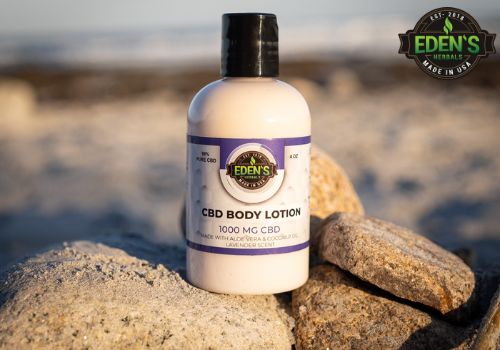 CBD oil soft gels are one of the easiest and most effective ways of getting your daily dose of cannabinoids. They're super convenient, and the dosing is taken care of without needing a dropper or measuring cup. Consider buying your CBD oil soft gels from reputable manufacturers, like Eden's Herbals.
For maximum CBD effect, consider adding CBD topicals along with your soft gels. While not as convenient as CBD oil gel tablets, you can also try our Full-Spectrum CBD oil or CBD Isolate products. They work a little faster than pills, and you can use them after work or on the weekend.
Advantages of buying directly from us include:
No prescription is required.

We use CO2 extraction, eliminating harmful solvents.

All our CBD is lab certified and tested for impurities.

Sourced from American-made, organic hemp.

Best of all, no shipping fees!
If you want to learn more about taking CBD oil soft gels, contact Eden's Herbals at [email protected] today!
*These statements have not been evaluated or approved by the Food and Drug Administration and are not intended to diagnose, treat or cure any illness. Medical advice should be taken from a medical professional.
All of the articles on this site are written by 3rd party content providers, expert bloggers or doctors not directly affiliated with Eden's Herbals.
Individuals should learn the risks and side effects prior to taking CBD. Make sure to always check with a medical professional before starting any new CBD treatment or medication that is not FDA approved.