How to Make CBD Lotion
Posted by Eden's Herbals Staff on 3/7/2022 to
Information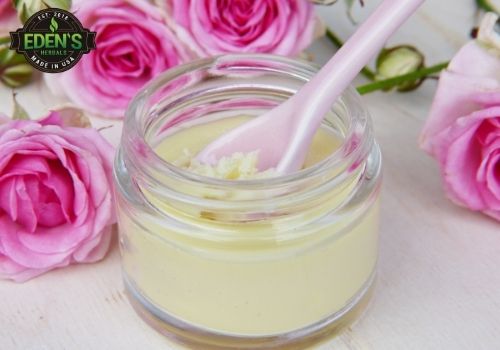 Skin, being the largest organ in your body, is often neglected. Not to mention there's a dizzying array of products in today's market - from moisturizers to hand creams and gels. Many of you might be wondering if CBD is just the latest example of a skin health ingredient with little understanding of its effectiveness. Is CBD just hype?
This post will discuss the scientific research results of CBD's effectiveness in treating your skin condition(s). We'll also include an easy CBD Lotion recipe you can make at home. Keep reading to learn how to make your own CBD lotion and other tips on using CBD for the skin.
CBD Lotion Benefits
CBD lotion works by interacting with our ECS (endocannabinoid system), a complex biological structure regulating inflammation. When taken by the sublingual method, CBD is processed through the liver, which, in turn, "deliver" the CBD compounds to your ECS system.
When CBD lotion is applied to the skin, your dermal and subdermal layers receive additional anti-inflammatory nutrients present in CBD. Research has shown CBD also helps treat the following skin conditions:
Acne
CBD acts as a skin protectant or barrier by its ability to counter the effects of oxidative stress (OS). A study in 2014 showed that CBD stopped the production of sebum, the oily substance that causes acne. While more research is needed to determine CBD's effect on acne conclusively, these early trials show promising results.
Eczema
In 2019, scientists published a study in Clinical Therapeutics that found CBD topicals to be a safe alternative therapy to treat skin disorders, especially anti-inflammatory diseases like eczema. The study further demonstrated that CBD ointment helped reduce itching and sleep loss, accompanying the symptoms.
MRSA
Methicillin-resistant Staphylococcus aureus (MRSA) is an infection resistant to standard antibiotic treatment. Most commonly seen as staph infections, people with skin disorders are particularly vulnerable to MRSA. Recently, scientists published a report that showed cannabinoids to be effective at eliminating biofilms and producing antimicrobial properties in combating MRSA.
Neuropathic Pain
Chronic pain is challenging to treat because most drugs cause addiction and withdrawal symptoms. Because of this, more people turn to CBD and medical marijuana to alleviate their pain. Scientists recently determined that cannabinoids helped suppress neuropathic pain by targeting pain receptors.
Joint Inflammation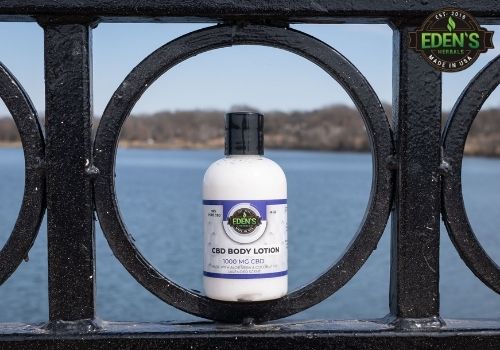 If you have arthritis, you're familiar with the nagging pain that accompanies it. In a recent animal study, subjects given topical CBD showed a reduction in inflammation, as well as pain-related symptoms.
CBD Recipes
Making your own CBD infused lotion is a fun and easy DIY project. Depending on your condition, you can gauge exactly how much CBD you need. Here are three simple recipes to help get you started.
What You'll Need Before Starting:
Measuring cups

Two stainless steel bowls

Measuring spoons

Glass jar

Cheesecloth
DIY CBD Lotion Recipe:
CBD Lotion Ingredients:
30ml CBD oil (full-spectrum works best)

¼ cup of olive or coconut oil

Essential oils (Eucalyptus, rosemary, or lavender)

¾ oz of beeswax or shea butter

¾ cup of water (distilled or mineral)
Heat olive or coconut oil, along with beeswax or shea butter, by stacking stainless steel bowls on top of one another. Leave a thin layer of water on the bottom bowl and heat the oils together on the top bowl until fully melted.

Next, add in the CBD oil and mix well.

Let the mixture cool by taking off the stovetop.

Add in your essential oil (eucalyptus is an excellent choice for relieving pain).

Next, add ¾ cup of distilled water and stir to desired consistency.

To store, pour the mixture into a mason jar and tightly secure the lid.
DIY CBD Salve Recipe:
CBD Salve Ingredients:
30ml CBD Oil

One Cup Olive or Coconut Oil (you can also use almond oil).

Your favorite essential oil

¾ oz Beeswax or Shea Butter
Heat olive, coconut, or almond oil together using two-stainless steel bowls (double-boiler method).

Add CBD and mix well (no water for this recipe).

Let mixture cool and add in essential oil (skip adding water).

Transfer to mason jars.
DIY CBD Cream Recipe:
CBD Cream Ingredients:
30 ml CBD Oil

¾ cup of your favorite oil base (olive, coconut, etc.)

¾ oz of beeswax or shea butter

¼ cup of mineral water.

A drop or two of your favorite essential oil (lavender, rosemary, etc.)
Heat oil base along with beeswax or shea butter using double boiler method.

Add CBD oil and stir until thoroughly melted. Remove from heat.

After the mixture has cooled, add in essential oils.

Next, slowly add in water and stir until desired consistency.

Transfer into mason jars and secure the lid tightly after every use.

Which Kind of CBD Should I Use for My Lotion?
When choosing your CBD, consider a full-spectrum oil. Full-spectrum CBD contains the entire terpene profile of the hemp plant. Terpenes are the "ingredients" that make up the hemp plant. Over 100 active terpene compounds are found in hemp (also known as cannabis). The two most active compounds are THC and CBD.
By law, there's not enough THC in full-spectrum CBD to impair your brain. You will, however, benefit from all 100 plus terpenes acting in concert. Known as the entourage effect, full-spectrum CBD oil is thought to provide you with the most therapeutic value.
Why Should I Care About My CBD Ingredients?
These DIY recipes are a fun way to receive the benefits of CBD right on contact. But many people nowadays are growing more concerned about harmful toxins being sold by formerly trusted brands. The advantage of making your own lotion is you can see exactly where and what goes into your end-product.
When looking for the best CBD, ask your vendor if they have a lab of certificate they can cross-reference. Eden's Herbals provides a certified lab study analysis on our website. A lab study should be done by a third party, meaning it's objectively researched and analyzed.
Where Does Eden's Herbals CBD Come From?
Our CBD is sourced from organically grown, American-made industrial hemp. This means that when you take our product, you'll benefit from knowing:
Complete Lab Reports ensuring quality and legality (under 0.3% THC).

Free of residual solvents or pesticides

Extracted from organic hemp

Non-GMO

Gluten-Free

Dairy-Free
If you want to learn more about making your own CBD lotion, contact Eden's Herbals at [email protected] today!
*These statements have not been evaluated or approved by the Food and Drug Administration and are not intended to diagnose, treat or cure any illness. Medical advice should be taken from a medical professional.
All of the articles on this site are written by 3rd party content providers, expert bloggers or doctors not directly affiliated with Eden's Herbals.
Individuals should learn the risks and side effects prior to taking CBD. Make sure to always check with a medical professional before starting any new CBD treatment or medication that is not FDA approved.