How to Boost Your Immune System with CBD
Posted by Eden's Herbals Staff on 12/9/2020 to
Information
Many of us are worried about COVID-19 and looking for all-natural immune boosters to help us stay safe this winter. CBD might be one such option to help protect us, as infections spike around the world.
Read on to find out how CBD can help improve your immune system and fight off any viruses that threaten your health!
How Viruses Impacts the Immune System
It's important to first understand how this virus impacts your immune system.
When a foreign object enters your body, the immune system's purpose is to identify and eliminate the potential health threat. It's made up of organs, bone marrow, and the thymus. Bone marrow is an essential part of the immune system because it holds blood cells.
When you have a virus, your body undergoes three major stages.
During the first stage, the virus latches onto a protein and attacks. Your symptoms correlate to where on the body the virus attaches itself.
Connection to the digestive tract leads to complications like diarrhea. Respiratory connection causes a coughing sensation. This stage is most common among patients and for 80% of them, the virus does not worsen their condition past this point.
If you're among the 20 percent of people who enter the second stage, you're likely to experience trouble breathing. This symptom is a byproduct of the virus violently attacking the immune system before it has enough time to nullify the threat. When your immune system fails to kill the virus quickly enough, it spreads to your lungs.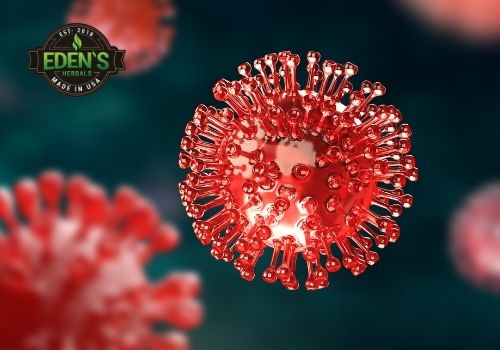 The amount of exposure to the virus also impacts the severity of your lung problems. For instance, healthcare providers who have regular interactions tend to have worse symptoms.
Vulnerable communities with compromised immune systems due to age or other illnesses and medication are more likely to reach stage two.
During the third or hyperinflammatory phase, your body begins to attack itself in a desperate attempt to rid you of the spreading virus. In fact, your body harms itself more than COVID-19.
The inflammatory response used against the virus begins to suppress your body's organ function. Once you experience organ failure, the virus becomes fatal.
CBD and the Immune System
These days, people are beginning to shy away from traditional medicine. Many are leaning on holistic solutions. One of the alternative medicines gaining popularity is CBD. Since it's legalization in the United States, it may be a solution you should try for a stronger immune system.
What is CBD?
Cannabidiol, a compound found in cannabis and hemp plants, is known for many health benefits. Although it comes from the same plant, CBD doesn't contain the compound THC, which means it doesn't cause psychoactive effects. The effects of CBD are considered to be mild and very beneficial to humans.

How does CBD impact COVID-19 symptoms?
Our bodies have a system called the endocannabinoid system that regulates a number of functions. Our sleeping, eating, pain, and immune patterns are all controlled by this system.
Our bodies produce the neurotransmitters necessary for proper function. CBD mimics these naturally occurring compounds to promote balance in the body.
One of the best-known uses for CBD is as an anti-inflammatory. Inflammation is the by-product of the immune system working to get rid of a health threat like a virus. Studies have shown that CBD works with brain receptors to reduce the cytokines process. That is the process that creates inflammation.
CBD also works as a pain reliever, which is another common symptom of COVID-19. Cannabinoid receptors bond with endocannabinoids in your nervous system and minimize pain.
CBD targets dopamine and serotonin receptors, which regulate cognitive function as well as pleasant feelings and mood. As your brain adjusts to taking CBD, it essentially rewires its response to pain and other COVID-related symptoms, helping you feel better.
In addition to being an anti-inflammatory and pain reliever, CBD also improves anxiety and depression.
Whether you're anxious about the pandemic or even have COVID-19, additional stress and anxiety make you more likely to get sick. CBD is a natural antidepressant that improves mood and minimizes anxiety-related symptoms including fever, headaches, and insomnia.
Best of all, CBD is not believed to cause addiction. Over-the-counter pain medications oftentimes require frequent use. They are more likely to cause addiction and adverse side effects. If you currently take medication, speak to your healthcare provider before taking CBD.

How to Take CBD
CBD comes in many forms. Some people prefer to apply it topically while others enjoy taking CBD orally. There is CBD oil that can be taken topically or sublingually. Placing the oil underneath the tongue is one of the quickest ways to absorb the oil and feel the benefits.
If you don't like the taste of natural CBD oil or tincture, you can add it to your food or beverages.
If you're looking for pre-portioned, fast-acting edibles, CBD gummies may be for you. Gummies are sweet, candy-like servings of high-level CBD and a gummy bear can be discreetly taken anywhere. If you're new to taking CBD, gummies are a great introduction.
Dosing and Risk Factors
Many factors influence the dosage you should take. The general rule is starting out low and gradually increasing your dosage. Be sure to give your body some time to adjust to the effects.
Although CBD has been shown not to cause addiction, it's best to take your time and seek medical assistance in figuring out the best dosage for you.
If you take medically-prescribed medication, experts recommend speaking to your doctor. CBD can interfere with the efficacy of your medication, making you vulnerable to side effects. Although most people don't experience any side effects, rare CBD complications can include:
-Drowsiness
-Fatigue
-Dry mouth
-Diarrhea
-Lack of appetite
If you're pregnant and taking CBD, be sure to talk to your doctor about if it's safe to use. If not, they can assist you with alternatives. While CBD is not FDA-approved, it has been proven to be very safe for human consumption.

Conclusion
The current pandemic impacts us in a major way. There is the inability to socialize. There is the fear of a life-threatening disease. Many people are looking for ways to fortify a healthy immune system.
CBD has anti-inflammatory and antidepressant qualities, making it a great choice to keep flu-like symptoms at bay. With so many benefits of CBD, it's a no-brainer for many people.
Like with any medication, it's important to speak with your doctor before taking CBD, especially if you have pre-existing health conditions. Once cleared, be sure to find a quality brand of CBD.
Some companies add harmful ingredients to their CBD in order to sell more products and make a larger profit. These products can lead to further health complications, so thoroughly research companies to find a reputable brand.
Eden's Herbals is an American-based CBD company that believes in quality products at an affordable price. With endorsements from businesses like Forbes and Google, Eden's Herbals offers a variety of CBD items including tinctures, oils, gummies, and topical products.
In addition to offering top-shelf lab-tested CBD products, they also provide free shipping. Visit their website to find full-spectrum and THC-free CBD isolate products.
*These statements have not been evaluated by the Food and Drug Administration and CBD is not intended to treat or cure any specific illness or disease. We recommend consulting a qualified physician before starting any new CBD regiment.