How and Where to Buy Pure CBD Oil
Posted by Eden's Herbals Staff on 6/18/2020 to
Information
Many online companies sell a range of CBD products such as gummies, lotions, and CBD oils. If you don't know where to find CBD, you can search online and find hundreds of options.
It can be hard to trust the legitimacy of a CBD store or retailer, so it helps to know what to look for. This guide will show you where to buy CBD, what to look for, and how to know it's pure, before buying your first CBD Oil.
Where to Buy CBD Oil
• Online Stores
Even though FDA regulations vary from state to state, CBD products are federally legalized, so most online stores can legally sell CBD products.
The benefits of ordering your CBD online are convenience, timely delivery to your home, and reliability. Online stores, like Edens Herbals, also provide frequent discounts and promotions. More so, the shipping cost is upfront and affordable.
• Physical Storefronts
You can also buy CBD oil in legalized local and global storefronts. In the United States, 11 states have legalized both recreational and medicinal use. In such states, it is easy to access over-the-counter CBD oil or any other CBD products.
Outside of these states, the prescription must be approved by a competent medical practitioner. To buy CBD oil locally, you will have to be aware of the CBD regulations of that particular state. The benefit of an upfront physical store is that you can verify your CBD product in person.
What To Consider When Purchasing CBD Oil
• Types of CBD
There are three primary categories of CBD. The first is full-spectrum CBD which includes all cannabinoid compounds, including THC. The second is broad-spectrum, which is THC-free, but still has a mixture of cannabinoids from the hemp plant. The final grade is isolate CBD. This is pure CBD with no other cannabinoids or THC.
• The Price of CBD
The price of CBD oil varies depending on the strength of the product. In the United States, a 2000 mg bottle goes for approximately $140, while a 1000 mg bottle costs an average of $80. If you are a first-time buyer, the 1000 mg bottle can be a good choice. You can later decide to buy a stronger, more expensive CBD Oil, depending on how the oil works for you. Many companies, like Eden's Herbals, offer discounts for buying in bulk.
• The Presence of Other Substances in CBD Oil
You will find hemp oil, hemp seed, and hemp extracts as the primary ingredient of CBD oil. In some cases, there could be extra products added to change the taste, flavor, and appearance of CBD oil. Fruit flavors, such as lemon, are popular. Keep this in mind and know what you are purchasing.
• Where was it made?
Find out where the CBD products were made and where the hemp was grown. Some retailers are known to distribute CBD that was grown with risky pesticides. A trustworthy CBD company can tell you where their farms are located and where their products are assembled.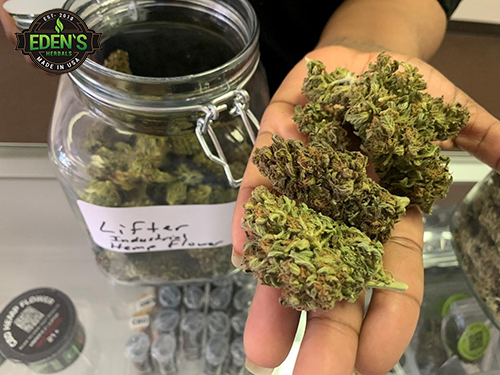 Is it CBD Oil or Hempseed Oil?
CBD oil originates from the buds, leaves, and stems of the hemp plant. Hemp oil comes only from the seeds and has no traces of CBD. Hemp oil is often taken orally as a supplement. While hemp oil can be a great supplement of its own, it does not contain any CBD at all.
How to know you're buying pure CBD oil:
• Third-Party Lab Report
Top CBD brands assure you that their products are safe by providing third-party lab reports. These reports help you verify that what you are buying is genuine, as advertised by a brand.
Consumers have different preferences when it comes to CBD oils. Some prefer full-spectrum products that contain THC. Others are looking for CBD Oil with cannabidiol only.
CBD third-party lab reports ensure that you are purchasing exactly what you are looking for. They also guarantee that the CBD is free from toxic metals and other contaminants. To understand these lab reports, you have to know about the three types of CBD oils: full spectrum CBD, broad-spectrum CBD, and isolate CBD.
Guide to Reading Third-Party Lab Report
1. Check the Cannabinoid Profile
This is a crucial part of a CBD lab report for finding the type of CBD you desire. It gives you precise, detailed data on the types and amounts of cannabinoids present. This section lists the total milligrams present for each cannabinoid.
When purchasing full-spectrum CBD oil, it should contain a wide variety of cannabinoids. These cannabinoids include CBN, CBC, CBG, CBD, CBDA, CBGA, CBDV, THCV, THCA, and Delta-9 THC.
In the case of broad-spectrum CBD oil, it should contain the same cannabinoids, but without the Delta-9 THC.
In isolate CBD, CBD should be the only cannabinoid present. Some suppliers will, intentionally or not, mislabel their products, so it's important to read the lab report as well.
2. Check the THC Profile
All hemp products contain THC with a percentage of 0.03 or less. Scammers may sell you oils with high levels of THC, which is harmful to your health.
Remember that too much THC is what causes the "high" feeling associated with marijuana. Requesting a lab report can help you avoid the psychoactive effect of THC. Anything higher than 0.03% should be a deal-breaker and time to look elsewhere.
3. Look Out for the Terpene Profile
Terpene compounds present in CBD products are responsible for the typical "CBD aroma". You find them most often in full-spectrum and broad-spectrum hemp. If you are looking for isolate CBD, there should be no terpene compound.
When reading the terpene lab report, the information should be straightforward. Terpenes include Pulegone, Myreene, Isopulegol, Menthol, G-terpene, B-caryophyllene, and Guaiol, to mention a few.
4. Check for the Presence of Heavy Metals
Heavy metals are dangerous as they cause health complications such as cancer. This is a very important step when reading a CBD lab report. The heave metal profile should display zero presence of Mercury, Lead, Arsenic, and Cadmium.
CBD Oil Extraction Process: CO2 Extraction Method
Some extraction processes leave behind toxic chemicals in CBD oil. The residue of chemicals like Acetone, Hexane, and Methanol can put your health at risk.
The best idea is to select CBD oil extracted through the Carbon Dioxide extraction method. CO2 extraction involves a series of pressurized chambers where CO2 is exposed to high pressure and low temperatures.
This produces oil containing very high amounts of CBD and no harmful residues.
Conclusion
At present, many CBD brands are supplying amazing products with many medical benefits. It's still important to remember that CBD is unregulated by the FDA. This means that some companies can sell low-quality or dangerous products to unsuspecting customers.
Without FDA regulations, it is easy to sell counterfeit CBD products. That's why it's important to check that the CBD Oil you are about to purchase is pure and of a high quality. If you are considering CBD Oil, just make sure it meets all of the guidelines we covered in this article. This will ensure that you are getting the type and quality of CBD that you are looking for.