How To Read CBD Labels
Posted by Eden's Herbals Staff on 11/27/2020 to
Information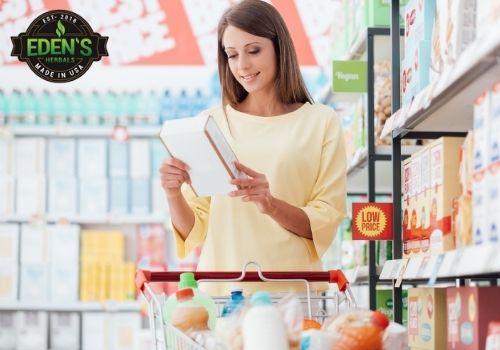 If you are planning to buy CBD to manage or treat symptoms of anxiety, chronic pain, or any other condition, then this guide on how to read CBD labels is of great importance. Understanding these labels might be challenging, especially if you are new in the CBD world.
Bearing in mind that the FDA has not approved any CBD product for nonprescription makes this matter even more complicated. This means you will have to do thorough research on your own and rely on third-part testing reports to determine whether the CBD product you are interested in is legit or not.
Here is a guide on everything you need to know about CBD products and grasp a deeper understanding of CBD labels.
It is important that we first rundown marijuana vocabulary.
CBD Vs THC
Cannabinol or CBD is one of the compounds found in the marijuana plant. Tetrahydrocannabinol (THC) is another compound that happens to be the most popular. Despite these two elements co-existing in the same plant, they are completely distinct from each other.
THC happens to be the psychoactive element that causes the "high" effect associated with marijuana. On the other hand, CBD is non-psychoactive and has a myriad of health benefits. CBD is the element used for health and wellness purposes.

Marijuana Vs Hemp
Both cannabis and hemp are marijuana plants; the only difference being that hemp has less than 0.3% THC, while cannabis has a higher concentration of the psychoactive THC. The interesting thing is that CBD can be either hemp or marijuana-derived.
Depending on your geographical location and the laws regulating the CBD industry in your state, you can purchase both hemp-derived and marijuana-derived CBD products; hemp-derived CBD products alone; or no access to any CBD product at all.
Understanding the difference between hemp and cannabis is very important because cannabis-derived CBD can result in psychoactive effects, and the THC traces in these products will show in drug tests.
However, hemp-derived CBD products contain negligible amounts of THC that will not trigger positive results in a drug test. It is also important noting that THC and CBD work better together than when in isolation. Researchers call this the entourage effect.

Full-Spectrum, Isolate, Broad Spectrum, or Compounds: What Is the Difference?
There are a few different types of CBD products. Your choice of broad-spectrum CBD, full-spectrum CBD, or CBD isolate determines what you get from the products besides the CBD.
Full-Spectrum CBD
These products contain naturally occurring elements of the marijuana plant, THC included. In hemp-derived full-spectrum CBD products, however, the TCH concentration will not be above 0.3 %.
Broad Spectrum CBD
The CBD product will have all the natural compounds in the marijuana plant, apart from THC.
Isolate CBD
This happens to be the purest form of CBD on the market. All cannabis elements are isolated from the final CBD product, which means it has 0% THC.
You are probably wondering. Which one of these should I pick? Some individuals prefer Full-spectrum CBD because it comes with all the benefits associated with cannabis. All the compounds and cannabinoids work together in synergy.
Other people will prefer broad-spectrum CBD because they only want the flavonoids and terpenes without the THC. Those who choose CBD isolates prefer them because they do not want the other compound included, and the isolates are odorless and tasteless.
Cannabinoids, Flavonoids, and Terpenes
What are these compounds? In addition to THC and CBD, the marijuana plant has over a hundred more cannabinoids and other elements known as flavonoids and terpenes.
Cannabinoids impact your body's endocannabinoid system. This system is responsible for making sure your body's immune and nervous systems are on an even keel.
Just like cannabinoids, the terpenes have a number of health-boosting and therapeutic benefits. Flavonoids are compounds found in certain fruits and green tea, and they are known to protect your body against diseases.

How to know what's in your CBD product
Once you have decided on the product you want to buy, you should definitely check the product's ingredient label. The first thing you should ascertain is whether the product actually contains CBD. Most manufacturers will label their CBD products as being hemp-derived because it is increasingly becoming a requirement by law.
However, be cautious not to be fooled by CBD products with no mention of hemp or cannabidiol, and only mention hemp seed oil, hemp seeds, or cannabis seed oil. The reason being…these ingredients are not similar to CBD.
The other reason for checking the ingredients list is making sure that you are not allergic to any of the ingredients. Some of the most common ingredients are MCT oil, grapeseed oil, cold-pressed hemp seed oil, and olive oil. These carrier oils are used to preserve and stabilize the CBD, as well as helping your body absorb the CBD.
Some CBD oils and edibles will contain artificial or natural colorings or flavorings. Make sure you are not allergic to them.
When buying full-spectrum CBD products, always make sure the THC concentration does not exceed 0.3%. Broad-spectrum CBD products might have a list of the terpenes and cannabinoids included.
Third-Party Lab Testing
Reputable CBD products come with a Certificate of Analysis (COA). This certificate shows that the products have been tested by an independent third-party laboratory to ascertain that they are free from any illegal or harmful compound.
You can access the product's COA by scanning its QR code with your smart device. Most product retailers and websites have a COA, as well. If you cannot find it, you can email or call the company asking to see the COA.
The certificate of analysis might look confusing for a moment, but we will guide you on what you should focus on. Some of the factors to pay attention to include:
Labeling Accuracy
You should double-check the THC and CBD concentration labeling on the COA to make sure they match what's labeled on the product. It is not uncommon to discover mislabeling with CBD products.
A study shows that only about 31% of the CBD products on the market are accurately labeled. Researchers tested 84 CBD products selling online, and the results were shocking. 43% of them had higher CBD concentrations than labeled, and 26% has less CBD concentration than claimed.
Cannabinoid Profile
If you are buying either a Broad-spectrum or full-spectrum CBD product, you should definitely look at the list of cannabinoids and other compounds present. Cannabinoids such as Cannabinol (CBN), Cannabidiolic Acid (CBDA), Cannabichromene (CBC), and Cabbabigerol (CBG) should be present.
Additional Laboratory Charts
You must also check for pesticide and heavy metal analyses. This helps you know whether there are contaminants or heavy metals that could be harmful to your body. If any, make sure they do not exceed the safe limit for ingestion. Only buy the product of the status columns of all the charts state "pass."
Determining CBD Concentration and Understanding What a Serving Means
Some people get a little confused when it comes to determining the amount of CBD that gets into your body each time you take the product. This is known as a serving. Most CBD products will have a recommended serving size, and a number of servings per container
When a product label shows a number in large print, it often shows the amount of CBD in the entire product, not the size of a single dose. The CBD concentration is indicated on the CBD label in milligrams per milliliter (mg/ml).
For instance, if you bought 2,000 milligrams of CBD with a 40 mg/ml concentration, you can measure out a milliliter or whatever amount you want using the calibrated dropper. Or if you bought some CBD gummies labels as 200mg in large print but has 30 gummies, you can automatically tell you are getting 10mg of CBD per gummy.

Is CBD Legal?
Hemp-derived CBD, which contains less than 0.3% THC, is legal at the federal level thanks to the 2018 Farm Bill, but might be illegal in some states. Cannabis-derived CBD is illegal under federal law but legal in some states. It is, therefore, important that you check your state laws regulating CBD and those of states you visit.
It is also worth noting that nonprescription CBD products are not approved by the FDA and might be mislabeled.
Conclusion
Now that you have a better understanding of what to look out for with CBD products, you can shop for these products with confidence and easily pick one that best serves your needs. Quality online CBD stores, such as Eden's Herbals, will have pictures of their labels clearly displayed on their website, as well as a third-party lab analysis that verifies the contents of their CBD products.
Have it at the back of your mind if a product lacks third-party testing, or the retailer hammers bold claims of what the product can do, it's not worth buying. It is advisable that you begin with small doses of the new CBD product to test your body's response to it before taking up larger doses.
*These statements have not been evaluated by the Food and Drug administration and CBD is not intended to diagnose, treat, cure, or prevent any disease.