How Much CBD Oil Can I Give my Cat
Posted by Eden's Herbals Staff on 9/30/2022 to
Information
CBD, or cannabidiol, is taking the pet industry by storm - and for a good reason. Both you and your cat share a complex function that regulates virtually everything in your body, from organs to mood and emotions.
Known as the ECS, or Endocannabinoid System, your cat benefits from CBD through CB receptors identifying the cannabinoid and providing therapeutic relief.
That's great, but how do I know how much CBD oil I give my cat?
After all, every cat's ECS is as unique as its personality. This article will cover the best dose to give your feline buddy, depending on their condition and tolerance levels. Stay tuned to learn more!
Is CBD Good for Your Cat?
In regards to CBD, studies on cats are limited. CBD was only legalized recently, thanks to The Farm Bill Act. The pet industry is quickly catching on, primarily because all mammals have an ECS.
The Food and Drug Administration (FDA), for example, recently approved a CBD-based drug for seizures. A 2019 joint study conducted on cats and dogs over 12 weeks showed that cats appear to eliminate CBD differently than dogs. This is potentially good news for cat owners, as lower serum concentrations mean fewer side effects.
A 2021 study published in Research in Veterinary Science stated that, while well-tolerated in dogs, CBD research is still too limited on cats to determine its effects.
The article did note, however, that CBD should be studied further. Additionally, the authors stated CBD showed potential in treating the following symptoms.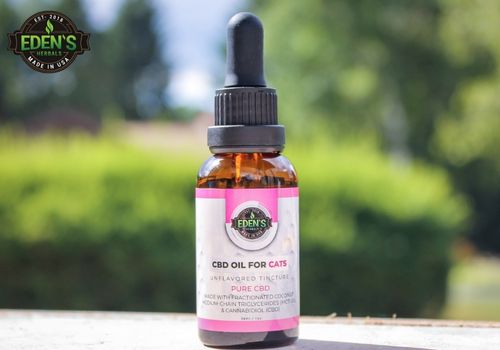 Finally, the latest study with felines, conducted in 2021, concluded that their studies warranted further testing to see if CBD enhanced feline quality of life. The authors stressed that CBD remains a viable treatment option and should be considered a potentially safe treatment option for your cat.
What Is The Best CBD Dosage For My Cat?
As always, speak to your veterinarian before starting your cat on a CBD regimen. Also, consider starting with the smallest possible dose before moving them up to normal dosing (just a drop).
For most cats, standard dosing is ½ ml, as marked on your dropper, per 10 pounds of bodyweight. Choose a high-quality CBD, like our specially formulated Cat CBD Oil, that contains other essential components, like MCT oil and organic hemp.
Can You Give a Cat Too Much CBD?
If your cat has never had CBD oil or has underlying health conditions, you may give them more than they can handle. CBD's adverse effects may include the following:
Vomiting

Nausea

Lack of appetite

Lethargic behavior

Diarrhea
In general, however, CBD is safe for your cat. While there's no official statement regarding cats, The World Health Organization, which monitors human health, states that CBD is safe and well tolerated in humans.
You can give most cats as much CBD as you think they need, provided you monitor their behavior. For example, if you have a large cat, consider adding an extra drop or two before bed. A 2020 study on dogs found CBD was well-tolerated, even in massive doses.
If your cat is in pain, give them what you think they need. Most of you guys have good communication with your little guy. They'll "tell" you what they need.
If you're still unsure about how much CBD to give your cat, follow the chart below.
Small to Medium-Sized Cats (Under 10 Pounds)
Eden's Herbals Specially Formulated CBD Cat Oil: ½ Dropper Once Per Day.
Large Cats (15-20 Pounds)
Eden's Herbals Specially Formulated CBD Cat Oil: One Full Dropper Once Per Day.
Health Issues To Consider Before Giving Your Cat CBD
Although the above chart is helpful for most, you should also consider your cat's health before starting them on a CBD regimen. A young, healthy cat may need less CBD. Conversely, an older cat in pain may need an extra CBD boost and a higher dose to ease its symptoms.
If your cat is new to CBD, talk to your vet before starting CBD. They may be able to determine if CBD may compromise their kidneys are compromised. Another factor to consider is your cat's age and if they suffer from specific ailments, like seizures.
Older cats may benefit from extra CBD if they struggle with seizures or pass out. As mentioned, CBD is FDA-approved for seizure control in humans with epilepsy.
Where Should I Buy My Cat CBD Oil?
CBD is non-psychoactive, so your cat won't overdose. But, because the FDA does not regulate CBD, you should strongly consider only buying from reputable manufacturers.
For example, our proprietary cat blend contains no THC, meaning there's no risk of giving your cat too much - in terms of psychoactive effects.
Other things to consider are lab reports. Eden's Herbals provides all of our customers with a certificate of analysis (COA), which states the THC content and purity of all our batches. This ensures quality and potency in each CBD product.
Can I Give My Cat Human CBD Oil?
Yes, you can. Full-spectrum CBD oil, for example, contains THC (0.3%) and over 100 plus cannabinoids. When taken together, cannabinoids, such as CBD, THC, CBN, and CBG, are thought to work synergistically to provide maximum therapy.
While it may seem like a good idea (after all, we want our guy feeling 100%), it may not be the right fit. Full-spectrum CBD oil contains THC. Unfortunately, your cat won't be able to tell you if they have a psychedelic experience.
While the THC strength is not high enough to affect humans, a 10-pound cat may react differently.
Key Takeaways:
You can't give your cat too much CBD as long as it's THC-free and from a reputable manufacturer. Eden's Herbals, for example, uses a CO2 extraction process to filter our CBD.
Unlike chemical extraction, which is cheaper, CO2 extraction removes impurities and residue that may affect your cat's health.
Other advantages of buying our CBD Cat Oil include the following:
Contains 150 MG CBD Isolate

Each bottle contains 30 ml of CBD Oil

Includes Measure Dropper

Lab Tested

THC-Free

Sourced from Organic, American-based farms.

Keto-Friendly Coconut MCT Oil (Healthy and tastes great)!
If you want to learn more about CBD Oil Dosage for Cats, contact Eden's Herbals at [email protected] today!
*These statements have not been evaluated or approved by the Food and Drug Administration and are not intended to diagnose, treat or cure any illness. Medical advice should be taken from a medical professional.
All of the articles on this site are written by 3rd party content providers, expert bloggers or doctors not directly affiliated with Eden's Herbals.
Individuals should learn the risks and side effects prior to taking CBD. Make sure to always check with a medical professional before starting any new CBD treatment or medication that is not FDA approved.