How Long Does CBD Oil Stay in Your dogs system
Posted by Eden's Herbals Staff on 3/3/2022 to
Information
Imagine your dog having more energy, a shinier coat, and less anxiety. CBD is exploding on the market because of its ability to potentially improve health and increase vitality - your dog is no exception! In fact, you and your dog share the same biological components that allow CBD to do its job effectively.
CBD remains in the system for about 6-12 hours for most canines. There are some variations on that timeline, however. In this post, we'll discuss why researchers, some physicians, and veterinarians are turning to CBD for help in treating their patients and the science behind how long CBD stays in your dog's system.
CBD: A Quick Rundown
CBD, short for cannabidiol, is one of two active ingredients found in the cannabis plant. Once scientists determined that humans and all animals (including dogs) shared an ECS ( Endocannabinoid System), CBD use has grown tremendously in the canine community.
A series of complex neuro-based receptors, the ECS system regulates all CNS (Central Nervous System) components and helps control overall mood and health. You're most likely aware of cannabis' other active compound, THC, the one that's known for the "high." THC and CBD produce an 'entourage' effect when taken together, helping your dog receive the full benefits of the cannabis plant.
CBD In Your Dog: What Research Says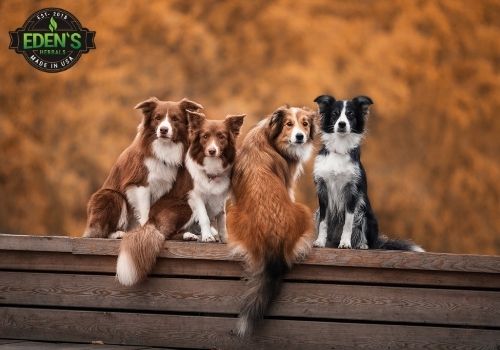 Any time you give your dog medication, you'll want to consider operating in 'half-life' segments. Half-lives are essential because it determines how long the drug will stay in your dog's body. Think of it as a mathematical model that helps dosing regimens and how much medication to give based on your animal's size.
According to The Merck Veternariary Manuel, "The pharmacodynamic response to a drug generally reflects the number of receptors with which the drug interacts (drug-receptor theory).".
In terms of CBD, these receptors are known as CB1 and CB2 and are vital to helping understand cannabis' role in healing your pet. To give your dog the correct dose, consider learning the half-life before dosing your CBD.
Benefits: CBD for Dogs
CBD binds to receptors in your dog the same way it connects with our brain receptors. For this reason, scientists often conduct animal studies when researching the benefits of CBD on humans. Several studies have shown CBD's effectiveness in treating various conditions, including diabetes, sleep, appetite, and mood.
Although specific canine studies are limited, promising benefits of CBD include:
Neurological Health

: CBD is made from hemp, which carries Omega-3 and Omega-6 oils, vital fatty acids necessary for brain function.

Healthy Gut

: CBD may help soothe upset tummies by providing gut flora essential for gastric function.

Joint Health

: CBD may support joint health because of its anti-inflammatory properties.

Anxiety Relief

: CBD helps regulate mood and depression, as well as providing emotional well-being.
How Long for CBD To Wear Off in Dogs?
Dog breeds range anywhere from just a few pounds to over 200 pounds. Studies on humans show CBD stays in your system long after your initial dose. Most experts agree that CBD takes 1-2 weeks to leave your system. For that reason, first, consider the following factors:
Age

Weight

Activity Level

Dog's Overall Health
Because dogs have a faster metabolism, they'll process CBD more quickly than we do. While the human model lists 1-2 weeks, CBD will wear off in dogs in 6-12 hours. Of course, a highly active dog will be on the low side, while a smaller or less active canine will be on the high side.
What if I Give My Dog Too Much CBD?
According to the World Health Organization (WHO), CBD is safe and well-tolerated in humans. No, your dog won't overdose on CBD from a medical perspective. If you think you might have given your dog too much CBD, the most likely effect will be increased drowsiness or an upset belly.
Another study showed CBD in both animals and humans to have no adverse effect unless given in excess of 30 mg per kg of body weight daily for 90 days. If your dog experiences any side effects, CBD purity might also be a factor. CBD is not federally approved for dogs yet, so careful selection of your CBD dog treats and oil is a must. Eden's Herbals, for example, extracts all our CBD products from organically grown hemp, free of any residuals or pesticides.
Measuring CBD Oil for Dog's Use
If you're like most of us, you probably can tell what your dog is "saying" to you without speaking. With that in mind, start with the smallest dose possible and "listen" to how your dog responds. Look for more passive behavior and tweak your amount based on their needs.
Although CBD has been FDA-approved for the treatment of epilepsy in humans, there is no pharmacological standard for dog use. But based on toxicity reports, consider the following guide to proper canine dosing (gradually increase the dosage once a week, if needed):
Highly Active 50 Pound Dog. 15 mg

Somewhat Active 50 Pound Dog. 10 mg

Less Mobile 50 Pound Dog. 5 mg
CBD Oil vs. CBD Dog Treats
Some dogs may like the earthy, nutty taste of CBD oil, while others will not take to it. If that's the case, you can easily incorporate CBD treats into your dog's daily regimen. Our CBD dog treats contain only four ingredients - apples, carrots, molasses, and peanut butter and come in 5 mg servings.
If you don't have any CBD dog treats on hand and your dog is fussy about taking the oil, no problem. Just mix it in with their kibbles at feeding time or put a drop of it in peanut butter for them. If they still don't like the taste, mix some sardines in with CBD oil with their dinner.
Choosing Your Dog's CBD
You'll definitely want to consider a Full-Spectrum product when choosing CBD oil. Apart from THC and CBD, there are over 100 compounds present in cannabis, all thought to interact together to improve health. While Full-Spectrum does contain THC (0.3%), it's not enough to get your pet high.
Another thing to consider when buying CBD is purity. Eden's Herbals uses CBD made from American, Organically Grown, Non-GMO Industrial Hemp. We also provide a certificate of analysis, ensuring our CBD is the purest available.
If you want to learn more about how long CBD oil stays in your dogs system, contact Eden's Herbals at [email protected] today!
*These statements have not been evaluated or approved by the Food and Drug Administration and are not intended to diagnose, treat or cure any illness. Medical advice should be taken from a medical professional.
All of the articles on this site are written by 3rd party content providers, expert bloggers or doctors not directly affiliated with Eden's Herbals.
Individuals should learn the risks and side effects prior to taking CBD. Make sure to always check with a medical professional before starting any new CBD treatment or medication that is not FDA approved.