WARNING: These Full Spectrum CBD Oil Tinctures contain trace amounts of THC under 0.3%, compliant with the Hemp Farm Bill.
Looking for THC-Free CBD Oil? Click here.
Full Spectrum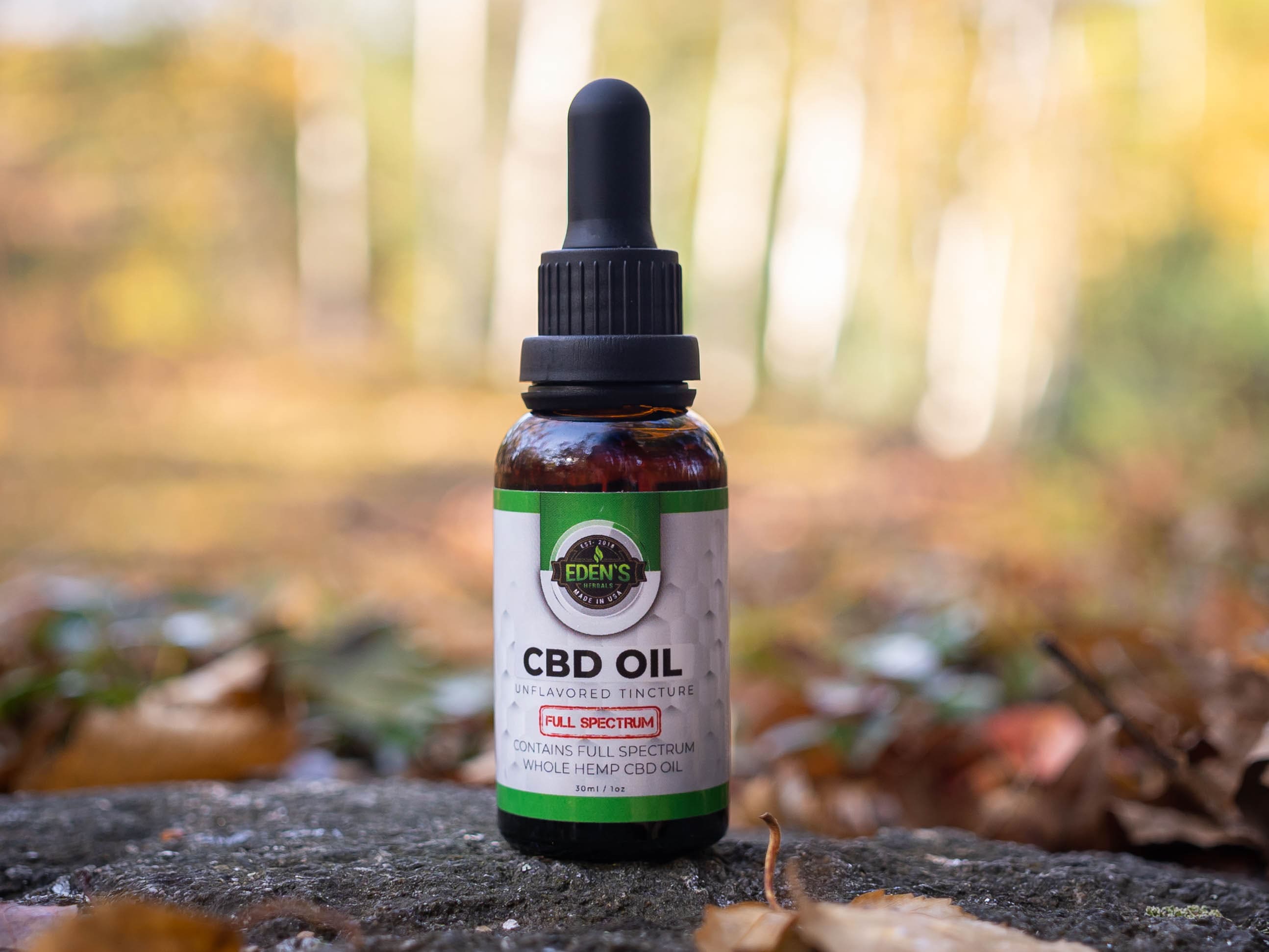 Full Spectrum Guide
CBD is still relatively new to the legal market, with the 2018 Farm Bill having fully legalized the product at the federal level. In this time cannabidiol (CBD) has taken the world by storm, making its way into millions of homes to provide all natural relief from a variety of ailments.
There are an array of new CBD products that many users simply aren't aware of, as well as many differences between CBD products that users still don't fully understand.
Full Spectrum CBD is one type of product that is often misunderstood, but the benefits it can provide are undeniable.
What is Full Spectrum CBD?
Full Spectrum CBD is a type of CBD product - one of the three most popular types on the market. These are Full Spectrum, Broad Spectrum, and Isolate. Certain components are specific to CBD that make the compound considered to be Full Spectrum.
First, it is important to understand what is in CBD in the first place. Most CBD products have similar components. These include:
Cannabinoids, such as CBD. Cannabinoids are compounds that interact with your body's Endocannabinoid System. Different cannabinoids interact in different ways. CBD is just one type of cannabinoid. There are also offshoots of CBD, like CBD-A, that are also found in hemp plants.
Terpenes. These are compounds found in plant material responsible for the smell of the plant. There are many different types of terpenes. Different strains of cannabinol might contain different types of terpenes.
Flavonoids. These are found in many types of plants and other living organisms. Flavonoids are responsible for the colors of fruits and vegetables. They are believed to have many other benefits when consumed.
Full Spectrum CBD contains all of the above, including cannabinoids, terpenes, and flavonoids.
There is one key component that distinguishes it from Broad Spectrum CBD: The presence of THC. THC, otherwise known as tetrahydrocannabinol, is a cannabinoid that is the key component in marijuana. Legally produced CBD in America can contain up to .3% THC. Full Spectrum CBD will contain this amount - or lower - of THC. Broad Spectrum CBD, which is identical in every other respect, contains no THC.
Isolate CBD is different than Full Spectrum CBD in many ways. Isolate CBD is essentially just pure CBD. It has virtually all other flavonoids, terpenes, and more filtered out, leaving behind a white powder that is 99% CBD. Isolate CBD is frequently used by individuals who are looking to make their own CBD recipes or concoctions.

Benefits and Effects of Full Spectrum CBD
The primary benefit that Full Spectrum products offer is known as the Entourage Effect. The Entourage Effect is the idea that CBD works best when all of its naturally occurring parts are included. This includes all of the flavonoids, terpenes, and cannabinoids - including THC. Full Spectrum CBD is the only way that users can fully experience the Entourage Effect.
Some studies show the added benefits of Full Spectrum CBD over Broad Spectrum and Isolate. Research has shown us that Full Spectrum provides synergy, meaning all of its parts work together to create a better product.
Other studies and analyses have found that Full Spectrum CBD has additional benefits - particularly over-treating certain mood disorders, like depression and anxiety - compared to Broad Spectrum or Isolate. Last, studies have found the benefits of Full Spectrum CBD to treat a wide variety of disorders, including seizure disorders.
All of this implies that not only does Full Spectrum CBD do a good job of helping people treat a variety of illnesses, but it also has unique value compared to other forms of CBD.
How Does Full Spectrum CBD Work?
Full Spectrum CBD works by interacting with your body's Endocannabinoid System. Everyone has an Endocannabinoid System, which is divided into roughly three parts:
Cannabinoid receptors are found throughout your body, including in your organs, muscle, and skin.

Naturally-produced cannabinoids, which can be supplemented by cannabinoids that you consume on your own

Enzymes that break down the cannabinoids
CBD does not directly bind with your body's cannabinoid receptors. Instead, it interacts with the bonding between your body's naturally produced cannabinoids and your body's cannabinoid receptors, strengthening the bond and making the bond occur for longer periods. This lengthens and strengthens the naturally produced cannabinoids on your body, making you feel their positive effects for a longer period.
With Full Spectrum CBD, the added THC is believed to create a stronger interaction, thus helping your body feel stronger impacts of CBD. It is also worth noting that THC does bind with your body's cannabinoids, thus further strengthening the full spectrum effect.

How Are Full Spectrum CBD Products Made?
Cannabidiol and other cannabinoids come from the hemp plant.
Processing Full Spectrum CBD can vary, as there are many different processes that are used. Since CBD comes from the hemp plant, hemp is grown and processed. Hemp growth and cultivation is highly regulated, and hemp growers have to meet numerous local, state, and federal regulations to ensure compliance.
From there, the hemp is processed into CBD. There are multiple ways of doing this, including:
CO2 Extraction: Hemp is placed into a closed-loop CO2 extractor and turned into a carbon dioxide liquid. That liquid is then captured and the CO2 is removed. The remnants are the cannabinoids that are then prepared for additional processing, packaging, testing, and sale.

Alcohol Extraction: Hemp is mixed with some sort of alcohol, such as ethanol or butane. The mixture is then extracted, leaving behind only the CBD.
The CBD then goes through additional testing and refinement to ensure that it meets all regulatory and legal limitations, thus ensuring that it will have less than .3% THC and meet the specifications of the 2018 Farm Bill and FDA regulations. Some states will also give a CBD product additional testing to ensure that it meets these guidelines.
CBD companies will often have an independent lab test their product and create an easily accessible Certificate of Analysis. This certificate, which can be viewed by customers, will list the ingredients that can be found in the CBD, making sure to allow customers to determine what they are about to ingest before doing so.
In many instances, carrier oils are needed to allow an individual to consume CBD. This is to make the CBD applicable to the body and able to be consumed. Carrier oils work best as tinctures, which are essentially liquids that are placed under the tongue or mixed in with another food or drink. These oils can be plain, or they can be flavored. Either way, they allow for the product to be consumed and ingested. They also can help the product last longer.
How Full Spectrum CBD Products Can be Used
One of the biggest benefits of Full Spectrum CBD products is that they are available for a wide, wide array of uses. These different varieties of CBD products can then be consumed in a variety of ways. Popular examples include:
Gummies: Candy is a popular way for people to get CBD, and CBD gummies are no exception. A few gummies are often enough for people to get the CBD that they want.

Oils: These tinctures are often mixed with CBD and can be placed under the tongue or in food to be consumed.

Topicals: Creams and lotions can be used for skincare or pain relief.
Different methods of consumption address different needs. For example, gummies or oils are often good for "general purposes" issues, like sleep challenges or mood. Topicals can be rubbed directly into the skin and used for skincare purposes, or for relieving pain that is specific to a certain area.
All CBD packages will come with different recommended doses. These doses will vary depending on your size, experience with cannabis products, and the strength of the CBD. However, the first time you use CBD, you should start slow and with a low dosage. This will allow you to slowly adapt to taking CBD.
Before using CBD, make sure you talk with your doctor. You should do so before starting any supplement, and CBD is no exception, particularly given the concerns that exist between CBD and taking certain drugs. Fortunately, other reports have found that CBD is well-tolerated and non-habit-forming in humans, but there are some common side effects, like dizziness or an upset stomach. As such, you should make sure that you can address these side effects the first few times you use CBD. Once you figure out how your body reacts to CBD, you should have an easier time coping with any after-effects of its use.

Legality of Full Spectrum CBD
CBD itself was not legal until the passage of the 2018 Farm Bill. This bill fully legalized hemp production and legalized CBD that contained less than .3% THC. In theory, it could be argued that the states that have legalized marijuana may also be allowed to produce and sell CBD that has more than that amount of THC, but such a product has yet to be legalized by the FDA.
The Farm Bill did remove broad limitations on the sale of CBD, but that doesn't mean that all forms of the compound are legal. The FDA has said that more concrete regulations regarding the marketing, labeling, testing, and sale of CBD are coming in the future. For now, it has been said that marketing CBD has been definitively able to address certain conditions - such as pain or depression - is illegal. They have gone as far as to issue warning letters to companies or businesses that have made these definitive claims.
This is not to say that it is illegal to market CBD, nor is it illegal to discuss CBD's potential benefits. However, the wording of these conversations has to be explicit: The FDA has found that CBD has not definitively been proven to address any physical or emotional challenges, with one exception: The drug Epidiolex. This is the first CBD-based drug ever approved by the FDA, and it is used to treat seizure disorders. This drug is available via prescription only.
As you can see, CBD has some excellent potential benefits, and Full Spectrum CBD appears to have many additional benefits compared to other CBD products. There is no question that you should do your homework and make sure that you can take and tolerate CBD. However, it is clear that CBD may be able to help you.