For CBD Gummies is 1,000mg a Lot?
Posted by Eden's Herbals Staff on 3/17/2022 to
Information
It is not recommended to eat 1,000mg of CBD gummies, especially if you've never had them before. But, no, there's no danger of eating 1,000mg of CBD gummies. That being said, it might be a lot depending on several other factors.

In this post, we'll go over how much CBD gummies are safe to take and understand the amount needed based on your condition. Keep reading to find your perfect CBD gummy dose.
What Are CBD Gummies?

CBD gummies are CBD-infused edibles, usually coming in assorted flavors. They're chewy and easy to hide (if you're at work, for example). Popular because of their delicious taste, CBD gummies have the added benefit of containing cannabinoids - potent pain and inflammation relievers. Eden's Herbals CBD gummies are made from organic hemp, come in twelve different flavors, are dairy and gluten-free, and are free of pesticides and harmful residuals.

CBD, short for cannabidiol, is one of two primary compounds found in hemp (Cannabis sativa). While hemp's other compound, THC, is famous for its psychedelic properties, CBD contains no mind-altering elements, making it increasingly popular. When CBD enters the bloodstream, it interacts with your ECS to decrease inflammation - the leading cause of most diseases.
CBD Gummy Benefits
1. Helps treat symptoms associated with the following diseases
Anxiety

Depression

Arthritis

Insomnia
2. Convenient
CBD Gummies come in bite-size chews, making them easy to pop in your mouth and enjoy immediate benefits. There is no need to use a dropper or oil, which can sometimes be messy.

3. Discreet

If you're concerned about bringing CBD in public places, such as work, CBD gummies are a great option. They come in packaged formats and look like ordinary candy, making them an ideal discreet treat.

4. Gluten-Free. Dairy-Free. Non-GMO.

If you're on a strict diet, as many are these days, CBD gummies check all the boxes. Even better, our CBD gummies are sourced from organic hemp, meaning they're also free of pesticides and chemical solvents.
How Many 1000mg CBD Gummies Can I Eat?
You won't find an individual CBD gummy containing 1,000mg. You will, however, find that TOTAL amount in a typical bag of CBD gummies. Our Eve's Sour Apples Gummies, for example, contain 1,200mg of CBD per bag.
For example, during a hectic workday, you could quickly go through an entire bag of CBD gummies. But many customers enjoy sucking on the treats for a while. This helps your body metabolize the CBD better (and last longer)!
What Is the Normal Amount of CBD in Gummies?
As discussed, most CBD gummies contain around 50mg per CBD bite and 1000mg per bag. Because our CBD has no THC, there's no concern about getting high. You will, however, benefit from the anti-inflammatory properties as much as you would with a CBD oil or salve.
Understanding CBD Dosing

It's best to start small and work your way up for CBD dosing. Some manufacturers offer as little as 5mg of CBD edibles, which is low. As discussed, Eden's Herbals start at 50mg because that's a good starting amount for most painful conditions.

However, there is no "ideal" amount because many factors, from your body type to your symptoms, come into play. As always, you'll want to tell your doctor before starting a CBD regimen and begin with the lowest dose. For example, with Eden's Herbals, you can begin with ½ a gummy and work your way up as you start to feel better.
CBD Gummies Dosage For Your Condition
Here's an easy to follow chart based on your body weight and condition:
Under 125 – 11-15mg (¼ gummy)

125 to 200 lbs – 25-30mg (½ gummy)

Over 200 lbs – 50-60mg (one gummy)
You'll also want to consider tweaking your amount based on your condition. For example, consider taking your gummies at night if you have insomnia. Or, if you have both insomnia and arthritis, start your day with some gummies and take a second dose at night or add in a sleep-aid tincture along with your daytime gummies.
Can You Eat Too Many CBD Gummy Bears?
According to The World Health Organization, CBD is safe and well-tolerated. Among the leading professionals, the verdict is that CBD in very high doses is
only likely to be unpleasant, such as nausea and extreme drowsiness, without any concern for death.

A 2011 study in Current Drug Safety published results that the toxic dose of CBD was around 20,000mg of CBD - and taken all at once. For you to feel concerned, that would mean twenty bags of CBD gummies eaten in one sitting.
How Do I Find The Best CBD Gummies?
The first thing to look for is a lab certificate report of the CBD products. What is a lab report? A lab report is an independent, third-party report conducted by an outside agency that confirms your CBD's potency and purity. Eden's Herbals, for example, has two reports on our website. They demonstrate the following:
Our THC-Free CBD is Free of THC

Our Full-Spectrum Oil Contains all viable cannabinoids, including 0.3% THC.

Free of Pesticides

Free of Chemical Solvents
When purchasing your CBD gummies, you'll also want to check the hemp source. Ours are extracted from organic, American-made industrial hemp. Organic hemp is the cleanest source available, yielding a robust and natural flavor profile. Unlike mass-produced hemp, organic hemp is also free of heavy metals and other by-products that could potentially harm you.
Final Verdict: How Many CBD Gummies Are Safe To Take?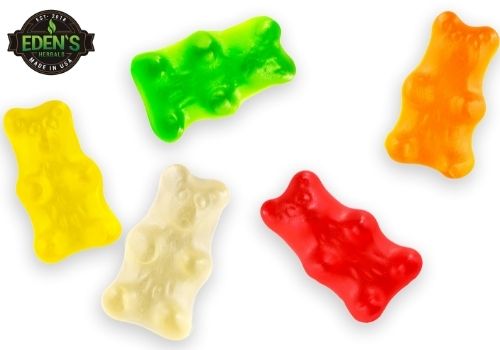 Once you're comfortable with CBD, it becomes easy to tweak your doses. Listen to your body, as it were. Let it tell you what you need. After all, you have an internal cannabinoid system, the ECS, that responds directly to CBD.
For starters, simply follow the above diagram until you feel more comfortable with your dosage. You can break your gummies in half or suck on one or two throughout the day. One thing you'll want to consider is sticking with your CBD regimen for at least 30 days. Even though some feel the effects immediately, CBD typically takes a little time to start working.
If you want to learn more about recommended dosing for CBD gummies, contact Eden's Herbals at [email protected] today!
*These statements have not been evaluated or approved by the Food and Drug Administration and are not intended to diagnose, treat, cure or prevent any illness. Medical advice should be taken from a medical professional.
All of the articles on this site are written by 3rd party content providers, expert bloggers, or doctors not directly affiliated with Eden's Herbals.
Individuals should learn the risks and side effects prior to taking CBD. Make sure to always check with a medical professional before starting any new CBD treatment or medication that is not FDA approved.