Can You Use CBD In Cooking
Posted by Eden's Herbals Staff on 9/9/2021 to
Information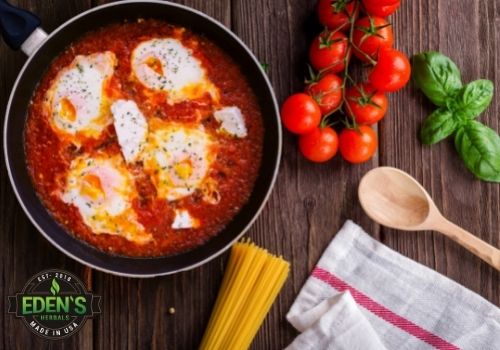 One of the hottest foodie trends, especially for health nuts, is incorporating CBD into your diet. Whether it's Keto, Paleo, Vegan, or a hard-core weight gain regimen.
More and more people want the benefits CBD provides for their healthy lifestyle. From busy athletes to those now working full-time from home, everyone can benefit from CBD and its health and nutrition advantages.
The best part about CBD, it can be added to practically anything and retain its healthful advantages. In this post, we'll give the ultimate guide to cooking with CBD!
Including why adding this "superfood" to your diet is vital for overall health, and tips for incorporating it into your favorite recipes!
Benefits of CBD and Why You Should Cook With It
New research shows the incredible promise of CBD, including treatment of insomnia, depression, anxiety, and pain. Many people see immediate results but wonder if there's a better or tastier way to get their daily CBD. After all, not everyone likes to hold oil under their tongue for 90 seconds at a time to receive all the benefits CBD has to offer.
Cooking with CBD is quickly gaining momentum as the preferred delivery method because of one word - bioavailability. In a nutshell, bioavailability is the body's capacity to synthesize food.
A recent, groundbreaking study by The University of Minnesota showed that high-fat foods increase CBD absorption in the body. In other words, a high-fat ingredient, such as coconut milk in a masala dish, has the effect of turbocharging your CBD's effectiveness!
What CBD Tastes Like
CBD users report a "grass" like flavor to it, with a nutty aftertaste. CBD oil, because it's suspended in oil, can often take on the taste of the "carrier" oils used include hemp, olive, grapeseed, and avocado.
While the oil can help with absorption, some users report a bitter aftertaste, while some like the earthy and nutty qualities they report experiencing.
CBD isolate, on the other hand, is scentless and tasteless. A crystalline powder, CBD isolate contains 99% pure CBD. As we'll discuss later, CBD isolate is the most superior CBD to use for cooking.
CBD isolates are super easy to measure out, and there's no need to worry about them containing anything other than pure CBD.
Bake-Free for CBD Oil
Because of its taste, many might not be crazy about the idea of cooking with CBD oil. However, its "natural, earthy" flavor can be a nice compliment to
several dishes. Mix it into a smoothie, and you won't even taste the tincture or mix a few drops in your green tea for an even 'grassier' taste.
Incorporating CBD oil into bake-free foods, such as salad dressings or juices, is easy and effective if you don't mind the taste.
Another benefit of using it in bake-free dishes is the CBD doesn't lose its potency. CBD starts to break down the cannabinoids once it reaches 355°F and makes the oil taste bad.
CBD Isolate Powder Cooking
For those that don't like the taste of tinctures in their food, CBD is a great option to use for cooking. Not only is it convenient to add to just about any dish, there's no taste or odor, meaning it will blend perfectly into any dish you create.
You can sprinkle it on your food after it comes out of the oven or, mix it with a healthy fat, such as coconut oil, for supercharged absorption!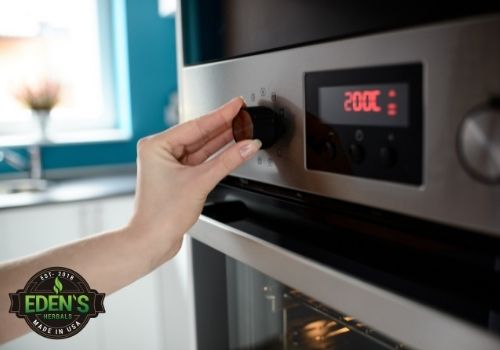 Make sure not to cook anything above 320-355°F and use an infusion method to prep your food. For example, if you enjoy Indian food, mix the CBD into a masala sauce, not into the chicken.
Low-heat dishes work best and use the CBD with a sauce to act as a carrier for delivery. This process ensures the cannabidiol will not break down, and you'll get the maximum potency.
CBD for Weight Loss
Imagine losing weight while not craving food. Sound impossible? Recent studies by the National Institute of Health showed, "CBD is able to block CB1 receptor, thereby producing anti-obesity effects".
CBD also helps regulate the mitochondrial activity, which helps achieve metabolic stability. Insulin regulation and appetite suppression are other benefits showing great promise with regular CBD use.
Keto and Paleo diet enthusiasts should be excited by the calming and appetite suppressing effects CBD can have. Not to mention the increased potency it has with a high-fat diet. You can start your day with bulletproof coffee and mix in your favorite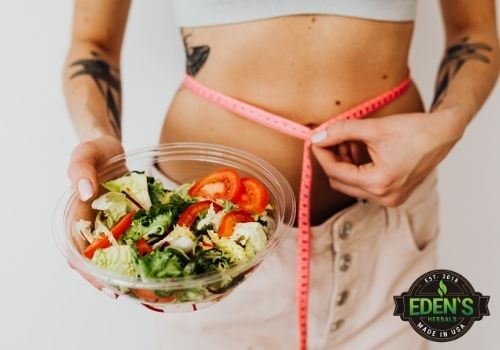 high-quality CBD oil or isolate for maximum results.
Recipes
CBD cooking has not caught on with Michelin-rated chefs yet, but below are some CBD recipes that are both delicious and easy to incorporate into your meal plan.
Final Word
CBD's potential to alleviate anxiety, depression, acne, and obesity is well documented. Everyone from Triathletes to busy professionals can benefit from the wide-ranging therapeutic applications.
CBD can be enjoyed as a tincture, an isolate, and even edible gummies! Topicals and creams make it easy to apply right where the pain is most significant.
The increased power of CBD through bioavailability is just now starting to come to light. Not long ago, many doctors recommended a 'low-fat' diet, only to discover that carbs were way more problematic than healthy fats.
New paradigm shifts in food science are increasingly showing the benefits of healthy fats. These include olive oil, avocado, and coconut oil - and the added benefits of adding CBD!
If you want to learn more about Cooking With CBD, contact Eden's Herbals at [email protected] today!
*These statements have not been evaluated or approved by the Food and Drug Administration and are not intended to diagnose, treat or cure any illness. Medical advice should be taken from a medical professional.
All of the articles on this site are written by 3rd party content providers, expert bloggers or doctors not directly affiliated with Eden's Herbals.