CBD for Arthritis [A source of all-natural relief?]
Posted by Eden's Herbals Staff on 10/5/2020 to
Information
CBD has been popular for a long time because of its uses for many types of health and wellness issues. The market for these products has become huge, especially for those seeking relief from arthritis and similar conditions.
Let's take a closer look at what you can expect from using CBD products for arthritis relief.
CBD and Its Pain Relief Uses
One of the things that makes CBD so popular for people who live with arthritis is its ability to provide relief for inflammation, as well as increase your amount of movement. The unique makeup of CBD makes these products especially suitable for easing pain. The compound that provides the pain relief properties, cannabinoid, is free of THC, which causes a "high" feeling.
CBD usage is far from isolated today, with one poll showing that almost 80% of respondents had used it at least at some point in the past. According to the same poll, 29% who responded were still currently using CBD. Whatever form the products might take, there is no denying that CBD is a natural product that people are going to keep turning to for their needs.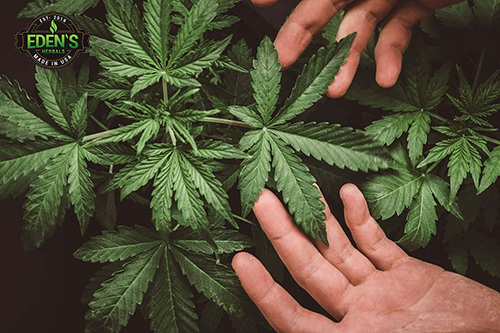 The research in favor of CBD use has been promising so far. Chronic pain patients concerned about resorting to products like opioids often find CBD products a decent alternative. One of the things that draw people to non-opioid pain relief is knowing that they can go about living their lives without the disruption that can come with relying on prescription medications.
How Does CBD Works?
The endocannabinoid system, or ECS, is an important cell-signaling system that CBD helps stimulate. These systems include receptors that generate pain-relieving and anti-inflammatory responses. The receptors work in a way that often brings about fairly quick relief, with some that start using CBD seeing relief within a couple of weeks.
CBD oil and other products that use CBD can provide significant pain relief. One of the most promising things about CBD products is the reduced risk of side effects. Although side effects are a possibility even with natural products, users are often more comfortable with products that have less of a side effect risk overall.
Research Supporting CBD for Arthritis
A study as recently as 2016 demonstrated that rats who had CBD gel applied had less arthritis pain. The results of this study further demonstrated how effective CBD could be for pain relief. One of the biggest takeaways from this study is that there is a decent hope for overall effectiveness.
More human studies will help confirm or deny the effectiveness of CBD for arthritis. However, this study has shown a lot of promise that people living with arthritis will find encouraging. People who live with arthritis expect good results from using these products, and promising research make those living with arthritis more likely to try these products.
Possible Side Effects with CBD
Because topical CBD products never reach the bloodstream, the odds of their causing side effects are minimal. However, there are a few mild side effects possible. Understanding that these side effects might occur will help you know what you can expect.
Diarrhea, dry mouth, sleepiness, lightheadedness, and fatigue are the most common side effects that most people using CBD might experience. A few may experience appetite or weight-related changes, even though these are somewhat less common. Some prescription and over-the-counter medications can interact with CBD.
It is always a good idea to consult a qualified physician before starting a CBD regimen. CBD is not regulated by the food and drug administration. CBD products are not meant to treat, cure, or prevent medical conditions, but to provide relief.
If you take any supplements or medications that warn against consuming grapefruit, please use caution. CBD taken with grapefruit interferes with enzymes that are crucial for a healthy metabolism. Because your metabolic function is so important, you need to be cautious when you are taking these products along with CBD.
There may also be a risk for liver toxicity. However, it is not known whether the toxicity is mostly due to higher doses. When taken according to the recommended usage, these products are safe. You should feel confident about your decision to use CBD in light of its safety.
What Types of CBD Are There?
Besides being useful for arthritis relief, CBD is also useful for other conditions that include disorders that involve inflammation. Because many people who live with arthritis may have other inflammatory conditions, it is important to understand the different forms that CBD might take.
Tinctures are one of the most popular ways to use CBD, usually available in strengths from 1000 MG to 4000 MG. Lab purity tests help provide assurance of the product's quality. When taking CBD in tincture form, it is easy to mix into an herbal tea, and you can also take advantage of flavored varieties if you find the oil easier to use flavored.
Gummies are a popular form of CBD, with bear and apple shapes being among the most popular. These edibles are dairy, fat, and gluten-free, which makes them good choices for people on special diets. Many CBD gummies feature the same high-quality oil used in other types of CBD products.
Some prefer to use CBD isolate, which is easy to add to beverages or food. Because these products have no flavor or scene of their own, they are one of the most flexible products you can use. If you struggle with using tinctures and don't like gummies, isolate might be the right choice for you that is quite flexible in how you use it.
Another helpful form of CBD for people coping with arthritis pain is a lotion or salve. Many of these types of topical products are available in a roll-on form for easier application. These topical options conform to the same type of purity standards as other CBD products and offer easier absorption into the body over ingested products.
What is the Best Way to Use CBD?
There are some guidelines from arthritis organizations that you can go by when using these types of products for better results. Using guidelines as a standard can help you get the most from whatever kind of CBD product you use. When you use the recommended guidelines, you are more likely to be pleased with the results.
Make sure you have a plan that goes beyond supplementing alone. Proper psychological support, as well as diet and exercise, are crucial to a pain management plan. Make sure your doctor is aware of any steps you're taking to address your health concerns, as dealing with your arthritis is easier when you and your doctor are on the same page.
Look for products that have been independently tested for safety, potency, and purity. When they have been tested, they will usually have seals that verify the testing. You will be able to feel confident about using products that demonstrate their quality.
Have reasonable goals for the products that you use. Think about milestones that you could reach in two weeks, for example, such as a walk spanning a city block. The more realistic your goals, the easier it will be for you to keep them consistently.
Conclusion
CBD products have a great potential for pain relief when used properly. Because these products are not known to cause dependency issues, they are a safe choice for natural wellness. The many benefits of CBD make these products worth your time.
Eden's Herbals has the CBD products that you can trust for arthritis relief, available in several types.