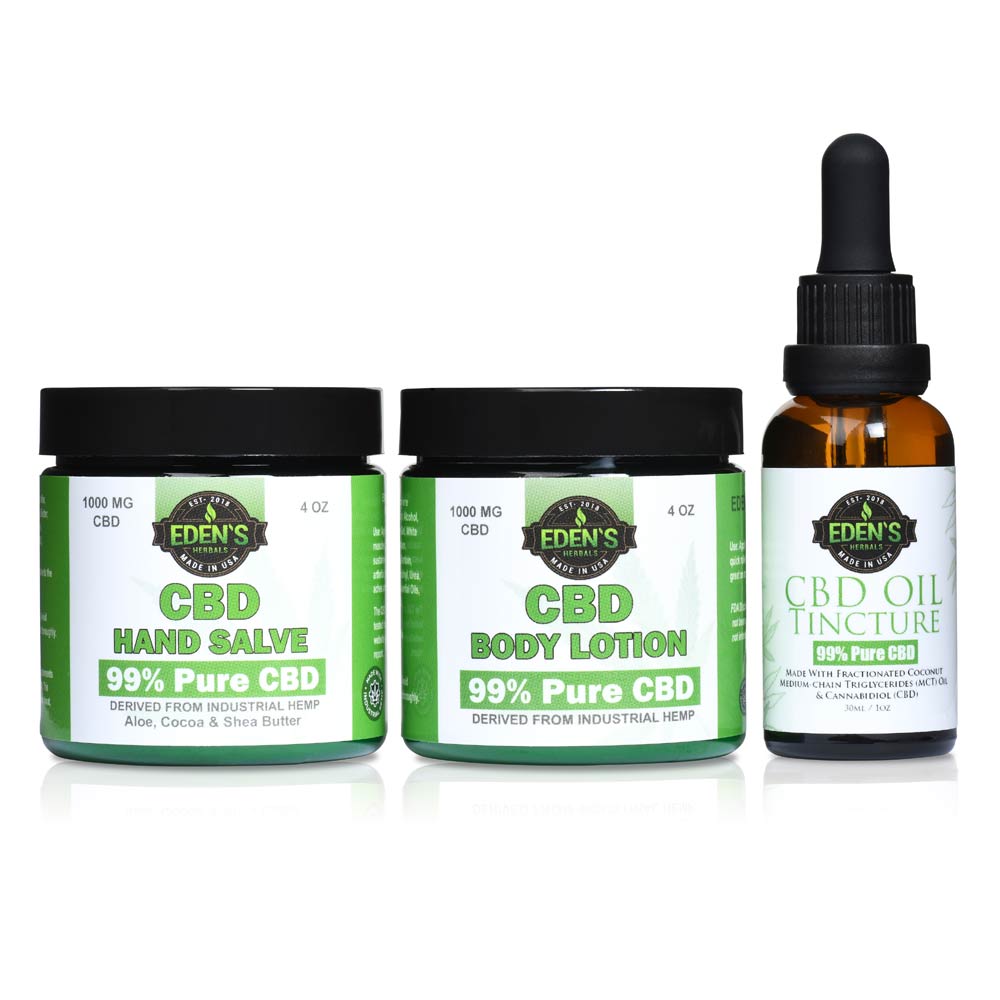 Eden's Guide to CBD Salves and Lotions
Hand salves vs. lotions

Two of the most popular ways for people to get CBD into their system are with hand salves and lotions, and they are both becoming wildly popular for dealing with a wide variety of aches, pains and skin care conditions. While the two may sound the same - and work very similarly - there are important differences between the two.

Hand salves are designed specifically to work on your hands for cracked skin, skin irritations, dehydrated skin and other hand-related problems. More popular hand salves - without the CBD - include brands like Burt's Bees. They are usually sold in small, 3 ounce containers. CBD salves are identical to other hand salves, but they are usually comprised of CBD and other fatty acids.

Lotions, on the other hand, have much broader uses. WebMD notes that lotions can be used on virtually any part of the body as a method of preventing dry or rough skin, soothing itches and dealing with minor irritations. Lotions are particularly effective for dry skin.

There are also important differences in terms of the composition between the two. Salves are made of oil and beeswax, which makes the substance harden. They contain no water. Lotions, on the other hand, contain water, as well as water and an emulsifying agent, thus giving it its more liquid-like consistency. Lotions have more water than oil, whereas other skin care products, like creams, typically have more oil than water.

These products are meant exclusively for external use, and never to be consumed.

The critical role of CBD hand salves, lotions and your Endocannabinoid System

CBD is one of the more than 120 types of cannabinoids. Cannabinoids come in two broad types: Those produced in your body, and those which you ingest via products which contain CBD.

CBD will not get you high, as it contains no THC, which is the psychoactive component in marijuana which is responsible for its intoxicating effects. Both chemicals come from the same source - cannabis plants - but have extremely different functions.

CBD, or cannabidiol, works by changing the way your Endocannabinoid System operates. Your Endocannabinoid System is made up of three parts:

Cannabinoid receptors, of which there are at least two types CB1 and CB2.

Endocannabinoids, which are the chemicals produced by your body that connect with the cannabinoid receptors in order to produce a reaction.

Enzymes which break down endocannabinoids, ending their reaction with your cannabinoid receptors and stopping a reaction.


Your Endocannabinoid System works to keep your body in homeostasis. As such, it assists in the regulation of a variety of bodily functions, including hunger, thirst, fatigue, mood, inflammation, pain and more. Manipulating the Endocannabinoid System can have a significant impact on your body and general state of being, but it is not without risks or other side effects.

Remember, while your body does produce cannabinoids, you can also ingest cannabinoids by consuming or applying CBD. CBD will work by making your CB1 and CB2 receptors more likely to react to cannabinoids, creating a variety of different impacts on your body, many of which can serve to reduce pain, inflammation and irritation.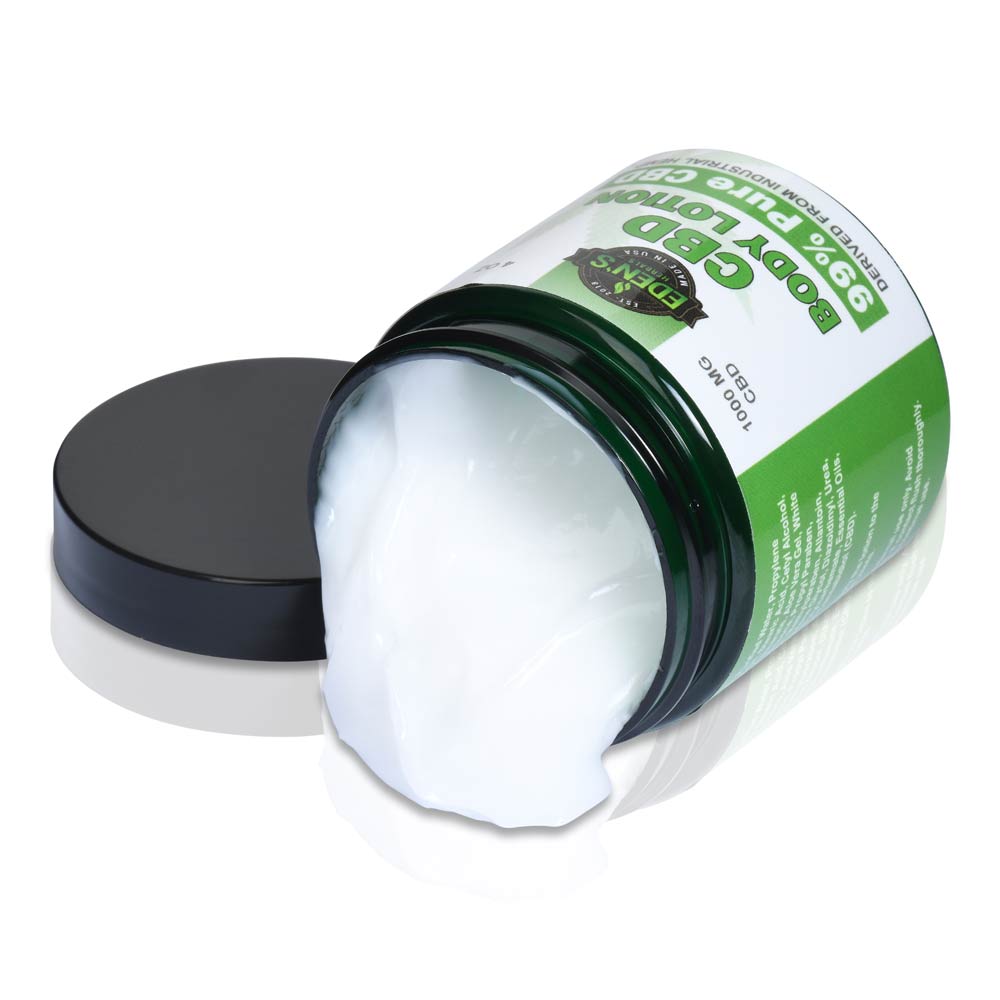 Good for the skin?

CBD hand salves and lotions are popular because of CBDs reported benefits for the skin. This includes its use as an anti-inflammatory, antioxident, hydration agent and ability to help skin regenerate and reduce scarring. People who use the product say that they find it to be very comforting, pain reducing and relaxing, thus explaining its popularity.

When applied to the skin, CBD tends to stay there - in other words, it doesn't get absorbed into your blood stream. This helps to minimize broader side effects commonly seen with CBD ingestion.

According to a New York Times article on the subject, "Most of the information about CBD's effects in humans is anecdotal or extrapolated from animal studies, and few rigorous trials have been conducted." That consensus is backed up by this article from the AARP, which is replete with seniors who claim to have been significantly assisted by CBD products, including lotions and hand salves. The AARP reports that many seniors are now interested in using CBD to relieve a variety of aches, pains and skin conditions, and notes that many doctors have been prescribing CBD for their patients. Another story, written in Well Good, followed a woman who switched all her skin care products for CBD products, including a variety of lotions, balms and hand salves. By the conclusion of the story, the author found there was a noticeable improvement in her skin.

There is also some evidence - at least of the anecdotal variety - which shows how CBD hand salves, lotions and creams can be helpful in dealing with eczema, a relatively common and painful skin condition. According to the National Eczema Foundation, CBD skin care products "possess anti-inflammatory, antimicrobial and anti-itch qualities." It also noted that CBD products helped reduce itching, improve quality of sleep and allow for some sufferers to get off of their medication.

Research on the effectiveness of CBD salves and lotions

While many controversies rage about CBD, at least one point is widely agreed upon: More research into this field is desperately needed. CBD has only been approved by the United States' Food & Drug Administration in one drug, and that's for a specific type of seizure disorder in children. However, drugs of compounds similar to CBD have been approved for other pain reduction methods, including improving appetite and reducing nausea in AIDS or cancer patients.

The overwhelming scientific consensus is that more research is needed to truly gauge the effectiveness of CBD on a variety of illnesses. The good news is that these studies are in the process of being conducted, with current trials testing CBD's impact on Post-Traumatic Stress Disorder, anxiety reduction or eliminating addictions like tobacco or substance abuse.

However, according to many medical professionals and a report by the World Health Organization, CBD ingestion and consumption is generally regarded as safe, non habit forming and with minimal side effects. However, some drug interactions do exist, and it is always advisable that you consult with a medical professional before starting any new drug.

While more research is needed, currently available research has shown some potentially promising benefits. For example, a 2016 study showed that CBD topicals, when applies to patients with arthritis, did reduce swelling and self reported pain levels, and a similar study in rats found the same thing. If this finding were consistently replicated, it would demonstrate that CBD had very significant health and pain reduction applications. A metanalysis of 79 studies demonstrated that CBD can be useful in pain reduction, but noted that the reduction was often not statistically significant and that further research of higher quality was needed. A review by the National Academies of Sciences, Medicine and Engineering did find that CBD ingestion is associated with pain reduction.

While research has shown that the anti-inflammatory benefits of CBD (which could easily be found in CBD hand salves and lotion) are beneficial, there is, as of yet, no research specific to these salves or lotions.

How to use the product

How to use CBD hand salves and lotions depends on the specific type of product you use. Some products claim to be better for some aspects of skin care than others, but given some of the challenges in this field when it comes to accurate medical labeling - and the lack of FDA regulation or supervisions - it is highly advisable to use caution when starting any new skin care.

The one thing that does seem certain: When you start using any CBD product, go slow. Doing so ensures that any negative side effect will be minor and manageable. Furthermore, make sure you check the ingredients of any product to ensure that you don't have an allergy to anything else in it. Additionally, while CBD does seem to have some real benefits for skin care, that doesn't mean that you should stop other mediation or use it in lieu of a prescription.

Potential side effects

Because CBD lotions and creams tend to stay in the skin, your risk of suffering side effects is limited. However, that's not to say it doesn't exist. Common side effects of CBD ingestion include dry mouth, sleepiness, changes in appetite, diarrhea and low blood pressure.

There are additional warnings for individuals who are suffering from certain other illnesses:

There is research which suggestions that individuals with Parkinson's Disease may have muscles movement made worse and suffer from higher intensity tremors if they consume CBD. People with Parkinson's should avoid CBD products.

Individuals with liver problems should either avoid CBD products or consult a doctor first, as there is evidence which shows that CBD ingestion increases certain types of liver enzymes.

Pregnant or nursing women should not ingest CBD, as it is currently unknown what impact CBD will have on a fetus or young baby. This includes skin care products.


Regardless of who you are, it is always advisable to consult with a medical professional before taking any CBD product.

The need for independent testing

This is a hugely important point from a customer safety perspective. A recent study, completed in November 2017, tested a variety of CBD products and found that an 70% of all products were labelled inaccurately. Unfortunately, this is largely to be expected, as the product has limited formal regulation by the Food & Drug Administration. As a result, bad actors can sell poorly constructed products with ease.

So, what can you do to protect yourself? Thankfully, this answer is easy. A variety of CBD products opt to undergo independent testing. This is testing, conducted by a third party, which confirms that the ingredients listed are actually present, that no other ingredients are present, and that the dosage of all relevant chemicals is correct. Products which have been independently tested will have a label saying so.

This is necessary because it ensures that you are actually putting into your body what the label of your CBD hand salve or CBD lotion says you are. Independent CBD testing ensures that the CBD dosage in your product of choice is actually marketed correctly. It also ensures that all other ingredients are labelled properly and that the product contains no other impurities. This is a virtual requirement for any other product you consume, and independent testing can help to ensure that the product you are using is actually what it claims to be.

What's better for me, a CBD hand salve or lotion?

That depends on you, your preferences and various benefits which each drug claims to possess. The key difference between a salve and a lotion is the amount of water that each possesses, which will obviously impact your individual comfort level.

While there does seem to be evidence of CBD assisting with skin care conditions, as of yet, there is a lack of research about the specific benefits of CBD hand salves vs. CBD lotions. As such, the best thing you can do is experiment on your own. Use a small amount of each product and see which you like better. Go slowly and start small. Much of the CBD experience seems to be highly individualized, and you should take the time to see what works best for you.