CBD Salves, Lotions and other Topicals
Posted by Edens Herbals Staff on 1/11/2020 to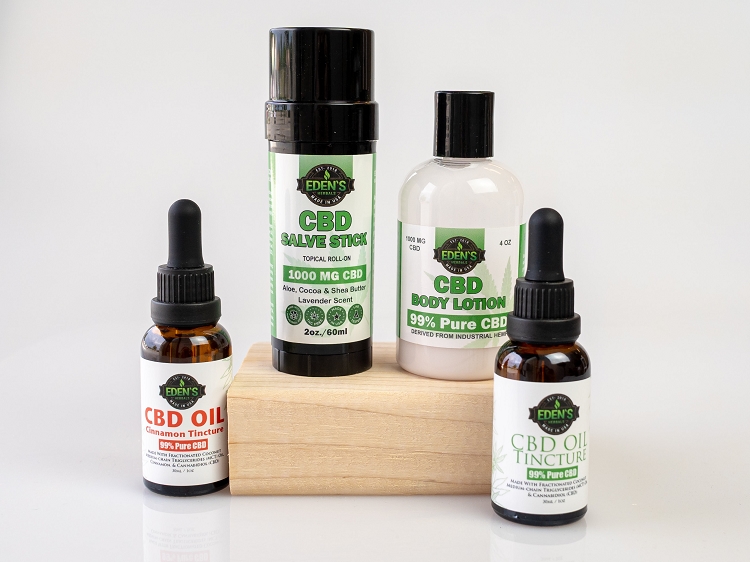 With the growing legalization of cannabis for medicinal and recreational uses, cannabis-based products are popping up everywhere. CBD or cannabidiol is also derived from the cannabis plant, hemp in particular.
CBD offers a wide range of therapeutic benefits, many of which can be found through CBD topicals. Read on to see what CBD is, how CBD skincare works, and the wide range of uses for CBD salves, lotions, and other topicals.


What Is CBD?

As one of the most controversial drugs on the market, cannabis has a lot to offer as far as medical benefits go. Different parts of the hemp plant contain different types of compounds so the effects of cannabis can vary. THC, the more commonly known compound, produces the high effect commonly associated with marijuana.

Another compound found in cannabis is cannabidiol or CBD. CBD is a non-psychoactive agent, meaning it doesn't produce intoxicating effects; but it still offers many of the same medical benefits as the THC compound. While much research has yet to be done on the medical benefits of CBD, here are a few known benefits to consider:

Anti-inflammatory effects

Pain relief

Anti-anxiety effects

Sleep aid

CBD Topicals and How They Work

CBD works by interacting with your body's endocannabinoid system. The endocannabinoid system is made up of cannabinoid receptors that release neurotransmitter chemicals. This system keeps the body in homeostasis, meaning it helps the body's systems work together and remain stable, including the systems that regulate pain, mood, fatigue and inflammation.

While the body doesn't produce CBD on its own, CBD can still stimulate the body's cannabinoid receptors and get the same results. When applied or ingested, the body treats CBD like one of its own natural chemicals. CBD topicals are absorbed through the skin.

Research on CBD treatment uses is still in its early stages, however, many studies show positive results in the following areas:


Chronic pain conditions

PTSD or post-traumatic stress disorder

Anxiety-related disorders

Depression

Antioxidant effects

CBD Skincare

Inflammation in the body accounts for the aging of cells and tissues as well as the aging process, in general. It also plays a central role in generating pain and causing chemical imbalances in the skin.
The therapeutic benefits of CBD have given way to an entire line of skincare products that address pain-related conditions as well as chronic skin conditions, such as eczema, psoriasis, and dry skin. CBD's effects help the body counteract your body's inflammation response, which can make CBD skincare applications quite effective.


Types of CBD Topicals
Salves, Balms and Ointments

Salves, balms and ointments share a few common ingredients, such as a fatty oil base, natural beeswax and hemp extracts. Ingredient amounts vary depending on the thickness of the topical. For example, balms are thicker in consistency so they contain more beeswax than salves and ointments. Not surprisingly, the thicker the topical, the longer it stays on the skin.

Hemp, commonly used to make rope and other strong fabrics is another compound derived from the cannabis plant. As a CBD skincare treatment, hemp helps stimulate collagen and elastin, two components that keep the skin smooth and supple. The oil base contained in CBD salves, balms and ointments helps the skin better absorb the hemp compound.

When applied to the skin in these forms, CBD produces hydrating effects that work to regenerate skin tissues and may even help reduce scarring in some cases. Salve, balm and ointments come in a variety of applications, including:


CBD hand salve

CBD roll-on

CBD salve stick


As with any product on the market, quality differences ultimately determine a product's effectiveness. For instance, CBD Salve Stick from Eden's Herbals is made from 99 percent pure CBD. This product has been lab-tested and receives a Certificate of Analysis to ensure the CBD materials used are of the best quality. CBD Salve can be applied to sore muscles, stiff joints, dry skin areas and also bruises. This extensive testing process helps ensure that CBD Salve Stick does what it's advertised to do.


Lotions and Cremes

CBD lotions and cremes tend to have a thinner consistency than salves, cremes, and ointments. This is because lotions and cremes contain a combination of oil and water along with CBD extracts. Since cremes tend to have a thicker consistency, cremes contain more oil than water. This line of products is designed to hydrate and moisturize the skin as well as seal in moisture.

Lotions and cremes also offer the added benefits of relieving pain and inflammation in the areas where they're applied. These applications work well on cracked skin, dry skin, painful joints, and sore muscles. As far as lotions go, you can find CBD lotion for specific areas, such as the hands and face, and also CBD body lotion for all-over coverage.

Body lotions, in particular, can be especially soothing in several ways. CBD body Lotion from Eden's Herbals, another quality CBD skincare product, provides this full-body effect, producing a full range of benefits, including:


Stress relief

Reduces inflammation

Sleep aid

Reduces anxiety

Improves mood

Moisturizes the skin

Facial Oils
CBD facial oils work especially well for people who have dry skin or dry patches along with different areas of the face. Oil, by its very nature, seals in moisture, which makes for an effective moisturizing agent. Oil creates a barrier between the air and the moisture in your skin, creating a natural seal. CBD is a fat-soluble compound so it mixes well with oil. In turn, an oil-CBD mixture helps your skin absorb the CBD, enhancing CBD's beneficial effects all the more.
Trans-dermal

CBD Patches
Trans-dermal CBD patches work in much the same way as nicotine patches. Once affixed to the skin, the skin gradually draws out the CBD compound. This delivers a steady dose of CBD to a localized area of the body.
Whereas other types of CBD topicals only act on the endocannabinoid receptors within the skin, transdermal patches actually deliver CBD into the bloodstream. Since the compound does enter the bloodstream, the therapeutic effects of patches can work on a system-wide level as well as in localized areas. Also, patches can work for as long as eight to 12 hours, while other topical applications may only work for up to six to eight hours.
CBD Bath Bombs

Bath bombs deliver CBD benefits on a whole-body scale. A bath bomb typically contains a balm-type topical that disperses throughout your bath water and absorbs into your skin. In effect, this form of CBD skincare can provide all-over pain relief while also moisturizing the skin surface.


Things to Keep in Mind When Using CBD Topicals

As with any medicinal treatment, CBD topicals can cause side effects depending on how your body responds to them.
In general, since topicals stay in the skin, the risk of suffering side effects is low. The most common types of side effects include changes in appetite, dry mouth, diarrhea, feeling sleepy, and low blood pressure.
Also, it's best not to try CBD topicals if you have certain medical conditions, such as liver problems, Parkinson's Disease, or if you are pregnant or nursing a baby. Always check with your doctor beforehand to be safe.

Otherwise, when first starting out with CBD skincare products, it's best to start slow to see how your body reacts. If you have allergies, check the product label to be sure you're not allergic to any of the ingredients as some of these products have additives. Follow the product's recommended dosage unless your doctor prescribes a higher dosage level.
While there's still much to be discovered about all that CBD has to offer, CBD topicals work well as natural alternatives to skin treatments and pain medications.
*CBD has not been approved by the FDA to diagnose, treat or cure any illness.

All of the articles on this site are written by 3rd party content providers, expert bloggers or doctors not directly affiliated with Eden's Herbals. Individuals should learn the risks and side effects prior to taking CBD.
Make sure to always check with a medical professional before starting any new CBD treatment or medication.