CBD Oil in the UK
Posted by Eden's Herbals Staff on 11/8/2021 to
Information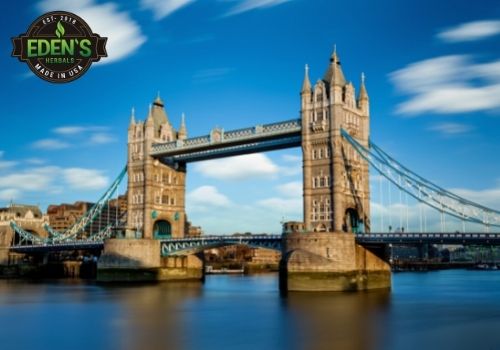 The UK might not have shared our taste in tea (or lack of it), but CBD is a different story. The UK is now the world's second-largest CBD market, behind only the US, and it shows no signs of slowing down. Unlike the US, however, CBD is still new in the UK, which has led to some confusion.
In this post, we'll answer all your questions surrounding CBD oil in the UK, including:
What is CBD Oil and What Are Its Benefits?

How Available Is CBD Oil in the UK?

Is CBD Legal in the UK, and What Are the Laws Surrounding It?

How To Find the Best CBD and Order Online
What Is CBD Oil?
CBD (Cannabidiol) is an oil extracted from the cannabis plant (Cannabis Sativa) and is separate from cannabis's other main ingredient, THC. Over 100 compounds, known as cannabinoids, are found in Cannabis Sativa, the most prominent being THC (Tetrahydrocannabinol) and CBD.
While CBD and THC interact similarly with your body, there is one major exception - CBD doesn't leave you feeling "high." While some users enjoy the mind-altering effects of cannabis, also known as marijuana, many now turn to CBD to receive its health benefits without the high.

How Does CBD Work?
The endocannabinoid system (ECS) regulates many physiologic functions in your body, including pain and inflammation. Once introduced into the body, CBD binds with CB1 and CB2, the two main components of the ECS. It's theorized that this "binding" effect produces therapeutic benefits for the user.
What Are CBD's Benefits?
CBD has many benefits, including an FDA-approved medication to treat seizures. CBD and cannabis have also shown some evidence in treating the following conditions:
Chronic Pain

Multiple Sclerosis

Epilepsy

Helping to Decrease Opioid Use

PTSD

Irritable Bowel Syndrome

Inflammatory Bowel Disease

Is CBD Safe?
According to the World Health Organization, CBD is safe and well-tolerated in adults.
How Available Is CBD Oil in the UK?
The UK CBD market is exploding, with sales reaching nearly $1 Billion in 2021. To put things in perspective, the US CBD market is considered robust and growing, with sales expected to top $1.8 Billion in 2022. According to The Association for the Cannabinoid Industry (ACI), the UK spends "more on cannabis extracts domestically than vitamin B and C combined."
This popularity, which has seen CBD grow from "a botanical novelty to a £300 million market in just three years, " has presented many challenges on the supply side. The UK's other issue is unreliable testing, meaning local CBD stores could be unwittingly stocking shelves with a high-grade THC product sold as pure CBD.
While the CBD market is starting to clean up its quality control standards, there are still challenges in keeping up with the vast demand. For Example, the UK recently left the EU trade agreement, further complicating the resources needed for producing high-grade CBD, such as hemp and carrier oils.
Farmers in the UK are only allowed to produce a limited amount of hemp per year, meaning many of their crops go overseas or, in some cases, even burned. A recent report conducted by the Centre for Medicinal Cannabis (CMC) estimates that UK farmers could supply one-third of the nation with homegrown hemp at best.

Is CBD Legal in the UK?
CBD is legal in the UK as long as it contains less than 0.2% THC and is extracted from UK-approved hemp.
What is UK-approved hemp?
UK-approved hemp is the process by which the CBD is extracted from the hemp plant. When removed, the CBD must be processed and separated from the buds, such as you'd see with a high-quality CBD product.
What Are the Other Laws Regarding CBD in the UK?
The UK equivalent of the FDA is the Food Standards Agency (FSA) and the Medicines & Healthcare products Regulatory Agency (MHRA), which oversees the cannabinoid industry. Because CBD's popularity exploded in the UK, the MHRA and FSA initially struggled to regulate it. In 2019, a survey reported that "1.4 million people in the UK use black market cannabis to directly treat medically diagnosed medical conditions."
Fortunately, the UK has started to be more proactive in regulating this growing market. The country recently approved Sativex, a 50-50 mix of CBD and THC, to treat multiple sclerosis. While medicinal cannabis containing THC is still unlicensed, there are several laws in the UK addressing the CBD market, including:
Shipping and selling hemp-based CBD products processed outside the UK is legal if they contain no controlled substances such as THC.

CBD products must be labeled appropriately.

CBN and CBD flowers are illegal in the UK.

CBD manufacturers must be licensed with the FSA to sell in the UK.

CBD Sold as Novel Food in the UK

One exciting development is the UK passed a law in 2020 that allowed CBD to be sold as a food or drink supplement, which includes the following:

CBD Infused Drinks

Buying Local vs. Ordering Online
Because the CBD is still maturing in the UK, many store shelves might still contain unwanted or unregulated compounds in their CBD product. The infrastructure in the UK still hasn't quite caught up with demand. Fortunately, new laws allow ethical CBD manufacturers in the US to start shipping their CBD to the UK.
What To Look For in a US CBD Oil for Overseas Shipping
One thing to look for is shipping costs. Eden's Herbals offers relatively affordable shipping rates and delivers all products in discrete packaging using padded envelopes. You'll also want to check its website to ensure they have conducted third-party testing and offer products that meet UK laws, such as THC-free CBD oil and CBD gummies.
If you want to learn more about CBD oil in the UK, contact Eden's Herbals at [email protected] today!
*These statements have not been evaluated or approved by the Food and Drug Administration and are not intended to diagnose, treat or cure any illness. Medical advice should be taken from a medical professional.
All of the articles on this site are written by 3rd party content providers, expert bloggers or doctors not directly affiliated with Eden's Herbals.
Individuals should learn the risks and side effects prior to taking CBD. Make sure to always check with a medical professional before starting any new CBD treatment or medication that is not FDA approved.