CBD Oil for Hyperactive Dogs
Posted by Eden's Herbals Staff on 4/28/2022 to
Information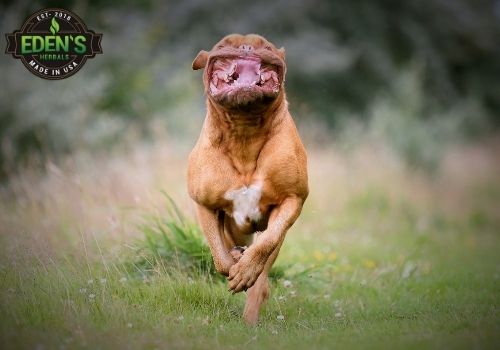 We all know our pups can sometimes be out of control. There's a line that crosses over into hyperactivity. When that happens, you know it's not always something you can control. Dogs are inquisitive, like to play, and are silly at times.
CBD is an all-natural, safe way to provide calmness and a whole host of other benefits for those with a high-strung pooch problem. In this post, we'll look at signs your dog may be hyperactive and how CBD may be the perfect solution.
Why My Dog May Be Hyperactive
Most dogs are, in their most natural element, hunters. That means they evolved not only to seek prey but to communicate with other dogs on vital skills needed to take down larger animals. Although humans and dogs have evolved together, modern life doesn't always suit them.
For instance, apartment life may not be ideal for some dogs. Other dogs require more attention, depending on their personality or breed. Other examples include:
Lack of Exercise
Probably the number one reason for a hyperactive dog - is not enough exercise. According to the American Kennel Club (AKC), healthy dogs benefit the most from at least two 15-minute walks a day. As your dog ages, their exercise intake decreases, and they are less prone to hyperactivity but still benefit from CBD, as we'll see later.
Too Little Stimulation
Apart from exercise, dogs need lots of playtime. If you're lucky enough to have more than one dog (or cat, bird, or other critters!), they'll form a pack mentality that makes stimulation easier. If you're the only other "pack-member," consider adding playtime on top of walks. Dogs often love toys and are rewarded with 'good boy,' followed by a treat.
Overly Stimulated
While not first implicated, overstimulating your dog can wind them up to a frenzy in some instances. For example, if you're playing with your dog to the point that they don't understand basic commands, like 'sit' or 'stay' - that could get them overstimulated. You'll have a more challenging time calming your dog down regularly without some essential discipline and rules to follow.
Breed Type
Not all dogs are created equal. For example, if you own a Basset Hound, you will never encounter a hyper side to their personality. But other breeds, by nature, are very hyper. According to the AKC, the Top 15 Most Active Breeds Are:
Jack Russell Terrier

Dalmations

Golden Retriever

Siberian Huskies

Corgis

Shetland Sheepdogs

Labrador Retrievers

Border Collies

Min-Pins (Pinscher)

Poodles

Beagles

Irish Setter

German Shepherds

Springer Spaniels

Australian Shepherds
Four Ways CBD Helps With Canine Hyperactivity
Most CBD studies, to date, have focused on humans. But what we do know about dogs is that CBD works in much the same way it does in us. That's because your dog, along with you, has a modulatory system called the Endocannabinoid System that responds to CBD. Some examples include:
1. Provides Relaxation
Researchers determined that CBD conclusively eliminated several symptoms associated with anxiety, including nightmares, in human trials. Additionally, scientists showed people who have PTSD benefit from CBD. This is especially reassuring for dogs that may have witnessed trauma, such as shelter dogs.
2. Reduces Inflammation
In one groundbreaking study, explicitly conducted with dogs, scientists determined that CBD reduced inflammation in collected blood samples. This study was one of the first and most comprehensive studies on canines. The researchers concluded that further ex vivo canine models should be followed up to understand better how CBD works on dogs.
3. Helps Alleviate Pain
Sometimes your dog may be overly stimulated because they're trying to tell you something, such as being in pain. CBD may help to alleviate their symptoms by targeting pain receptors present in their ECS.
4. Improved Sleep Function
Your dog needs plenty of sleep to have optimal health - up to 15 hours a day. CBD is a potential sleep aid by interacting with our natural sleep receptors and calming us down before bedtime.
How Does CBD Work?
CBD works by sending signals, CB1 and CB2, directly to your dog's ECS (Endocannabinoid System). Apart from decreasing hyperactivity, your dog may also benefit from CBD in the following ways:
Will CBD Make My Dog High?
No. CBD, short for cannabidiol, is different from its more famous cousin, THC (Tetrahydrocannabinol). Unlike THC, CBD doesn't make you high, allowing you and your dog from the cannabis plant without a psychedelic experience.
CBD is also safe. According to The World Health Organization (WHO), CBD is well tolerated and considered safe. Most CBD dog treats, like ours, are also 99% pure CBD.
CBD Oil for Hyperactive Dogs: What To Look For
When shopping for our buddy, we only want the best. Unfortunately, some manufacturers prioritize moving inventory over product quality. Edens Herbals uses all-natural ingredients in both our CBD Dog Treats and CBD Tincture For Dogs, including:
Sourced from organic, American-made hemp.

Our CBD oil uses fractionated coconut medium-chain triglycerides.

There are only four ingredients in our CBD dog treats: peanut butter, apples, carrots, and molasses.

We filter our CBD through a complex CO2 extraction process.
Not All CBD Is Made the Same
When shopping for CBD, consider going to the company's website and see if they provide a lab certificate. A lab certificate is an analysis report on your CBD. Ours is conducted by an outside party and ensures the following:
THC-Free report: CBD isolates and THC-free products are free from THC.

Full-Spectrum analysis: Contains 0.3% THC (legal limit).

Free of pesticides.

Free of harmful solvents.
Final Word
A hyper dog may be a sign there's something wrong, depending on the breed. While regular exercise and proper nutrition can go a long way in helping them, adding daily CBD as a supplement may be the best thing you can do for them.
If you're unsure about CBD, start with the lowest dose possible. You can give it to them at night. You should see improvement in 2 weeks and can increase their dosage. If you're comfortable and your dog is acclimated to CBD, you can reward them with CBD dog treats throughout the day.
If you want to learn more about CBD for hyperactive dogs, contact Eden's Herbals at [email protected] today!
*These statements have not been evaluated or approved by the Food and Drug Administration and are not intended to diagnose, treat or cure any illness. Medical advice should be taken from a medical professional.
All of the articles on this site are written by 3rd party content providers, expert bloggers or doctors not directly affiliated with Eden's Herbals.
Individuals should learn the risks and side effects prior to taking CBD. Make sure to always check with a medical professional before starting any new CBD treatment or medication that is not FDA approved.