CBD Oil Dosage for Your Dogs
Posted by Eden's Herbals Staff on 5/23/2022 to
Information
You've got your CBD dog oil. How much CBD should I give them? How do I apply the drops?
That's what this article's all about. We'll offer some tips on CBD dosing and what research has shown CBD's effectiveness on dogs. Keep reading to learn the best dose you should give your dog for optimal health.
What is CBD Dog Oil?
CBD oil for dogs is, well, ordinary CBD oil. That's because dogs, like us (and all mammals), have an ECS system. The ECS, or Endocannabinoid System, is a complex system that regulates virtually all bodily functions.
CBD oil interacts with your ECS and helps alleviate inflammation - the number one cause of most diseases. Derived from the hemp plant, CBD is non-intoxicating and offers a fantastic array of potential health benefits for you and your dog.
For CBD to be effective, it's usually combined with a carrier oil, such as MCT oil, and used under the tongue with a dropper. When ingested this way, your dog metabolizes CBD in a much more excellent way.
Benefits: CBD Oil for Dogs
CBD is 100% legal, thanks to the Farm Bill Act passed in 2018. CBD is also considered safe and well-tolerated by the World Health Organization (WHO). Although research on dogs is limited, what scientists have found so far is exciting.
In 2021, researchers showed for the first time that CBD reduced inflammation in dogs' immune cells after applying a canine ex vivo inflammatory model. Because the research on dogs is limited, much of the benefits are based on what we know about CBD's effectiveness in human studies. This includes:
Relieves depression

Stimulates appetite

Relieves anxiety
How Much CBD Oil Should You Give Dogs?
Before starting your dog's CBD regimen, consider the following things first.
Please consult your veterinarian before their first CBD drop.

Get an accurate weight for your dog.

Determine the ailment you're using the CBD for.

Determine the manufacturer's potency before application.
CBD Dosing Guideline
Start small and ease into your dog's complete dosing recommendations. Our CBD dog oil, for example, comes in 300 mg and 30 ML per bottle to make it simple to dose out for your dog.
Full Dosage Recommendation: ½ milliliter per 20 pounds of bodyweight - 1 x Day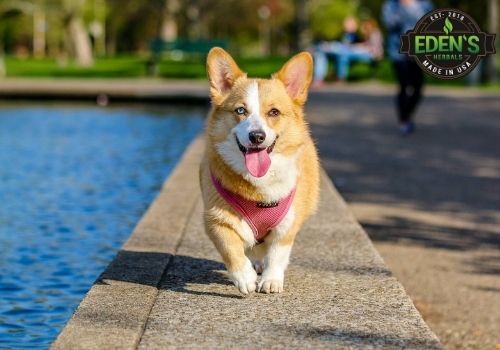 After their first dose, monitor their behavior for one week and gradually work up to the recommended dosage. You'll typically need one week to get a good baseline. After that, you can use your CBD every day or for situational issues, such as:
Easing nerves before a car ride.

Being home alone.

Going in their crate.

Introducing a new pet.

Loud noises, such as fireworks.
When Does CBD Oil Start Working?
When given under the tongue, known as sublingual delivery, CBD is absorbed directly into the bloodstream and is considered one of the fastest and most effective ways of ingesting CBD.
After delivery, the sublingual method takes about 30 minutes to start working. If you're putting your CBD oil on a treat, such as peanut butter, it will take longer to kick in.
How Long Does CBD Oil Last?
Whether you're giving your dog CBD oil or CBD treats, they'll feel the effects for around 6 hours. If your dog is on the small side, they may feel the effects for as long as 8 hours. Energy levels also play a role.
For example, if you have a boxer, they may burn through their CBD application faster than, say, a bulldog. Older dogs also take longer to digest food, meaning their CBD will last longer.
Will CBD Oil Get My Dog High?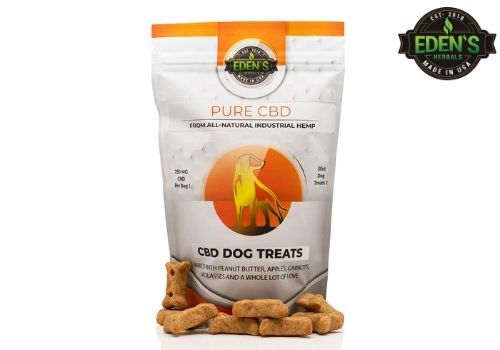 Unlike its more famous cousin THC, CBD won't make your dog high. One of over 100 plus compounds found in the cannabis plant, CBD contains most, if not all, the same benefits as THC - without the burden of any psychoactive experience.
Although your dog won't get high, they may still have some side effects after taking CBD, including:
Rash or hives

Tremors

Upset tummy

Dry mouth

Laziness

Low blood pressure
Using CBD Dog Treats
While some dogs love the earthy, organic taste of CBD oil, others are more finicky. We formulated our CBD dog treats specifically for dogs who may have an issue with CBD oil or droppers. We use only four ingredients:
Peanut Butter

Apples

Carrots

Molasses
Another advantage of CBD dog treats is adjusting the dose according to your dog's individual needs, size, and age. Each of our CBD dog treat packs contains 50 CBD dog treats and 250 mg of CBD.
Where To Find the Best CBD Dog Oil
When shopping for CBD oil for your dog, you'll want to consider a few things.
Where is CBD sourced from?

How is my dog's CBD extracted?

How do I know my dog's CBD is legit?
Is it THC-Free?
Most of us consider our dogs an immediate member of our family. So, naturally, we all want the best for our dogs. Eden's Herbals developed our CBD with special care and attention, adhering to the following applications.
Eden's Herbals sources all our hemp from organic, American-owned farms, meaning our CBD contains no pesticides.

We use an expensive CO2 extraction process, meaning our CBD is free from harmful solvents.

All our CBD has been tested for purity, backed up by an independent lab analysis report.

Our CBD dog oil and dog treats are 99% Pure CBD and THC-Free.
Final Word
One of the most important aspects of giving CBD oil to your dog is consistency. They'll need some time to develop a baseline and for their ECS to receive the proper signals for potential healing. Like us, every dog has a unique personality, and CBD's effectiveness may be different for each dog.
You know your buddy better than most and can determine the best dosage after tinkering with it for a while. Just know CBD is safe for them and won't hinder their ability to live an active and full life and, in many cases, help ease some of their burdens.
If you want to learn more about CBD oil dosage for dogs, contact Eden's Herbals at [email protected] today!
*These statements have not been evaluated or approved by the Food and Drug Administration and are not intended to diagnose, treat or cure any illness. Medical advice should be taken from a medical professional.
All of the articles on this site are written by 3rd party content providers, expert bloggers or doctors not directly affiliated with Eden's Herbals.
Individuals should learn the risks and side effects prior to taking CBD. Make sure to always check with a medical professional before starting any new CBD treatment or medication that is not FDA approved.