CBD Lotion for Skin Conditions
Posted by Eden's Herbals Staff on 9/21/2022 to
Information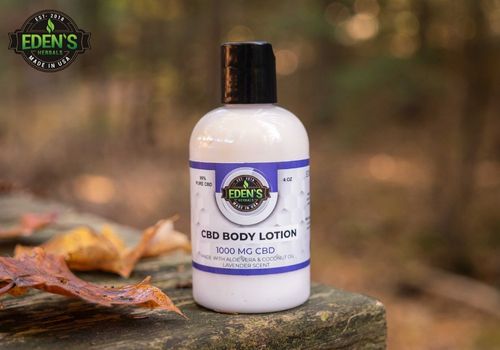 For many with irritating skin ailments, like itching and scratching, there's no better substitute than applying CBD directly onto the skin. Along with CBD, your skin will benefit from over 100 cannabinoids, each with healing properties.
CBD lotion is an alternative to CBD oil and other products to hit the market since hemp was legalized in 2018, thanks to the Farm Bill Act. Unlike CBD oil, which is first digested through your stomach, CBD lotions are applied directly to the skin.
In this post, we'll cover all the benefits of CBD lotion for four major skin conditions and the science behind it. You'll be surprised to learn there are also more benefits than simply relieving dry skin. Keep reading to find out!
How Does CBD Help Your Skin?
CBD, short for cannabidiol, is one of over 140 plus cannabinoids found in hemp. When ingested, cannabinoids, such as CBD, interact with a complex system present in all mammals - the Endocannabinoid System, or ECS.
Responsible for regulating virtually every bodily function, including the skin, the ECS plays a vital role in how we sleep, respond to pain and deal with stress. Once applied through the skin, CBD sends signals through cannabinoid receptors that act as anti-inflammatories, thus reducing painful or itching sensations in your skin.
Is There Scientific Proof CBD Helps Your Skin?
Because CBD is still relatively new, no definitive proof exists that it cures most diseases. As you'll see, however, several studies suggest CBD products, like our CBD Body Lotion, may help manage certain skin conditions, including:
atopic dermatitis

eczema

psoriasis
A 2020 study, for example, found that CBD may help relieve peripheral neuropathy, a condition most often associated with diabetes and characterized by burning pain in the lower extremities.
Another study confirmed that CBD contains powerful antioxidants that help relieve inflammation - the number one source for most diseases, including skin conditions.
Four Skin Conditions CBD May Help With
Although CBD can treat various symptoms, such as insomnia and anxiety, CBD creams are best used for skin conditions. As mentioned, CBD lotion works with your body's ECS system and can be applied directly to the source of discomfort. Below is a list of the four most common skin conditions CBD lotion works best for.
1. Psoriasis
An autoimmune disease, psoriasis is characterized by bright red, scaly circles on the skin. While lifestyle changes, such as a well-balanced diet, may help alleviate symptoms, CBD may be a better option for some. CBD contains antioxidants that help regulate keratinocytes in your skin, which may be imbalanced in psoriatic patients.
2. Eczema
According to The National Eczema Association, topical CBD may be a promising treatment option for eczema because of its anti-itch and anti-inflammatory properties. Eczema is very common and is characterized by dry, cracking skin with related itching.
CBD lotion offers all-natural relief by targeting CB receptors in your ECS and eliminating irritating symptoms like itching. A 2020 study published in Clinical, Cosmetic, and Investigational Dermatology found that CBD may significantly reduce itching associated with eczema and atopic dermatitis.
3. Acne
Teenagers aren't the only ones to be affected by acne. Stress, an unhealthy diet, and hormonal imbalances can all lead to adult acne. Along with lifestyle changes, many can address acne issues through proper skin hygiene and a CBD lotion regimen.
Consider applying CBD lotion to your before bed, after a facial cleanse. Research shows that CBD contains powerful anti-inflammatory properties and may help relieve acne by decreasing sebum production.
4. Antifungal
CBD may be an effective facial cleanser because of its potent antimicrobial properties. Fungal infections, like Candida albicans, are common human pathogens caused by biofilm formation. Because of its antifungal properties, researchers recently looked at CBD's potential in treating fungal infections.
In the study published in 2021, the team concluded that CBD inhibited biofilm production and repressed the production of C. Albicans genes. The researchers concluded that CBD should be further explored as a treatment for fungal infections.
How To Apply CBD Lotion for Skin Conditions
Before using CBD lotion, consider looking at all the ingredients before applying them to your skin. Most CBD lotions, like Eden's Herbals, use other ingredients besides CBD.
Carrier oils, for example, help with CBD absorption and further rejuvenate your skin. Conversely, you may be allergic to some of the ingredients. Most times, however, a reputable manufacturer only uses safe, organic ingredients.
To apply, start with a dime-sized amount of CBD lotion and apply twice daily to the affected area. After you're comfortable, you can apply as many as three times a day. Our CBD lotion contains 1000mg of CBD isolate, aloe, and other essential oils to speed healing.
Side Effects: CBD Lotion
To ensure you don't have an allergic reaction, consider using a small amount of CBD lotion your first time. After applying, wait a few hours to see how your body reacts. Most of the time, the only effects will be felt on your skin, but in some cases, you might experience the following:
Rash

Redness

Skin blisters

Itching

Discoloration
Will CBD Lotion Make Me High?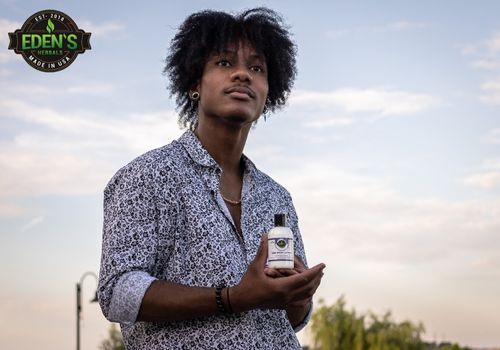 No. Unlike THC, CBD is a non-psychoactive cannabinoid. Our CBD Lotion is made from CBD Isolate, which is THC-free.
Can I Make My Own CBD Lotion?
While buying CBD lotion is easier and more efficient, some of you might enjoy getting crafty and making your own DIY CBD Lotion. If that's the case, you can make some great homemade CBD lotion recipes. All you need are the following:
Ingredients:
¼ cup of mineral oil or almond oil

¾ oz of beeswax

¾ cup of distilled or spring water

30ml CBD oil (use full-spectrum for THC-Lotion)
Directions:
1. Heat up oil and beeswax in a double boiler until the wax melts.
2. Add CBD oil and thoroughly stir.
3. Remove from heat and allow to cool completely.
4. Add water and continue stirring until desired consistency.
5. Store in a mason jar.
Final Thoughts
Consider looking for high-quality ingredients and third-party testing when buying your CBD lotion. Lab tests, or a Certificate of Analysis, ensure your CBD has been tested by an independent, third-party and is guaranteed to be THC-free and of the highest quality.
If you want to learn more about CBD Lotion for skin conditions, contact Eden's Herbals at [email protected] today!
*These statements have not been evaluated or approved by the Food and Drug Administration and are not intended to diagnose, treat or cure any illness. Medical advice should be taken from a medical professional.
All of the articles on this site are written by 3rd party content providers, expert bloggers or doctors not directly affiliated with Eden's Herbals.
Individuals should learn the risks and side effects prior to taking CBD. Make sure to always check with a medical professional before starting any new CBD treatment or medication that is not FDA approved.