CBD Lotion and Skin Care
Posted by Eden's Herbals Staff on 12/7/2020 to
Information
Cannabidiol, abbreviated as CBD, is a naturally occurring compound in both marijuana and hemp plant. CBD and tetrahydrocannabinol (THC) are some of the most active elements in marijuana and hemp.
However, CBD is non-psychoactive, unlike THC, which means it does not cause a "high." In fact, research shows that CBD tends to counteract some of the effects associated with THC. Besides that, it also has many health benefits. These include relieving chronic pain, anxiety, insomnia, inflammation, and seizure disorders.
CBD was legalized at the federal government level through the 2018 Farm Bill. However, the Bill only legalizes hemp-derived CBD, which has about 0.3 percent THC.
Now CBD can be found everywhere, popping up in a variety of products from CBD gummy bears to more exotic offerings like CBD Coconut Body Wash.
CBD has been shown to hold many benefits for the mind and body, but is CBD good for your skin as well?
The short answer is yes.
This article will look at the incredible benefits of CBD for skincare.
What Science Says About Cannabidiol and Skincare
There have been hundreds of research studies conducted to show that CBD has endless health benefits. But what do studies say about the benefits of CBD in skincare? This area has not been extensively explored, but here are some of our findings.
Cannabinoids are great antioxidants and are highly potent in amino acids and B-complex vitamins. With the legal status of CBD expanding in the United States, we are seeing more research being done.
The skin has endocannabinoids of its own, which are tasked with keeping it in a balanced state and healthy. Just like the endocannabinoid system in the body, its goal is stasis or keeping all the organs in an even keel.
The root cause of some of the skin conditions is the imbalance of the chemistry of the skin. When CBD is Used for skincare, it helps with the restoration of balance. Although research on the benefits of CBD in skincare is ongoing, here is what we known about CBD and skincare so far:

Treatment of Acne-Prone Skin
Studies show that acne is an inflammatory disorder. There are many factors that can lead to acne, but many products we apply to the skin can help reduce the inflammation, resulting in smoother skin. CBD happens to be one of the products that lessen skin inflammation. CBD can help manage breakouts such as skin redness.

Research also proves that cannabidiol oil has anti-inflammatory properties. This will help improve your skin health when integrated into skincare products. This is why you will find some acne-clearing products containing CBD. Its calming effects soothe reactive skins, making them look and feel better.
CBD also has the potency to reduce excess sebum production. This has been attributed to its balancing out effect on the flow of skin oil.
These research studies are promising. Still, some scientists believe that more studies on the benefits of CBD for acne are needed.
CBD Lotion for Anti-aging and Wrinkle Straightening
CBD has antioxidant properties, and this is attributed to the fact that it is plant-derived. These properties have been incorporated in skincare products to help lessen signs of aging. The antioxidants counter the damage caused by free radicals, subsequently reducing inflammation.
CBD-infused anti-aging products effectively reduce wrinkles, ruddy skin tone, and skin dullness. There are other antioxidants that can deliver the same benefits that CBD claims. This makes CBD oil one of the options you have for anti-aging.
CBD and Skin Sensitivity
Skincare products with CBD oil as one of the ingredients have been shown to have soothing effects on the skin. They help in reducing skin sensitivity, such as reactivity and redness. All types of skin are affected by everyday environmental stressors, but CBD will help keep your skin in check.

CBD For Scarring
Scars can be defined typically as damaged skin. Studies are ongoing to explore the use of CBD for soothing and healing scar tissues. One study has shown that CBD ointment improves skin parameters in patients with scar tissues. CBD has been deemed safe by the World Health Organization, and it has been shown to work effectively for all types of skin.
How CBD Works in Skincare Products
According to Awais Spall, who is a cannabis researcher and chemist with a background in skincare, CBD's benefits come from its interaction with the skin's endocannabinoid system and other receptors within the body.
"We recently found out that the skin's outer layer, the epidermis, has dense networks of CB2 and CB1 receptors. CBD acts on these receptors alongside other nerve pathways on the epidermis," says Awais.
Due to its balancing properties, CBD can be used in a wide range of skincare products to help manage most of the skin conditions we face. If you're looking for all-natural skincare, CBD seems like a great bet!
Where to Find CBD
With thousands of skincare products on the market, you need to be educated on what to look for when shopping for the best CBD skincare product. It's important to find a reputable and trustworthy CBD store before making your purchase. Here are some tips that you may find helpful:
1. The ingredients list should mention "cannabidiol." Some terms are not INCI compliant, and hempseed oil is not the same ingredient as CBD oil.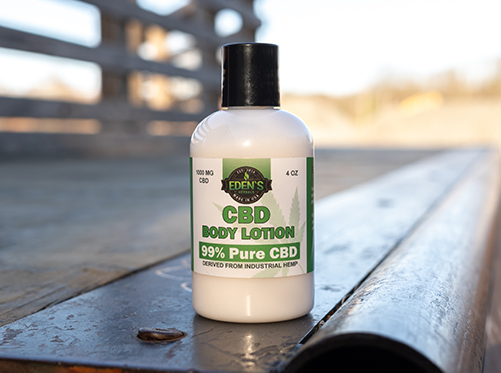 2. Most skincare brands offering CBD-infused products label the CBD concentration in milligrams. Others break it further to concentration per dose. This is a sign that the product is legitimate. However, a consensus on how much CBD is needed for effective skincare has not been reached. Research has only gone as far as showing the skin has CB1 and CB2 receptors and that these ingredients can help correct imbalance.
3. You should also pay attention to whether the product label has anything to say about third-party testing and the purity of the CBD used. You should be certain that you are purchasing what the label claims.
4. The type of packaging used will also speak volumes about the content inside it. You should go for CBD skincare products with stable packaging. Clear bottles, for example, expose the CBD to too much air and light, which could render it less effective.
5. Some brands will market their products as being "broad-spectrum, "full-spectrum," or "isolate." although none of these terms is regulated, this information can help you differentiate the products.
Full-spectrum CBD. Products with this labeling have everything in the hemp plant along with the CBD. This means it has antioxidant compounds and traces of THC, CBG, and other cannabinoids.
Broad-spectrum CBD. These products are free of THC.
CBD isolates. These products have pure CBD. There is no trace of any other cannabinoid or any other compound.

Frequently Asked Questions
Let's answer some of the most asked questions about CBD skincare.
What Skin Conditions are CBD Topicals Best For?
Cannabidiol has antioxidant properties, which make it a great option for skin soothing and restoration. Since most skin conditions are inflammatory, CBD fixes these conditions by restoring balance in your skin.
CBD can also help with keeping your skin well moisturized, improving cell regeneration by speeding cell turnover, and lessening pain and itching with its anti-inflammatory benefits.
What is the best CBD for skin care?
Depending on your end goal, different CBD products have different benefits. CBD lotions are a little more water based and great for running on larger areas such as muscles. CBD salve is drier and can be found in roll on sticks, great for smaller areas like hands, feet, and joints.
*These statements have not been evaluated by the Food and Drug Administration and CBD is not intended to diagnose, cure, or treat any medical conditions. We always recommend consulting a qualified physician and checking your local state laws before you buy CBD.
The side effects of CBD have been found to be very mild or non-existent for the majority of users, but it is better to be cautious when using CBD for the first time.