CBD Gummy Benefits
Posted by Eden's Herbals Staff on 9/27/2022 to
Information
CBD gummies are here to stay - they taste great, offer many potential health benefits, and are easy to take anywhere, offering a great type of CBD you'll love.
Today, we review all the top benefits of CBD gummies. Some of you might have experienced the most obvious benefits, like their great taste. But you may be surprised to know they have many other benefits, like pain relief.
Gummies go back 100 years, but CBD wasn't legalized until 2018, thanks to The Farm and Agricultural Act. Not long after that, the industry popularized CBD by adding it to gummies - making it a natural fit for consumers.
Whether you are new to CBD gummies or are learning about the different forms of CBD there are to offer, this article will go over all the CBD basics!
So the question is, how can candy be good for you?
We've got the scoop below.
What are CBD Gummies?
CBD gummies aren't ordinary candy. In fact, they're not everyday gummies. Most gummies contain corn syrup, sugar, and a food natural flavor for color.
CBD gummies contain some sugar and flavored color, but also CBD isolates and carrier oil for CBD absorption. For example, we use coconut oil in Eden's Herbals 1000 mg CBD gummies.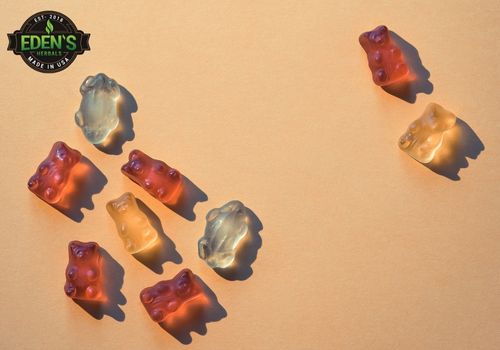 Coconut oil helps your body absorb cannabinoids better. Containing powerful antioxidants and healthy fats, making it ideal for keto diets.
The Science Behind CBD Gummies
Even though CBD is newer to the market, several studies have shown it may help with several diseases. The FDA recently approved a CBD-based drug for treating seizures.
CBD is one of over 100 cannabinoids found in the hemp plant. Unlike THC, CBD is non-psychoactive, meaning you won't get high after chewing gummies.
Cannabinoids contain antioxidants, terpenes, and other compounds that work with your body. All this to produce natural, therapeutic relief.
How Do CBD Gummies Work?
Once ingested, CBD works by sending signals to your ECS or Endocannabinoid System. Every mammal has an ECS, which is one of the most important systems for maintaining human health. The ECS regulates virtually everything in our mind and body - from immune function to mood and sleep.
Once your stomach metabolizes CBD gummies, CB receptors, known as CB1 and CB2, send signals to your ECS. Once identified there, a bridge between body and mind takes place - and initiates recovery.
Benefits of CBD Gummies
So, let's get into the most obvious benefits, in case you haven't experienced these chewy treats yet. Most high-quality varieties contain a good amount of CBD and other natural ingredients. You'll most likely find the following benefits in CBD gummies:
They're Convenient

: You can eat them on the go.

No Fuss

: Unlike oils, less messy.

THC-Free

: You won't get high or fail drug tests.

Last Longer

: Stomach digestion increases longevity.

They're Pre-dosed

: no messing around with droppers.

Discreet

: Easier to take in workplace environments.

Taste Great

: Like our Eve's Sour Apple 1200 mg!
CBD Gummies for Pain
One of the most significant advantages of CBD gummies is pain management. One study conducted in 2019 on rodents found that CBD provided analgesic relief for chronic pain disorders. Some of these included fibromyalgia and arthritis.
Researchers also concluded that test subjects suffered no side effects after CBD administration.
The World Health Organization states that CBD is safe and well-tolerated in adults. Unlike opioids and some OTC drugs, CBD may be a better alternative because of its non-addictive and all-natural qualities.
CBD Gummies for Sleep
Before you hit the sheets, you may want to pop a CBD gummy or two for a good night's rest. Research shows that cannabis may help the following sleep-related conditions:
May treat insomnia

Short-term benefits for sleep apnea

Holds promise for REM sleep behavior disorder

May treat excessive daytime sleepiness

May reduce nightmares in PTSD patients
CBD Gummies for Arthritis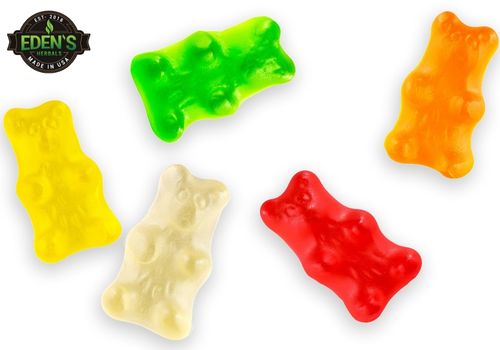 As we age, the cartilage that protects our bones starts to wear down. This process, known as osteoarthritis (OA), can often lead to painful and debilitating effects. CBD may offer hope for those suffering from OA by modulating inflammatory responses.
In 2020, researchers created a novel questionnaire to study the effects of CBD on arthritis. 428 participants were asked how CBD improved their quality of life, with the following results:
83% said improvement in pain

66% reported increased physical function
The majority reported cessation in taking other medications, such as opioids.
CBD Gummies for Anxiety
If you're feeling nervous or anxious, CBD gummies may offer hope. In more recent studies on anxiety, researchers determined that CBD relieved several anxiety symptoms, including:
CBD Gummies for Inflammation
CBD reduces both inflammation and pain. Inflammation is the number one cause of most diseases. By targeting glycine receptors found in the ECS. Additionally, CBD contains potent antioxidants responsible for lowering inflammatory activity.
Given its ability to rebalance our inflammatory response, CBD is being highly considered for the treatment of the following diseases:
Diabetes as a result of metabolic inflammation

Cardiovascular diseases, including stroke and arrhythmia

Alzheimer's disease as a result of neurodegenerative inflammation

Multiple Sclerosis
Negative Side Effects of CBD Gummies
Even though CBD gummies do not contain tetrahydrocannabinol (thc), that doesn't mean there are zero side effects. If you're taking a blood thinner, you may want to consult with your doctor before starting a CBD regimen.
Penn State recently compiled a list of 57 medications to watch out for when combined with CBD. Some of the medications include the following categories:
Blood thinners, like warfarin

Heart rhythm medications

Thyroid medications

Seizure medications
In Conclusion
To avoid side effects, only buy from companies that provide a certificate of analysis or Lab Report. A COA is an independent, third-party test determining the amount of THC in each batch. The test also looks for impurities and solvents that can harm consumers.
Since the FDA has not regulated CBD gummies, lab reports are considered the safest way of knowing you have legit CBD gummies. All our gummies include CBD that's been evaluated for the following:
Organically grown

Sourced from American farms

CO2 extraction; removes all impurities.

THC-Free Third Party Lab Report

Non-GMO

99% Pure CBD
Our gummies come in 500 mg and 1000 mg and contain 12 delicious fruit flavors per bag. Our best-selling product, Eve's Sour Apple, includes a whopping 1200 mg per bag and 60 mg per gummy!
If you want to learn more about CBD Gummies, contact Eden's Herbals at [email protected] today!
*These statements have not been evaluated or approved by the Food and Drug Administration. They are not intended to diagnose, treat or cure any illness. Medical advice should be taken from a medical professional.
All of the articles on this site are written by 3rd party content providers, expert bloggers, or doctors not directly affiliated with Eden's Herbals.
Individuals should learn the risks and side effects before taking CBD. Make sure to always check with a medical professional before starting any new CBD treatment or medication that is not FDA-approved.