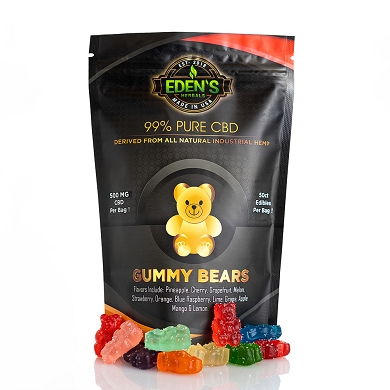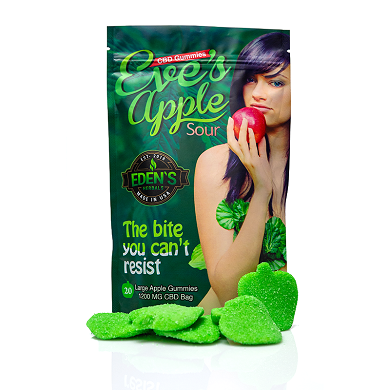 CBD GUMMY GUIDE

CBD edibles are a convenient and tasty way to deliver CBD into your body. Eden's Herbal's CBD chews are THC-free with no psychoactive compounds. Our CBD contains 99% pure CBD. CBD will interact with your endocannabinoid system. Many customers have reported reduced stress, and relaxation. The CBD oil comes from high quality all-natural industrial hemp. Hemp is now legal in 50 states without a prescription. Get your dose of CBD today!
About OUR CBD GUMMIES
BEST OF ALL, THEY SHIP FOR FREE
Cannabidiol(CBD) is a compound found in the hemp plant. CBD oil is now being praised by many for its natural healing effects. CBD to lower anxiety is a common use reported. CBD oil has been shown in study groups to help with a multitude of symptoms. It is a miracle compound that has been hiding under government regulations. It is now manufactured and sold to food companies. The companies can infuse the compound into foods, tinctures, and other delivery systems. Many pet owners give it to their pets that suffer from seizures, inflammation, and arthritis.
Edens Herbal's Gummy Bears come in 12 delicious flavors,
Pineapple, Cherry, Grapefruit, Strawberry, Melon, Orange, Blue Raspberry, Lime, Grape, Apple, Mango, Lemon
Each bag comes with 50 sweet juicy gummy candies. All the CBD oil we get has been third party lab-tested for purity. We at Eden's Herbals have made it our mission to deliver only the highest quality product to our customers. Our business model relies on repeat business. We do not approve of the "one and done" that many other companies have taken. These companies continue to lower consumer confidence. We will not sell anything we would not take ourselves. We use our own product and also give our pets the dog treats we sell. Our great-tasting CBD gummy bears are safe to consume and legal in the USA. All Edens Herbals products we make in the USA.
We also have the new Eve's Sour Apple. The sour apple gummies are delicious with their tart and sweet juicy apple flavor. Each bag comes with 20 large apple CBD gummies. Each bag contains 1200 mg of pure CBD isolate.
If you have never tried our products give us a try! I know you will love them.


BENEFITS OF CBD GUMMIES
Recently, CBD oil has become a very popular product due to the effects of CBD. Customers have been finding a plethora of health benefits by using CBD. Although cannabis is not legal in every state, CBD is. This is because this product is harvested from hemp plants. Industrial Hemp is legal at the federal level. This allows customers to access the many benefits of CBD oil. regardless of where you live. With the wide popularity of this beneficial product, customers are able to buy CBD in a variety of forms. They can choose Isolates and tinctures, or buy a variety of edibles, such as CBD Gummy Bears.
WHAT IS CANNABIDIOL(CBD) OIL?
Cannabidiol(CBD) is a chemical compound discovered in 1940. CBD is only found in cannabis or hemp plants. Unlike THC, CBD does not cause the high most people to associate with marijuana. Hemp plants are a great resource for CBD. They contain high levels of this compound and very low levels of THC. When the CBD comes from industrial hemp plants, every state allows this product. It is also important to note that CBD, whether an isolate or spectrum CBD must come from industrial hemp. If the extract comes from cannabis plants it would be illegal.
CBD GUMMIES FAQ



All products including our CBD Gummy Bears created by Edens Herbals are made from high-quality industrial hemp grown legally in the United States. Industrial hemp plants contain less than 0.3% THC, making them legal nation-wide according to the 2019 Farm Bill. However, even though 0.3% is considered federally legal, we ensure that our products do not contain any THC. We understand that customers prefer an employment-friendly product and we are happy to provide that.
CBD is considered safe. It is all-natural and has far fewer side effects and health risks than most over-the-counter medications. The most common side effects of CBD can include nausea, fatigue, and irritability. There are also some concerns with how the liver metabolizes other medications while taking CBD. This may cause some issues of raised levels of these medications that could be problematic. The issues with CBD and medication interactions is similar to that of grapefruit. It is always important to discuss with a doctor before starting CBD or any other medication or supplement when taking certain medications. This can prevent issues and interactions
CBD is also non-addictive. Unlike many other prescription medications, especially those for pain and anxiety, CBD does not have any addictive products. Customers can consume these products without worry. CBD products, such as CBD gummies, can be consumed regularly. Customers can also discontinue the use of CBD products without any risks of withdrawal symptoms or other problems often associated with prescription medications. Also, as long as the CBD product being used does not contain any THC, they are considered Employment-Friendly. Our CBD Gummies do not contain

any

THC.
Our customers love them for a wide array of ailments or symptoms. Insomnia, pain, inflammation, and arthritis have all been ailments people have reported that our CBD gummy bears have helped them with. Some use CBD gummies in combination with our CBD skin care products to help with sore muscles, body aches, and pains and joint pain. Studies have shown cannabidiol to be a natural anti-inflammatory and pain reliever. I personally take them to help me sleep. I take a couple of gummies an hour before bed and I sleep all night. There is a ton of research dating back a thousand years showing the benefits of cannabis products. Had this drug not had the bad reputation it acquired as a recreational drug we would have been able to enjoy the healing power of the cannabinoids much sooner.
In all of our products, the psychoactive compound known as THC has been removed, leaving just pure 99.9% CBD compound. Within an hour after consuming the gummies, You may feel more relaxed due to the positive effects of CBD on your endocannabinoid system.
Although CBD is not a cure for anxiety and stress, our customers have written to us, saying our CBD Gummies have drastically improved their quality of life. If you suffer from anxiety and stress you may want to give our CBD Gummies a try.
Our customers have sent us rave reviews about how well CBD has helped with pain and inflammation. Keep in mind that everyone responds to CBD differently. Some people may need higher doses and others need less. If you have not tried CBD for the pain you may want to give THC-Free Gummies a try.
One of the best results we hear from our customers is how much better sleep they get. Taking a few Gummies an hour before bed has dramatically helped with insomnia.
CBD is extracted from industrial hemp plant.
We recommend speaking with your doctor or pharmacist to find out if CBD will interfere with your medication .
It has a calming effect that will help you fall a sleep but if you are active during the day it will usually not make you tired. It is always best to try them to see how they effect you. CBD can effect everyone differently
It depends on the ailment you want to address. Topicals are great for localized pain and inflammation while CBD edibles and Tinctures are great for muscle aches and body pain. A combination of the two is also a great way to address issues. Read the description for each product to get a better idea which product may be best for you.
CBD does have some reported side effects like drowsiness, fatigue, dry mouth and in some cases diarrhea. These side effects tend to be rare in most people. It is always best to ask your doctor before starting any new supplement.
CBD Products have not been approved or evaluated by the Food and Drug Administration to cure or prevent any disease.