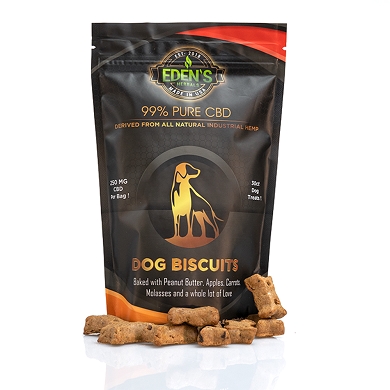 CBD DOG TREATS GUIDE
Bernie is a 4-year-old English Bulldog with pain in his joints. He was born with hip dysplasia. Dysplasia causes discomfort when he gets up from laying down or walks for long periods of time.
His owner doesn't want to treat him with opiate painkillers, fearing their side effects. She opts for natural remedies, including supplements like CBD dog biscuits.
After she adjusted Bernie's supplement intake, she noticed he moves without as much pain. He gets up off of her hardwood floor with ease and seems less anxious during his walks. His stamina increases, too – now he can walk close to a mile. This is much better since he couldn't make it 200 yards before she started giving him CBD dog biscuits.
Is CBD safe for your dog?
If you ask Bernie's owner, she'll say it's a wonderful remedy that gave her dog another chance at pain-free living. But beyond this anecdotal evidence, what should you know about CBD before giving it to your pet?
In this guide, we'll discuss CBD dog treats and how it may impact your pets. Like most natural remedies, there's a lot of information. You should understand this information before you give CBD oil to your pet. You shouldn't give your pet anything you haven't discussed with a veterinarian. The information you learn in this guide should be the basis for a talk with a professional. It is not a standalone reason to give your pet CBD oil supplements.
Why Give Your Pet CBD Oil?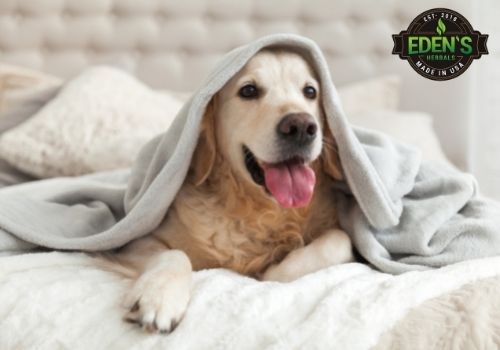 If you live somewhere with legal or medical cannabis sales, you may be familiar with CBD Oil. CBD is a naturally occurring compound in many hemp and cannabis strains.
Unlike THC, CBD Oil is not psychoactive. Users notice the effects, which may include:
• Anxiety relief
• Mood improvements
• Pain relief
• Improved ability to fall asleep
• Better quality sleep
People give CBD Oil supplements to their dog (or use them as part of their own daily routine) for many reasons. Anxiety, insomnia, and chronic pain are the most common reasons. For humans, CBD Oil provides plenty of benefits. CBD has fewer side effects that go with prescription medications.
Is it Legal to Give Your Pet CBD Oil?
CBD is a cannabis-derived substance. CBD Oil is subject to different regulations as compared with other natural supplements. Understanding legal ramifications depends on where you live. Local laws may treat CBD Oil sales or possession differently. On a federal level, the Farm bill makes CBD legal.
If you're looking for an FDA-approved pet treat containing CBD Oil, you won't find one. At the time of writing, the FDA hasn't approved any pet treats with CBD to be sold as supplements or prescriptions.
Your veterinarian can't prescribe your pet CBD Oil treats in any state. Some veterinarians may recommend them. CBD prescriptions will not be an option to treat your pet's chronic pain or anxiety. At least, until federal regulation approves CBD oil for medical use in animals. However, CBD dog treats are legal to buy and sell the same way human CBD Oil products are permitted in many states. It's important to check with your local laws.
See if CBD Oil sales are legal in your area to learn if it's a viable option for your pet. If your state allows CBD Oil sales, you can purchase pet treats containing CBD Oil. You can buy in-stores and on the web.
When you purchase CBD pet treats or supplements in the applicable states, it's legal to give them to your pet. You should be aware that the lack of regulations for CBD containing pet treats may put your animal at risk. Make sure you buy a trusted product.
Until the FDA regulates CBD pet treats, brands are not required to test their products or prove their effectiveness. This means a brand may overstate the CBD dosage in their product to make more sales. They may also use poor-quality hemp in their recipe. Without valid quality-control measures, it's hard to be sure a brand is delivering what you're paying for. Eden's Herbals brand uses only 99% pure CBD. All Eden's Herbals CBD has been lab-tested for purity, metals, toxins, and pesticides.
Dogs and CBD Oil Supplements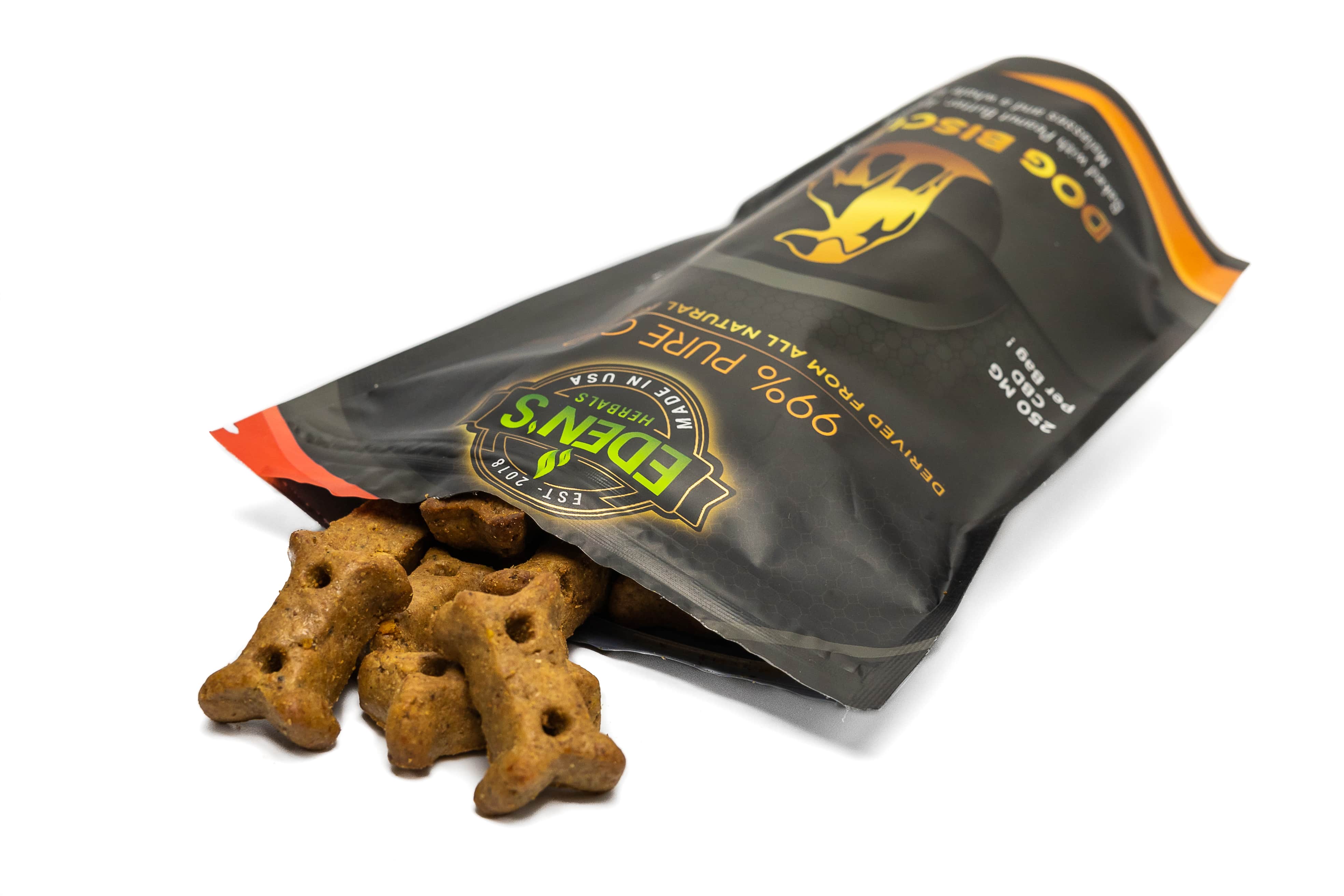 In general, CBD Oil is safe for dogs. More research is still needed to determine CBD's long-term effects on dogs. When used occasionally CBD dog biscuits aren't likely to cause harm.
As cannabis laws change in the United States, more organizations are sponsoring research. Especially research on the effects of CBD. In 2018, Cornell University published an encouraging study about CBD. The study discusses the efficacy of CBD-based treatments in dogs with osteoarthritis (OA).
Their results confirm what many dog owners believe to be true. CBD administration of four weeks caused no observable side effects. It also leads to a significant reduction in pain for the participants. After publishing their results, the researchers suggest that roughly 2mg of CBD per kg of a dog's body weight. This amount can reduce the dog's pain and increase their sense of comfort.
Another study by Colorado State University suggests CBD Oil may be an effective treatment for dogs with epilepsy. Based on their findings, 9 out of 10 (89%) of dogs who received CBD treatments had seizures less during the clinical trial.
These studies don't answer all the questions you may have about CBD Oil treats and its impact on your dog. It is at least viable information to work with. The more research surfaces about CBD Oil and its efficacy among dogs, the more we'll know about using it to treat our furry friends long-term.
Cats and CBD Oil Supplements
When people think of CBD Oil supplements for pets, they usually think of treats for their dogs. However, cats can enjoy cannabis-derived supplements if you administer them with care.
As mammals, cats have dedicated cannabinoid receptors like humans and dogs. In fact, their brains contain even more cannabinoid receptors than humans. This makes cats sensitive to marijuana-derived compounds.
For this reason, it's crucial your cat never ingests THC or other psychoactive compounds in cannabis. They will not enjoy the "high" like some individuals and may become ill. If your cat accidentally ingests THC, get them to a veterinarian as soon as possible for treatment.
CBD is relatively safe for cats according to recent studies. Dosing is still a concern but offering a minuscule amount of CBD can relieve your cat's pain or anxiety.
Cats are more sensitive to cannabis-derived substances than dogs. They are more likely to experience side effects if you give them CBD supplements. The most common side effect is gastrointestinal distress. If you accidentally give your cat too much CBD, they may vomit or feel ill for a few hours or days after ingestion.
Full-Spectrum Cannabis vs. Hemp-Based CBD Oil Supplements for Pets
If you're going to buy CBD Oil supplements for your pet, you'll face more than one decision. One of the most important factors to consider is the type of CBD. Does it come from full-spectrum cannabis or an isolate from hemp?
Full-spectrum cannabis and hemp share similar characteristics but are not the same. If you've seen products advertising these terms, you've probably wondered how they compare:
•If a brand labels its products as derived from 'full-spectrum cannabis, they used plant matter with an abundance of cannabinoids to create their product. These cannabinoids may include beneficial compounds like CBC and CBG, both shown to reduce inflammation and provide pain relief.
•Be careful of brands labeling their products as 'hemp-derived'. They may not contain true cannabinoids found in full-spectrum or broad-spectrum strains.
When you shop for CBD Oil pet supplements, you may need to decide between CBD isolates and full-spectrum oils. Full-spectrum oil contains more than CBD. These products from full-spectrum cannabis contain active compounds like CBC and CBG.
If a product features CBD isolate, it will not contain other cannabinoids. The CBD isolate is extracted from the plant matter on its own. A process during which additional compounds are stripped away.
CBD Isolates are a much safer option for pets. Edens Herbals recommends you never give your pet a product containing THC. Eden's Herbals has a THC-free CBD product for dogs.
How Long Will It Take for CBD to Affect My Pet?
After you give your pet their CBD pet treat, allow some time to observe its effects before giving them more. Remember: you can always give your pet more CBD if they haven't had enough. You can't get it out of their system right away if you give them too much.
If you're treating a dog, we recommend 5mg per 20lbs of weight as a beginning dosage. As you experiment with what dosage works best, be sure to give them no more than 2mg of CBD per kilogram (2.2lbs) of their body weight. It will take between 30-45 minutes for the CBD to take effect, depending on how recently your pet ate a meal and their size.
Some issues, like chronic pain, arthritis, and inflammation need daily treatments to see results. Unfortunately, CBD isn't a miracle cure. It won't stop inflammation throughout your pet's body overnight. Daily treatments using CBD can become an effective treatment for chronic pain in most dogs.
Where Can I Purchase CBD Supplements for My Pet?
Depending on where you live, there are a few ways to purchase CBD.
Most pet owners buy CBD products online. Buying CBD from trusted vendors like Eden's Herbals offers many advantages. The CBD is usually more fairly priced and its easier to confirm the quality with social proof.
When you purchase CBD online, you can review the brand's reviews, lab-reports and testimonials. You can learn about the CBD product before committing to your purchase. This evidence may be hard to get buying CBD products in stores.
Additionally, online stores usually offer the most affordable rates for CBD pet supplements. CBD pet products are not always available in pet stores. They're still a niche product in most cities. Pet stores will price them as an in-demand commodity. Charging much more than online vendors who sell products without a "middle man."
Final Thoughts on CBD for Dogs
In recent years, CBD-containing products have made waves for their seemingly endless benefits. Studies of CBD preventing seizures in dogs and eliminating their chronic pain have circulated the internet. This is drawing attention to the compound's therapeutic potential.
However, CBD's apparent safety doesn't make it a cure-all. If your dog or cat is living with chronic illness or injury, talk to your veterinarian before administering any CBD supplements. They can't legally prescribe CBD but they can help you understand if it's right for your cat or dog.