Best CBD Gummies
Posted by Eden's Herbals Staff on 9/22/2020 to
Information
Is your job causing you stress? Maybe you remember that a colleague used to take CBD gummies and boasted about how great they were for relieving stress and anxiety.
You quickly launch into an online search for the best CBD gummies! There are so many brands and flavors from which to choose, but after much research, you made the best choice and decided to try Eden's Herbals CBD gummies!
You've taken the important first step towards healing more and paying less.
What is CBD?
CBD is an abbreviation for Cannabidiol, a chemical compound found in the hemp plant. There are hundreds of compounds found in this plant, but the two most used compounds are CBD and THC (tetrahydrocannabinol).
Unlike THC, CBD is not psychoactive and won't push you into a "euphoric high", a feeling you can get when you use marijuana. By law, hemp (which is used to make CBD gummies), must contain no more than 0.3 percent THC.
CBD is legal in the United States without a prescription so there is no need to worry that you are buying something illegal.
What are the Benefits of CBD?
Taking CBD gummies has a positive effect on your mental and physical well-being.
CBD has been credited with relieving stress, anxiety, insomnia, pain, seizures, arthritis, and inflammation. Studies have and are being conducted to show its healing power in different diseases such as Dravet syndrome and Lennox-Gastaut syndrome (LGS), two epilepsy syndromes.
CBD gummies are a great way to receive these amazing health benefits. Gummies are the choice for many people who may not be able to take gel caps or tablets.
Edible gummies are grab and go, meaning there is no need to chase them down with water! They can be conveniently popped in your mouth, chewed, and easily swallowed!
Why Choose Eden's Herbals?
Great question!
Eden's Herbals CBD is 99% pure, the highest level of purity attainable. All products are made from high quality all-natural industrial hemp and tested for purity by a third-party laboratory. This can be verified by Eden's Herbals Certificate of Analysis.
Lab testing is important because it ensures that the gummies you consume are safe and don't have any unwanted and harmful ingredients such as residual solvents, toxins, and heavy metals. Eden's Herbals CBD gummies are:
Dairy-free

Gluten-free

Fat-free

Free to ship
These CBD gummies come in 12 deliciously intense fruity flavors; pineapple, cherry, grapefruit, strawberry, melon, orange, blue raspberry, lime, grape, apple, mango, and lemon flavors. You won't be able to get enough of these yummy gummies.
Best CBD Gummies
Eden's Herbals gummy bags are affordable and come in three different varieties to best suit your individual needs.
500 mg CBD Gummy Bears
Eden's Herbals 500 mg bags contain 50 delicious fruit flavored gummy bears at just 10 mg of CBD per gummy. These low dosage CBD gummies are perfect for beginners who want to start out with a low dose. Depending on how your body responds, you may decide to stay with the 10 mg gummies or increase your strength to 20 mg gummies for your desired result.
1000 mg CBD Gummy Bears
Eden's Herbals 1000 mg bags also contain 50 fruit flavored gummy bears but each gummy has a dose of 20 mg of CBD. These tantalizing gummies are a great choice for people who need a stronger dose of CBD. This bag is a great value with double the amount of CBD per bag!

1200 mg Eve's Sour Apple Gummies
Eve's Sour Apple Gummies are Eden's Herbals strongest gummies containing 1200 mg per bag and 20 gummies in the bag. These large gummies contain 60 mg of CBD per gummy. They have a unique sour apple flavor that is just as pleasing to the taste buds as its subtle shade of green is pleasing to the eyes. They are simply irresistible!
What is the Right Dosage for Me?
The correct dosage will vary from person to person. Dosages can depend on a lot of factors such as body type and the reason you need to take CBD gummies. A dosage that may help with insomnia may not be the same dosage that can alleviate chronic knee, back, or joint pain.
For adults 25 years of age and older, we recommend that you start with one low dosage gummy and gradually increase your dosage until you reach your desired results or in which you feel comfortable. According to one study, repeated and chronic use of CBD dosages up to 1500 mg per day are well tolerated by humans. We recommend that if you are currently being treated for a disease or if you are on certain medications, you check with a qualified physician.
While most people experience no side effects while taking CBD, mild side effects do occur for some people. Watch for any side effects such as drowsiness, sedation, diarrhea, changes in appetite, changes in weight or nausea. If you experience any side effects, talk with your physician before continuing to use CBD.
Offers and Discounts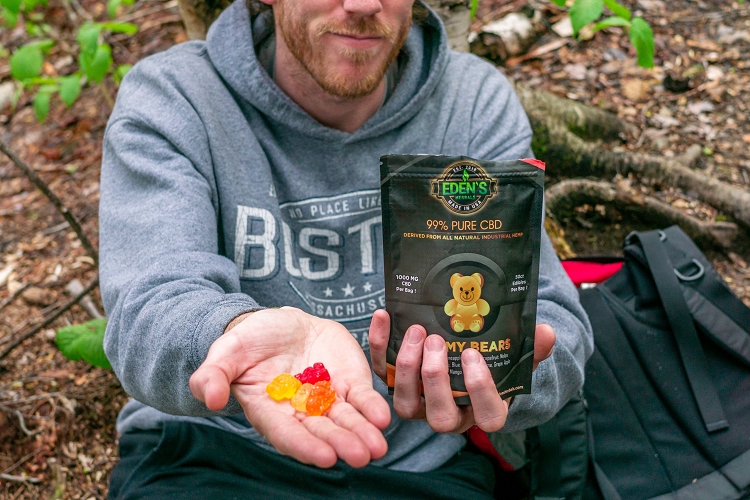 Don't you hate it when you get a great price on a product, only to be hit with extremely high shipping fees? At Eden's Herbals, all products are shipped free of charge to your door.
You can buy them for individual use, or you can buy them wholesale at an extremely discounted rate. The more you buy, the more you save.
Check out these great prices on Eden's Herbals 500 mg, 1000 mg and 1200 mg bags for unbeatable savings.
So, what are you waiting for? Get shopping and save more today!