Best CBD Gummies for Anxiety and Stress
Posted by Eden's Herbals Staff on 5/16/2022 to
Information
Life is stressful, even in the best of times, it seems. With the additional burdens of COVID and other world issues, many are looking for an extra boost to help ease stress and anxiety.
CBD has recently emerged as a legal and healthy supplement to combat stress and anxiety. Best of all, they come available as handy and discreet CBD gummy treats. Keep reading to learn how CBD gummies might be precisely what you need to help fight stress.
Stress vs. Anxiety
Stress is the body's way of telling you to back off in certain situations. For example, you might react to a threatening situation with an increased heart rate. Apart from life-threatening conditions, stress can be expected from time to time.
Anxiety is more deep-rooted and can manifest itself in the form of an actual disorder. Anxiety is an internal reaction and can show up in the following medical conditions:
Generalized Anxiety Disorder (GAD)

Social Anxiety Disorder (SAD)

Post Traumatic Stress Disorder (PTSD)

Panic Disorder (PD)

Obsessive-Compulsive Disorder (OCD)
How Stress and Anxiety Affect Your Health
When you're stressed, your body reacts by releasing stress hormones, known as adrenaline and cortisol. While these chemicals can help us rise to meet challenges in the short-term, chronic stress can negatively affect your health in the following ways:
Insomnia

Heart disease

Autoimmune dysfunction

Weight gain

Brain fog

Eczema

GERD
Long-term stress may also lead to medical conditions and disability in the form of excessive anxiety. People who've experienced combat, for example, may develop Post Traumatic Stress Disorder (PTSD), a neuropsychiatric condition characterized by unreasonable fears. Anxiety disorders may affect your life in the following ways:
Employment issues.

Elevated suicide risk.

The trouble with relationships.

Common sense of well-being.
Why Use CBD Gummies?
CBD, short for cannabidiol, is one of two major compounds found in the cannabis plant. Unlike THC, however, CBD doesn't make you high. Used for thousands of years as a medicinal, traditional cannabis use required the user to experience the psychedelic aspect of reaping its other benefits.
Thanks to modern technology, and the legalization of CBD in 2018, we now can experience all the medical benefits of cannabis without any side effects. This is especially important for people suffering from anxiety and stress. CBD is now available in gummies, making them the perfect snack. Other reasons you may consider gummies include the following:
Convenient

Discreet

Easy to carry

Non-addictive

Safe and well-tolerated

100 % Legal
CBD Gummies for Stress and Triggers
CBD works by interacting with your ECS (Endocannabinoid System). This is a complex physiological system that regulates most of your body's functions, such as hunger and sleep. CBD may also provide your ECS with a sense of calmness or well-being.
In 2020, 33 at-risk patients were given CBD to see the effects on their psychosis. The double-blind study showed that CBD might positively affect cortisol levels, thus decreasing psychotic episodes. CBD may also help relieve stress by offering the following benefits:
CBD Gummies for Panic and Anxiety Attacks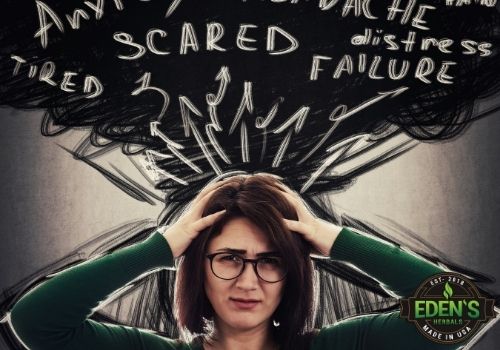 CBD is particularly effective in treating multiple anxiety disorders, including SAD, GAD, PD, and PTSD. In 2015, researchers looked at CBD oral doses for anxiety in the 300 to 600 mg range. After studying cortisol levels, scientists determined, conclusively, that CBD minimized fear and other symptoms related to anxiety disorders.
Although they concluded more research is needed, the experimental findings showed minimal side effects and an excellent safety profile. CBD gummies, in particular, may be more effective than standard CBD oil because of the following advantages:
Easier to take than CBD oil.

No dropper is required.

Easier to dose than standard CBD oil.

Works better in some work environments.
How To Find the Best CBD Gummy for Stress and Anxiety
Not all CBD gummies are created the same. Because of its newness, CBD isn't as well regulated as the pharmaceutical industry, for example. When shopping for CBD gummies, consider looking to see if your gummies meet the five following things.
1. Importance of CBD Lab Report
A CBD lab report, or analysis, is an independent, third-party test conducted to see if your CBD is what the manufacturer says it is. When looking at lab reports, we're primarily interested in the two following categories - THC-Free and full spectrum.
A THC-free lab report states that your CBD contains no THC. Although there's not enough THC (0.3%), research suggests that full-spectrum CBD may benefit you more. Full-spectrum CBD creates an 'entourage effect.' A full-spectrum lab report ensures your CBD contains the legal limit of THC.
2. Look for Organic
One of the advantages of checking if your CBD has a lab report is that it can ensure your product is free of additives and impurities. On top of that, we source all our hemp from organic farms, meaning your CBD gummies are free of pesticides and harmful toxins. This will ensure a high quality product.
3. Is Your CBD Sourced In the U.S.?
Some feel that it's essential to know where you're getting your products, particularly these times. Eden's Herbals sources all of our hemp from American farms.
4. CO2 Extraction Process
That's important because the traditional method requires many extra chemicals to enter CBD. Our CBD gummies are extracted through a complex CO2 extraction machine, ensuring our gummies are free of harmful solvents.
5. What's the Best Tasting CBD Gummy?
While the effects of CBD gummies may do wonders for your stress and anxiety, what about taste? For some of you, that may be an essential factor. Our CBD gummies come in cherry, pineapple, grapefruit, strawberry, melon, orange, raspberry, lime, grape, apple, lemon, and mango. We also have Eve's Sour Apple, one of our best sellers because of its explosive taste.
Final Thought
Many of you might be concerned about weight gain or other issues when taking our CBD gummies. Our gummies are:
Fat-free

Gluten-free

Dairy-free

Ship for free
We also take the guesswork out of dosing. Our 500 mg gummies contain 50 gummies per bag and contain no THC. After you've started experiencing the benefits of CBD gummies on your anxiety and stress, you can try a more potent gummy - Eden's Herbal 99% THC-free 1000 mg gummies.
Our 1000 mg gummies are 20mg per gummy and come in 12 unique flavors. Our most potent, and some say most delicious, are our Eve's Sour Apple gummies. Each of these are 60mg of CBD per gummy! The sour taste will help create calmness, and you'll notice relief from many of your stress and anxiety symptoms.
If you want to learn more about Best CBD Gummies for Anxiety and Stress, contact Eden's Herbals at [email protected] today!
*These statements have not been evaluated or approved by the Food and Drug Administration and are not intended to diagnose, treat or cure any illness. Medical advice should be taken from a medical professional.
All of the articles on this site are written by 3rd party content providers, expert bloggers, or doctors not directly affiliated with Eden's Herbals.
Individuals should learn the risks and side effects prior to taking CBD. Make sure to always check with a medical professional before starting any new CBD treatment or medication that is not FDA approved.