Best CBD Capsules for Pain
Posted by Eden's Herbals Staff on 7/12/2022 to
Information
CBD, short for cannabidiol, now comes in an easy-to-use pill format, allowing you to fight back pain the same as taking an aspirin.
The best thing about CBD capsules?
They're easy-to-take

They're all-natural

The WHO (World Health Organization) states they're safe and well-tolerated.
Many studies show the potential of CBD as an effective pain reliever.

Pre-dosed, perfect for your busy life.
This post will review all the benefits of taking CBD capsules for pain. Because CBD capsules are THC-free, you won't have to worry about getting high, or failing a drug test. You will benefit from all the anti-inflammatory properties of CBD, easy and conveniently.
Quick Review: Types of CBD
CBD Capsules

: CBD Softgels are broad-spectrum-based CBD pills, pre-dosed for convenience.

Full-Spectrum

: Full-Spectrum CBD contains all 100 plus cannabinoids.

CBD Isolate

: is the purest form of cannabidiol, made entirely of CBD.

CBD Gummies

: CBD Edibles, like our gummies, come in delicious, easy-to-use serving sizes.

THC-Free

: THC-Free, CBD-based tinctures.
What Are CBD Capsules for Pain?
CBD capsules, like our soft gels, are simply CBD in pill format. No mess, no fuss and super simple to take, CBD capsules are coming in at the top of CBD consumables.
Take your recommended amount and continue your busy life. One of the best things about CBD pills is they're sugar-free and come in an easy-to-twist-off bottle.
When discussing CBD capsules for pain, you'll want to keep in mind a few things first:
CBD Pills won't get you high.

CBD Capsules may have many other benefits besides treating pain.

CBD Softgels are digested first through your stomach.

CBD Capsules stay in your system for roughly 8 hours.
CBD Pills for Arthritis Pain
Arthritis affects your joints, making the application of CBD at times challenging. For example, standard deliveries, such as tinctures and oils, come with a dropper and bottle. With CBD capsules, you can skip all that and get right down to treating your pain.
In 2016, researchers published some exciting results about CBD's role in treating arthritis. Given that nearly a quarter of the U.S. population suffers from some form of arthritis, this is great news.
In the study, scientists applied transdermal cannabidiol to arthritic rat models. After four days of the CBD application, the test subjects showed a significant reduction in joint swelling and pain response.
CBD Pills for Chronic Pain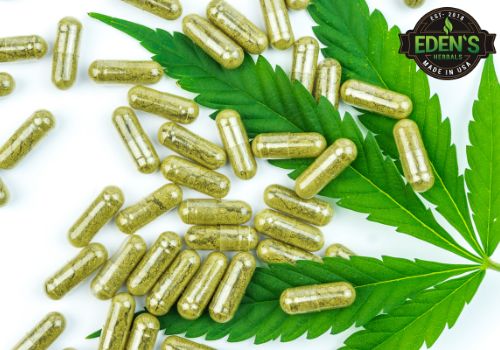 Chronic pain is recurring pain that lasts longer than three months. Unfortunately, traditional medicines, such as opioids, have led to an addiction epidemic in the U.S.
Because of CBD's non-psychoactive properties, many researchers are starting to look at it as a possible alternative to habit-forming drugs. This shows great hope for natural pain relief.
In 2012, researchers using animal subjects found an essential connection between glycine receptors in all animals and CBD's ability to fight pain.
The study provided significant evidence that suggested CBD interacted with the glycine receptors to suppress neuropathic pain.
CBD Pills for Fibromyalgia
According to The Mayo Clinic, fibromyalgia is a painful disorder affecting the entire musculoskeletal system. It is often accompanied by memory and fatigue issues. In a specific subset of fibromyalgia test subjects, doctors investigated the effects of cannabidiol (CBD), cannabinol (CBN), and cannabichromene (CBC) on female rat models with myofascial pain.
In the study, researchers applied 5mg of CBD and 1mg of CBN to see if the combination affected the muscle pain. The findings showed that the CBD/CBN combination "may provide analgesic relief for chronic muscle pain disorders such as temporomandibular disorders and fibromyalgia without central side effects."
CBD Capsules for Inflammation
First isolated from cannabis in 1940, CBD's anti-inflammatory effects were unknown until very recently. In a 2019 study conducted by the Department of Analytical Chemistry, the Medical University of Bialystok in Poland, researchers found both anti-Inflammatory and antioxidative Properties of CBD. This is excellent news for people suffering from pain, as inflammation is the root cause of most diseases.
How Do CBD Capsules Work?
CBD capsules work by metabolizing first in your stomach before sending signals to your ECS, to provide therapeutic relief. The ECS regulates almost all your bodily functions - from organs to your brain and mood.
When you ingest a CBD pill, pain receptors in your brain are thought to send out anti-inflammatory signals to your body. This provides analgesic relief. CBD capsules are also THC-free, meaning they're non-habit forming and won't make you high.
How Much CBD Do I Use for Pain?
Before starting any CBD regimen, consider speaking first with your physician. Also, if you've never taken CBD before, start with the smallest possible dose.
For example, Eden's Herbals soft gels come in 25mg per capsule serving sizes. For beginners, start with one pill daily and see how you feel. You can gradually bump up your dose until you find the desired pain-relief dosage.
How Do I Choose the Best CBD Capsules?
When choosing your CBD capsules, there are a few things you'll want to first look at. For example, not all CBD manufacturers provide a lab report or certificate of analysis.
An analysis report is an independent, third-party lab report that shows exactly how much THC is in your CBD product. This not only ensures your CBD is legal (under 0.3% THC), but it also guarantees purity and quality.
Top Things To Consider From Your CBD Capsule Manufacturer
Affordability: Just because it's high-quality doesn't mean you have to overpay.
Organic: We source all our CBD from organic farms, meaning no pesticides.
CO2 Extraction: Eden's Herbals uses a CO2 extraction process, leaving a pure finish. This also removes harmful solvents.
Non-Gmo and Dairy-free: Perfect for a vegan and healthy lifestyle.
Takeaways
Our CBD capsules come in a soft gel format, making them easy to swallow and super easy to carry with you. Take one or two pills when you feel the pain coming on or if you just need a quick shot of relaxation.
There are so many reasons to take CBD, and our capsule format makes it easier to take than any comparable product on the market (not to mention the price).
Our CBD is sourced from American-made hemp, so you're also supporting our hard-working farmers, as well as giving back to our economy!
Each of our capsules contains the following:
25mg of Cannabidiol (CBD).

Conveniently stored in a twist cap container.

Thirty soft gel capsules per bottle.

Lab Tested with Certificate of Analysis (COA) to be free of pesticides and residual solvents.

Broad-spectrum CBD, MCT Coconut Oil, Gelatin, Purified Water, Glycerin.
If you want to learn more about finding the best CBD capsules, contact Eden's Herbals at [email protected] today!
*These statements have not been evaluated or approved by the Food and Drug Administration and are not intended to diagnose, treat or cure any illness. Medical advice should be taken from a medical professional.
All of the articles on this site are written by 3rd party content providers, expert bloggers or doctors not directly affiliated with Eden's Herbals.
Individuals should learn the risks and side effects prior to taking CBD. Make sure to always check with a medical professional before starting any new CBD treatment or medication that is not FDA approved.