Are CBD Gummies Addictive
Posted by Eden's Herbals Staff on 10/4/2022 to
Information
If you want to know about CBD and addiction, then read this first. CBD gummies are hugely popular because they're delicious and provide several potential healing benefits. To help clear the air on CBD gummies and addiction, we'll cover the following:
What exactly is in CBD gummies?

Are CBD gummies dangerous?

Will CBD gummies make me high?

List of CBD gummy benefits

Are CBD gummies legal?

Do CBD gummies have side effects?
Early scoop - CBD gummies are not addictive. But you'll want to keep reading to determine if CBD gummies fit your lifestyle well.
What Are CBD Gummies?
CBD gummies are chewy, bite-sized candy that incorporates a healthy amount of CBD per chew. Most CBD gummies come in assorted flavors, like our 500mg CBD gummies. You'll also find specialty flavors, like Eve's Sour Apple, which provides 1200 mg of CBD.
One of the most significant advantages of CBD gummies is their convenience. They're perfectly made for discreetness. For example, not every workplace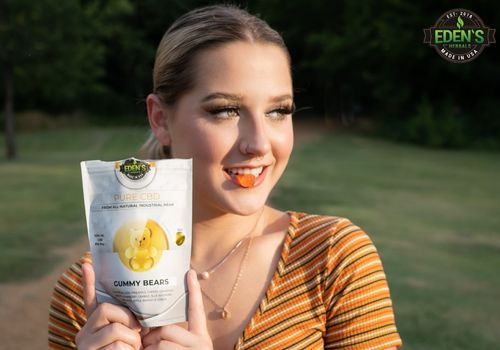 might approve of CBD. Your boss might not distinguish a THC product from a CBD product. Other advantages of CBD gummies include the following:
CBD gummies taste great.

Little to no aftertaste.

Disguise the earthy flavor.

Looks like ordinary gummy candy.

Easy to stash.

No dropper is needed.

No messy oil.
Do CBD Gummies Contain THC?
Let's look at the THC content of CBD first. To better explain, THC and CBD are individual cannabinoids. CBD is derived from hemp-based cannabis. Unlike marijuana, the hemp plant contains a fraction of THC, making it ideal for CBD production.
One separated from THC, CBD has its own unique properties and is entirely THC-free. Most CBD gummies are THC-free but contain all the goodness that comes from CBD (more on that later). Our CBD gummies are THC-free, meaning they've been tested by a third party to be free of any THC traces.
On a side note, CBD and CBD gummies that do contain (tetrahydrocannabinol)THC may only, by law, have minimal amounts (0.3%). Full-spectrum CBD, for example, contains trace amounts of THC. By incorporating a tiny bit of THC, your body may react more positively through a process known as the 'entourage effect.
Are CBD Gummies Addictive?
According to The Hazeldon Betty Ford Clinic, one of the nation's leading alcohol and drug rehabilitation facilities, CBD is not addictive. However, the biggest challenge facing those with addictive personalities is making sure your CBD gummies are THC-free.
If you're concerned about addiction, look for high quality THC-free CBD gummies. Eden's Herbal's 1,000mg CBD gummies provide a solid hit of (cannabidiol) CBD and other hemp-based cannabinoids to boost your mood. THC Free gummies will not cause psychoactive effects, so you ease your worry there.
Can You Fail a Drug Test After Taking CBD Gummies?
You can potentially fail, especially if you're buying CBD gummies that contain THC. Consider checking lab reports, which provide helpful insight into how much THC is in your gummies. If your gummies are THC-free and are backed up with a lab report - no, you won't fail a drug test.
If, however, your gummies contain more than the legal limit of 0.3% THC, you run the risk of testing positive. The critical thing to remember is that drug tests are not looking for CBD. They're looking, instead, for THC.
Can CBD Gummies Help Treat Addiction?
Addiction is a huge word, as there are many forms of it - like food addiction. Regarding street drugs and opioids, some evidence suggests CBD may help with withdrawal symptoms. A 2020 report published in Neuropharmacology found that CBD may be an effective option in treating drug addiction. It has also been shown to help quit smoking cigarettes.
Is CBD Safe?
Yes, CBD is perfectly safe. In fact, The World Health Organization (WHO) officially states that CBD is "safe and well-tolerated" in adults. A quick scientific breakdown might help explain why CBD is safe and easy to take.
CBD, short for cannabidiol, is one of over 140 cannabinoids found in hemp and cannabis. Research indicates that once ingested, CBD binds to cannabinoid receptors (CB1 and CB2).
Once these signals "pick up" the cannabinoids, like CBD, they send information to your ECS or Endocannabinoid System.
Benefits: CBD Gummies
Every mammal has an ECS, making animal and human studies similar, making it a valuable resource of information. While more research is needed,
scientists have found a number of potential benefits of CBD. When you bite into a CBD gummy, you can potentially expect to see the following benefits:
FDA-approved drug for seizures
Conclusively shown to help relieve anxiety

May relieve chronic pain

Anti-inflammatory

Reduce appetite

Antimicrobial

Alzheimer's

Induce calmness

Insomnia relief

It may improve specific skin conditions
Are CBD Gummies Illegal?
Yes. In 2018, Congress passed the Farm Bill Act, which legalizes hemp. Scientifically, there are two forms of cannabis Sativa - marijuana and hemp. As discussed, hemp contains much less THC (tetrahydrocannabinol), the cannabinoid responsible for making you high.
Before 2018, federal laws did not distinguish between hemp and marijuana. After 2018, however, hemp is now widely used in the production of CBD. As long as your CBD is derived from hemp, it's legal.
That being said, some states have different laws limiting and selling CBD. In Idaho, for example, you'll need a prescription to buy CBD over the counter. Federally speaking; however, CBD is perfectly legal to buy online.
Side Effects: CBD Gummies
Because CBD gummies contain sugar, they're not for everyone. While CBD has been shown to improve metabolic functions in test subjects, CBD gummies may have the opposite effect because of their sugar content.
Other side effects may include the following:
Diarrhea

Dry mouth

Lethargy

Fatigue

Reduced appetite
In Conclusion
When buying CBD gummies, the best thing to do is look for a certificate of analysis. Also called a lab report, this document should be posted online for all to see. Essentially, a lab report states that the manufacturer has used ethical CBD sourcing, and you're buying exactly what's said is being sold.
A THC-free lab report, for example, shows that the CBD used in your gummies is not only free of THC but also toxic residues. Eden's Herbals provides two sets of reports - one for our THC product, ensuring the legal amount of 0.3%. The other is for our THC-free batches.
If you want to learn more about If CBD Gummies are addictive, contact Eden's Herbals at [email protected] today!
*These statements have not been evaluated or approved by the Food and Drug Administration and are not intended to diagnose, treat or cure any illness. Medical advice should be taken from a medical professional.
All of the articles on this site are written by 3rd party content providers, expert bloggers or doctors not directly affiliated with Eden's Herbals.
Individuals should learn the risks and side effects prior to taking CBD. Make sure to always check with a medical professional before starting any new CBD treatment or medication that is not FDA approved.