Top 5 Types of CBD Candy
Posted by Eden's Herbals Staff on 3/8/2021 to
Information
Looking to try CBD but intimidated by the oil tinctures and smokable products you've seen others trying?
CBD infused candies present a great and fun alternative to smoking CBD cannabis strains or to ingesting CBD oil.
CBD or cannabidiol is one of the healing compounds found within the hemp plant. This potent compound has numerous health benefits and actively works in tandem with the cannabinoid receptors we as humans already have built into our brains.
CBD customers often choose to consume this powerful oil in the form of candy because not only does it taste good, but it also provides a portable and discreet option for CBD consumption.
How Do CBD Candies Work?
CBD candies are just as effective as other forms of CBD like CBD oil, CBD isolates, and CBD wax. The various CBD products out there on the cannabis market is even greater. The most common forms of marketed CBD products include:
Oils (often used orally)

Creams

Capsules

Skin Patches

Sublingual Sprays
Even so, the bioavailability--the efficacy of a certain substance like CBD--of each form of CBD will differ depending on concentration and dosage.

What is CBD Candy Used For?
Edible CBD products do often take longer to absorb into the body, because they have to travel through the digestive system.
However, after this process is complete, the effects can be more long lasting than other methods of CBD consumption, making CBD candies even more appealing to those who want to receive the calming, anti-inflammatory, and anti-oxidant health benefits of this magnificent cannabinoid.
Whether you're using CBD candy for pain, anxiety, or better sleep, here are our top cbd candies on the market today!
The Top 5 Types of CBD Candy Products
These candies do have some advantages over other CBD products.
Some just simply do not like the taste or texture of straight CBD oil, making candy a great choice. They are also portable and can fly under the radar, meaning if you have social anxiety, you can take them in public without people getting suspicious of your activity.
Overall, CBD candies are a great way to activate your own endocannabinoid system. Here's our list of consumers five favorite types of CBD candy:
1. CBD gummies
From gummy worms to gummy bears to gum drops, the CBD gummy is the consumer's choice CBD product.
Those first time CBD customers often find gummies to be an appealing and comfortable place to start. Utilizing a patch or ingesting straight oil can actually seem daunting to some beginners, whereas eating a friendly-looking CBD gummy bear typically does not seem so scary.
There are so many CBD gummies to choose from. So, where does one begin? Well, for starters, it is imperative that your gummies taste good, are derived from non-GMO sources, and are entirely free of pesticide residues and residual solvents.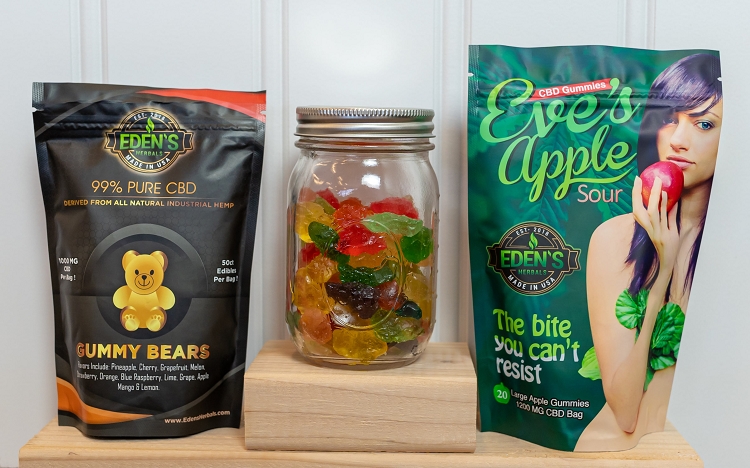 Looking for a flavorful place to start? Check out Eden's Herbals gummies. They offer three different types of gummies for both the CBD first timers and for the more advanced CBD connoisseurs alike.
Their gummy bears come in 500 mg bags and 1000 mg, depending on how strong of an effect you want. They also have 12 flavors (including grapefruit and blue raspberry!), being sure to leave no stone unturned.
For those looking for a more powerful punch, look no further than their Eve's Sour Apple CBD gummmies. Each bag contains 1200 mg of CBD.
Many customers have claimed these are the best tasting CBD gummies they have ever tried. They refer to it as "the bite you can't resist" for a reason.
If you want a CBD candy that is sure to please, a gummy is a great option.
2. CBD Hard Candies
Hard candies come in second to the gummy because they provide another popular option for people who want a pleasurable and effective method of CBD ingestion.
A hard candy is made in order to be held in the consumer's mouth for a bit, so that they can savor the taste of the product and slowly absorb the CBD sublingually. If you want to savor your CBD and satisfy your sweet tooth, these hard candies may be a great choice for you.
An additional benefit of this type of candy is its ability to soothe sore throats. Who said you could not have candy when you are feeling under the weather?

3. CBD Lollipops
Lollipops are undeniably fun. You can twirl them around in your hand while you reap the relaxing benefits of tasting a delicious lasting flavor.
CBD lollipops also provide the discretion you might be looking for when selecting a CBD candy. These types of CBD candies have gained such a high status among CBD consumers because of their subtle look. No one will suspect that your lollipop contains anything even remotely related to cannabis.
Each lollipop also will be labeled with its own CBD dosage. It is likely you will not need to consume more than one to get your desired effect. Check out all the different lollipop sizes and flavors on the market before making your decision.
4. CBD Chocolate
If other candies just are not your vibe, CBD chocolate may be the way to go.
This type of CBD candy is a fan favorite because it can be taken at pretty much any time of the day. (It pairs well with a morning cup of coffee!) Chocolate also has a host of its own health benefits. Adding in cannabidiol can make this treat a wonderful addition to your daily health regime.
This CBD candy is also a great choice for those who are more on the skeptical side. However, it is not just for CBD newcomers. Those long time CBD customers still go after their chocolatey treats from time to time!

5. CBD Salt Water Taffy
Yes, it exists! If you are searching for a unique method of consuming CBD, look no further than CBD infused salt water taffy.
This lesser known CBD product is not only unique, but also appeals to older customers who may not enjoy other types of CBD consumption but are looking to get the health benefits of CBD.
Some of the taffies out there are so good they have won awards. If you decide to go this route, look for taffy that is hand pulled and made the old fashioned way. If you are going to do it, do it right.
The verdict on CBD is that it can do a number of beneficial things such as promote healthy sleep, stave of oxidative stress, and reduce anxiety. CBD candies are a great way of getting more of this healthy compound in your life. It's easy to find your favorite CBD candy for sale online, and have it shipped directly to our door!
If you have more questions about CBD or Eden's Herbals' products, please don't hesitate to drop us a line at [email protected]
*These statements have not been evaluated or approved by the Food and Drug Administration and are not intended to diagnose, treat or cure any illness. Medical advice should be taken from a medical professional.
All of the articles on this site are written by 3rd party content providers, expert bloggers or doctors not directly affiliated with Eden's Herbals.
Individuals should learn the risks and side effects prior to taking CBD. Make sure to always check with a medical professional before starting any new CBD treatment or medication that is not FDA approved.