Top 10 CBD Related Questions for First Timers
Posted by Edens Staff on 1/14/2019 to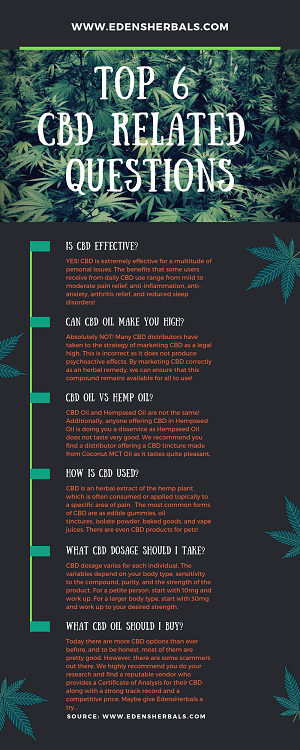 Are CBD Gummies Effective?
Yes! CBD Gummies are extremely effective for a multitude of personal issues. The benefits that users receive from daily CBD use range from mild to moderate pain relief, anti-inflammation, anxiety, arthritis, and insomnia. CBD products range from topical CBD salves, creams, and lotions which can be applied directly to the skin, to edible CBD gummies and oil tinctures.
Are CBD oil and hemp oil the same thing?
We get asked this question a lot! The simple answer is 'No, CBD Oil and Hempseed Oil are not the same'. That being said, it is important to understand that many companies will add CBD to Hempseed Oil since both the cannabidiol compound and the hempseed come from the same plant. However, most experienced CBD users will tell you that Hempseed Oil does not taste particularly good. In fact, many people find hempseed oil tastes awful! For this reason, several CBD distributors have begun adding CBD to different carrier oils. Personally, we believe that Coconut MCT Oil with CBD precisely measured and added, is the best CBD oil solution on the market. Coconut MCT Oil tastes fairly neutral and does not have the pungent smell which is often associated with Hempseed Oil. It is also important to note that in the last few years CBD manufacturers have devised a way to extract CBD which is water-soluble instead of fat-soluble. With these recent discoveries on the horizon, we expect that many more forms of CBD Tinctures will eventually begin moving the market. Until then, we highly recommend that first-timers start out with a neutral-tasting carrier oil such as Coconut MCT. You won't regret it!
Can CBD oil help you sleep?
One of the many reasons that people pursue CBD as an herbal extract is the compound's ability to help users fall asleep easier. For the restless sleeper, there aren't any really good options out there that can be acquired without a prescription or the possibility for dependence. CBD, on the other hand, can be acquired online legally and without a prescription. User reports show that CBD works significantly better than other sleep-related supplements such as Melatonin and Hops, and does not carry an addictive dependence often associated with more powerful prescription medications. CBD for sleep is one of the primary driving factors for why people try CBD for the first time. Only after taking CBD for sleep do people often begin noticing the additional added benefits of daily CBD use!
Can CBD oil help with anxiety?
Many people suffer from mild to moderate cases of anxiety. In some cases, mild anxiety is not justifiable to getting on a prescription anti-depressant. For many of these folks, they've found solace in CBD extracts. Because CBD does not have the same psychoactive effects associated with other cannabinoids, CBD allows users to go throughout their normal day without affecting their daily activities, but while still providing relief from their social anxiety. While it works great for some and not for others, our recommendation is to give CBD a shot and see if it helps with your anxiety. Please keep in mind that CBD is not intended to replace your existing medications and we highly recommend you speak with your physician before adding CBD extracts to your diet.
Can CBD oil help with pain?
As we age, our bodies become more fragile and we become more susceptible to minor aches and pains. Of course, there are always over-the-counter 'Nonsteroidal Anti-Inflammatory Drugs (NSAID)' such as Naproxin. However, continued daily use of these NSAID drugs has been linked to several long-term issues including liver damage. Enter CBD, the new form of daily relief for minor aches and pains. While it is not as strong as prescription pain relievers, it does help with recurring sore muscles, achy joints, and bruised body parts quite well and without the fear of developing an addictive dependency on the treatment.
Can CBD oil help arthritis?
Just as we described above, CBD is known to assist with common arthritic pains and sore joints. Daily use of CBD has been shown to relieve a significant amount of arthritis-based aches and pains for many users around the globe and seems to loosen joints throughout the body. CBD seems to work wonders on joints, and as such, many users report increased mobility, flexibility, and limberness as they dial in their ideal CBD dosage.
Can CBD oil make you high?
Absolutely not! We spend a lot of time talking about what CBD is... But what CBD is not, it is not a legal high. Many CBD distributors have taken to the strategy of marketing CBD as a legal high or an available form of cannabis. While CBD is legal and is a cannabinoid compound, it does not produce psychoactive effects similar to its cousin compounds. CBD should be treated like an herbal extract used to provide various forms of relief and well-being. By marketing CBD correctly for what it is, we can ensure that this compound remains legal and available to users throughout the country. Any distributor marketing CBD as a legal high is doing our industry a disservice and they are the exact reason that CBD continues to be frowned upon by many people.
How is CBD Used?
CBD is an herbal extract of the hemp plant which is often consumed or applied topically to a specific area of pain. CBD comes in many different forms and these forms are expanding each and every day. The most common forms of CBD are in the forms of edible CBD gummies, oil tinctures, isolate powder, baked goods, and vape juices. Additionally, many people have found that CBD can provide relief for their family pets. As our furry best friends get older they begin experiencing many of the same aging concerns that we face as humans, including minor aches and pains throughout their bodies. CBD has been shown to provide relief to pets with great success, and so it is very common to see CBD marketed for pets in various forms of treats and tinctures.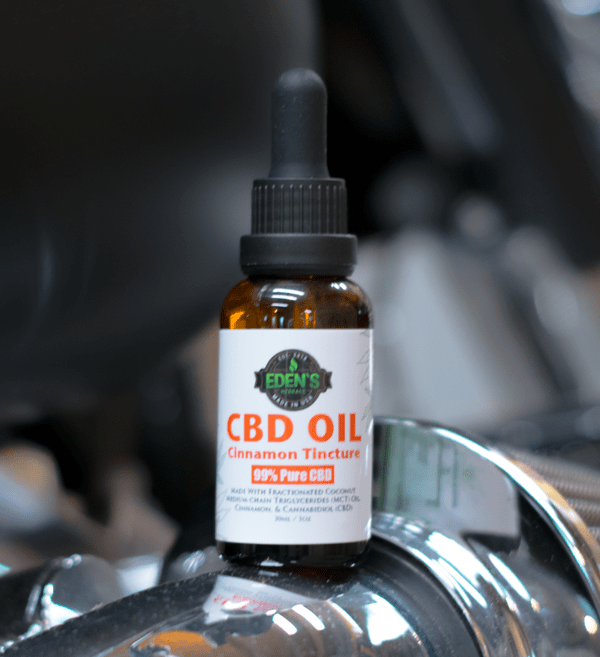 Today there are more CBD options than ever before. Our industry is growing at a rapid rate and the exposure of first-time users to CBD is becoming more and more mainstream. With this ramp-up happening, many users feel dizzy trying to keep up with the trends and choose an ideal product. At Eden's Herbals, we attempt to offer only the most popular forms of CBD which have unanimously been enjoyed by users throughout the community. When deciding what CBD products or distributors to use we highly recommend you consider the following things:
Quality: Ask your CBD distributor for their lab results (a.k.a. Certificate of Analysis). Any legitimate CBD distributor should be able to produce their COA on demand, if they can't, do not trust them. These lab results should include 2 parts, at a minimum. The first part is a purity analysis which will show what compounds are present in the solution (if you're buying pure CBD, Cannabidiol should be the only compound listed, and the purity level should exceed >99.5%). The second part of the analysis should include a residual solvents examination. Not all CBD extraction is created equal. There are some less than reputable manufacturers out there using dangerous chemical processes to quickly and cheaply extract CBD. The issue with these methods is they often leave behind residual solvents and dangerous chemicals in your product which you or your pets end up consuming!! Please.. always request a Certificate of Analysis. At Eden's Herbals, our COA is always posted to our website as soon as it is provided by our manufacturer with each new shipment.
Price: Of course everyone wants the best quality at a cheap price. Unfortunately, these two are rarely ever synonymous. At Eden's Herbals, our goal is to provide competitively priced products at the highest quality. We do this by keeping our overhead costs as low as possible while focusing our spending and attention on quality and assurance instead of marketing and advertisements. We believe this strategy will ultimately pay off in the long-term as we develop repeat business with our customer base.
Taste: If you're buying edible forms of CBD, we recommend finding one you enjoy taking. We've tried many forms of CBD gummies and many types of oil tinctures, and after extensive experiments, we ultimately landed on some formulas that we believe are the best tasting! Plain and simple.. if it doesn't taste good, don't waste your money.
What CBD dosage should I take?
The most frequently asked and often wrong answered question of them all is 'What CBD Dosage should I take?'. The real answer is this: CBD dosage varies for each individual. The variables depend on your body type, your sensitivity to the compound, the purity of the CBD, and the strength of the product. With this answer in mind, we will give this general guidance:
For a petite body type purchasing a 1,000mg product of 99%+ CBD, we recommend starting with 10mg daily and slowly working your way up as necessary. For a dropper bottle, this is a few drops. For larger builds purchasing a 1,000mg product of 99%+ CBD, we recommend starting with 20-30mg daily and slowly working your way up as necessary. For a dropper bottle, this is about a half-full dropper.
So there we have it, folks, the 10-Most asked questions about CBD for First Time Users! We hope this article helps to illuminate some of the questions surrounding CBD-use. Please take the time to add us on your favorite social media platform where we are happy to answer any of your questions about CBD and also provide you with exclusive discount coupon codes to our high-quality CBD products!
CBD has not been approved by the FDA to diagnose, treat or cure any illness. All of the articles on this site are written by 3rd party content providers, expert bloggers or Doctors not directly affiliated with Eden's Herbals. Individuals should learn the risks and side effects prior to taking CBD.