Military CBD
Posted by Eden's Herbals Staff on 3/29/2022 to
Information
Fact: our government is taking the lead in CBD research. With the recent passage of the Cannabidiol and Marijuana Research Act, more money than ever will research the benefits CBD may provide. Our nation's Military stands to benefit from this, as well.
Every year, thousands of soldiers either enlist or retire from the Military. While CBD is available for some active military, it's widely available to all retired personnel. This article will look at CBD's benefits and how it explicitly helps Military and Veteran health issues.
What is CBD?
CBD, short for Cannabidiol, is one of two primary compounds found in the Cannabis plant. CBD is low in THC (tetrahydrocannabinol), the other primary ingredient responsible for making you high. With the passage of the Farm Bill Act in 2018, CBD became legal in all 50 states, as long as it contains less than 0.3% THC.
The FDA has approved a CBD-based drug, and several studies demonstrate its effectiveness in treating a variety of conditions. One of these conditions include inflammation - the number one cause of most diseases. Because CBD is still brand new to the marketplace, we still know very little about its potential. What researcher's have found so far is impressive, especially for Military and veterans.
Cannabis vs. Hemp
Cannabis and hemp are from the same species of plant. Until 2018, hemp, cannabis, and marijuana were all considered a schedule one narcotic. The way it's defined now is based on the following criteria:
Hemp: Cannabis containing less than 0.3% THC.

Marijuana: Cannabis containing more than 0.3%THC.
CBD is extracted primarily from hemp but can also be removed from marijuana. Eden's Herbals, for example, extracts our CBD from American-made, organic hemp. We also use a CO2 extraction process that's independently tested to be free of harmful residues.
How Does CBD Work?
When ingested, CBD works by binding to our ECS (Endocannabinoid System). The ECS is a complex set of neural transmitters that regulate many biological functions, such as mood and sleep. Although scientists still aren't 100% sure how it works, CBD is being studied extensively and promises many more results as we move forward.
CBD for Veterans
CBD's potential for Military and veterans alike is noteworthy. While CBD is legal for veterans, you may not receive it from your local VA clinic unless you have epilepsy. The veteran community has unique needs and special conditions that differentiate your treatment options from the average patient.
For example, one in four veterans has diabetes, much higher than the average rate. Veterans also suffer from exposure to chemicals that everyday folks might never encounter, such as asbestos and burn pits in Afghanistan and Iraq. Fortunately, there is good preclinical and clinical evidence CBD helps with the following conditions.
Benefits: CBD for Veterans
When you go to your local VA health care facility, some common conditions include:
Sinusitis and Hearing Loss

Certain Cancers such as Non-Hodgkins Leukemia

Osteo-Arthritis (especially on knees)

Alzheimer's Disease and Dementia
CBD has shown to be potentially effective in treating some of these conditions. For example, researchers recently determined that CBD restored memory in animal test subjects. In another study, CBD helped relieve pain in Arthritis patients. One of the most exciting new developments, especially for Military and veterans, is CBD's potential in treating:
PTSD

Chronic pain

Opioid addiction

CBD for PTSD
Veterans suffer from a much higher PTSD (Post Traumatic Stress Disorder) rate than the average population. In 2019, researchers treated eleven PTSD patients with CBD. After eight weeks, the patients showed a reduction in PTSD symptoms, and a subset of patients reported nightmare relief.
CBD for Chronic Pain
For veterans suffering from chronic pain, CBD shows tremendous promise. For example, in a recent animal study, CBD showed potential in treating chronic muscle pain. This included fibromyalgia.
CBD for Opioid Addiction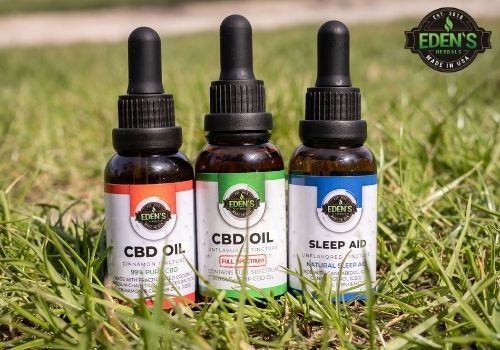 Veterans, unfortunately, are much more likely to use opioids to treat their conditions. The National Institute of Health has a task force explicitly studying CBD for CBD relief.
Additionally, scientists recently published an article that concluded CBD "could significantly reduce opioid use and improve chronic pain and sleep quality among patients currently using opioids for pain management."
Can Active Military Use CBD?
While each branch of the Department of Defense has different language written into their CBD guidelines, it's essentially the same for all military members - it's illegal. The one exception, however, is the drug Epidiolex. An FDA-approved medication used to treat severe epilepsy, the DoD allows active personnel to be treated with this drug.
Is CBD Tested in the Military?
CBD is not screened for on virtually every drug test. Because CBD is non-psychoactive, Military and workplace environments aren't that interested in showing up on a drug test. While full-spectrum CBD contains THC, it's so minuscule that there's little chance of it showing up either.
If you're concerned about failing a drug test, consider THC-Free CBD Oil. Ours is 99% Pure CBD and lab-tested to be free of THC. You can also opt for a CBD Isolate, which comes in a powder form and conation no THC.
Benefits: CBD for Military
There may be special considerations when taking CBD on active duty, as it's illegal. For those of you considering CBD, such as a recently retired military member, CBD can help with several unique conditions.
Most service members suffer from knee and ankle mobility issues. Because of the wear and tear experienced through training, CBD may help alleviate suffering. Some retired and active-duty personnel also suffer from insomnia. In one study, researchers determined CBD helped insomnia and promoted restful sleep.
Another issue our military heroes may encounter is increased anxiety. In a randomized study conducted by the NIH (National Institute of Health), participants treated with CBD showed improvement in the following anxiety disorders:
GAD (Generalized Anxiety Disorder)

SAD (Seasonal Affective Disorder)

PTSD (Post Traumatic Stress Disorder

OCD (Obsessive Compulsive Disorder)
Is CBD Safe?
One of the most exciting elements of CBD is its safety profile. CBD is all-natural and, if cultivated properly, provides optimal relief without any concern about ingesting pesticides. Look for organically grown products, like Eden's Herbals, that provide lab certification, ensuring quality.
If you want to learn more about CBD for Military and Veterans, contact Eden's Herbals at [email protected] today!
*These statements have not been evaluated or approved by the Food and Drug Administration and are not intended to diagnose, treat or cure any illness. Medical advice should be taken from a medical professional.
All of the articles on this site are written by 3rd party content providers, expert bloggers or doctors not directly affiliated with Eden's Herbals.
Individuals should learn the risks and side effects prior to taking CBD. Make sure to always check with a medical professional before starting any new CBD treatment or medication that is not FDA approved.