How to Give CBD Oil to Your Pets
Posted by Eden's Herbals Staff on 4/25/2022 to
Information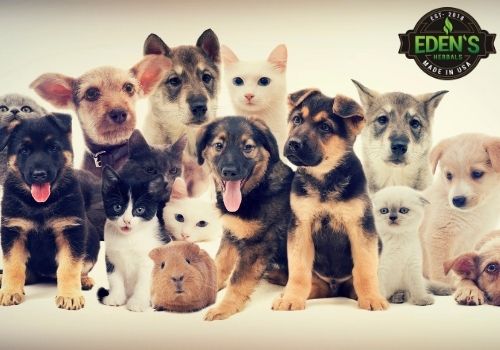 You and your pet have more in common than you might realize. For example, did you know that all mammals have an ECS system? The ECS, or endocannabinoid system, is a biological system responsible for regulating everything from sleep to mood.
While most CBD studies have been conducted with humans in mind, many test subjects have been animals. Scientists are also starting to study CBD's effectiveness in Veterinary Medicine.
Which leaves a pressing question - how best to give your furry buddy their CBD oil? With us, it's pretty straight to the point, but our pets have a mind of their own and don't always know how to communicate their needs effectively.
This post will break down how CBD helps your pet and the best ways to give your buddy their CBD oil with as little fuss as possible.
What Is CBD Oil?
CBD oil is simply CBD combined with a carrier oil. Eden's Herbals, for example, uses coconut oil or hemp oil combined with either our THC-Free CBD or Full Spectrum CBD oil. CBD, short for cannabidiol, is one of over 100 compounds found in the cannabis plant. The two main 'active' compounds responsible for much of cannabis' health properties are THC and CBD.
Unlike THC, however, CBD is non-psychedelic. While full-spectrum CBD oil contains some THC (0.3%), it's not enough to make your pet high at the recommended dosage. Some of CBD's benefits include:
Treatment of Epilepsy

Neuropathic pain

Arthritis
CBD Oil for Pets: What Research Says
Researchers have shown promising early results, although research is limited to household pets such as dogs. The American Kennel Club (AKC), for example, is sponsoring a study, along with Colorado State University's College of Veterinary Medicine, to determine treatment for epileptic dogs.
Another study conducted by the National Institute of Health (NIH) found that CBD has an immunomodulatory effect on stimulated whole dog blood. The test further showed CBD reduced inflammatory responses in specific blood markers. In conclusion, the researchers advocated that further testing should be conducted for CBD's application in dog therapy.
How To Give Your Pet CBD Oil
While CBD Dog Treats, like ours, are a great way to start your dog on a CBD regimen, CBD oil has some advantages. CBD oil is a direct application of CBD and contains carrier oils to help it break down faster. Your cat or dog will benefit faster with CBD oil vs. CBD snacks or treats. To help ease them into CBD oil. Consider the following options:
1. Mix With Food
One of the easiest ways to incorporate CBD into the daily regimen is to mix it with their food. You can start by containing CBD in your dinner. Because CBD can make pets lethargic, this technique might benefit pets who suffer from insomnia.
2. Mix With Treat
Another excellent technique for pets and CBD application is to give it to them as a treat. After doing something good, reward their behavior with CBD oil mixed into a tasty treat. Eventually, they'll connect the way they feel from the CBD with good behavior, a win-win! Below are some helpful CBD treat ideas:
CBD oil mixed with peanut butter: Put on a drop or two.

CBD DIY Treats: Use their favorite food and create something fun.
3. Straight Shot From Dropper
One of the most effective (and fastest ways) to benefit your dog or cat is to apply CBD oil directly under their tongue. You can gradually build up their tolerance and taste for CBD, and by the time you use it directly, they might appreciate the taste and feel.
4. Put In Water Bowl
You can also put a little CBD in their water. This application might be more beneficial for smaller pets, as treats and direct CBD application presents unique challenges for animals that don't usually like to be fed by hand.
5.

Apply to Their Skin or Affected Area
If your pet has a skin condition, an effective way to give them CBD oil is by applying it directly to the affected area. Cannabis has potent antimicrobial properties and is currently being evaluated as a potential therapy in treating MRSA - an antibiotic-resistant staph infection if they happen to lick off the CBD - even better, as they're assimilating the oil in both their skin and digestive system!
Getting Your Dosage Right
When dosing your CBD oil, you want to start small and work your way up. Consider checking in with your pet's veterinarian before putting them on a CBD regimen. Other considerations include:
Their size and weight

Their activity levels

Their age and medical condition
General CBD Oil Application Guidelines
For every ten (10) pounds of weight, start with one mg of CBD and increase up to three mg. For example, a 20-pound cat can begin with 2 mg of CBD oil and eventually work up to 6 mg, depending on their response.
Will CBD Make My Pet High?
CBD is not THC, the compound responsible for making you high. So, no, your pet won't get high from using CBD. When Congress passed The Farm Bill Act in 2018, they stipulated that manufacturers can have THC in their most potent CBD formulas. While THC will benefit your health, it's not enough to make you high.
What Should I Look for When Shopping for Pet CBD Oil?
We all want the best for our pets - whether you own a dog, cat, or otherwise. When browsing CBD websites, you'll want to consider a few essential points. The AKC, for example, recommends you follow these guidelines when purchasing CBD oil.
Choose Organic—Eden's Herbals sources all of our CBD from American-made, organic hemp.

Look for Purity. We use CO2 extraction, meaning our CBD is free of pesticides and harmful solvents.

Choose CBD Oil: For more accurate dosing, choose CBD Oils and droppers.
Get Lab Reports: Choose companies that provide a lab analysis report on their website, verifying purity.
Final Thoughts
By choosing high-quality CBD oil, you'll be helping your pet have an all-natural, safe alternative to other supplements that might not have the same effectiveness. By adding in some lifestyle changes, such as diet and exercise, you can help them live a quality life by applying these tips.
If you want to learn more about how to give your pet CBD, contact Eden's Herbals at [email protected] today!
*These statements have not been evaluated or approved by the Food and Drug Administration and are not intended to diagnose, treat or cure any illness. Medical advice should be taken from a medical professional.
All of the articles on this site are written by 3rd party content providers, expert bloggers, or doctors not directly affiliated with Eden's Herbals.
Individuals should learn the risks and side effects prior to taking CBD. Make sure to always check with a medical professional before starting any new CBD treatment or medication that is not FDA approved.