How does CBD Oil Help Cats
Posted by Eden's Herbals Staff on 6/16/2022 to
Information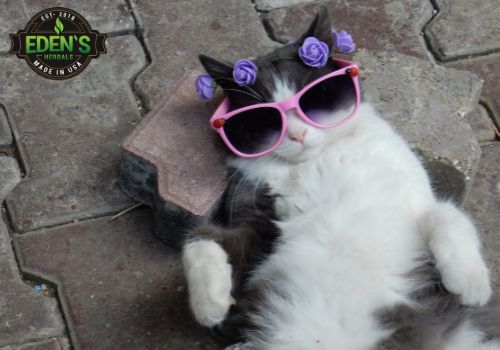 CBD oil is a supplement you can give your cat to help improve their emotions, mind, and body. CBD oil is used with a well-rounded diet and exercise like any supplement. Unlike other supplements, however, CBD oil works with your cat's own internal cannabinoid system to help their overall health.
Since the legalization of CBD in 2018, many wonder if it can help their cat. This post will cover the benefits of CBD oil for cats, dosage guidelines, and side effects.
What is CBD Oil?
CBD, short for Cannabidiol, is one of over 100 compounds in the cannabis plant. While most may be familiar with marijuana, which has a high THC content (the compound known for making you high), hemp is another variety of cannabis used for CBD oil. Unlike marijuana, hemp is low in THC, making it ideal for CBD oil extraction.
Most high-quality CBD oil, like our organic, non-GMO cat blend, use a carrier oil to increase absorption. When choosing your cat's CBD oil, consider selecting a keto-friendly carrier blend that limits their carb intake, such as coconut oil. You'll also want to consider buying your cat CBD oil third-party tested, ensuring there's no THC or impurities.
CBD And Your Cats ECS
Every mammal contains an ECS, from you to your cat and even mice. Short for Endocannabinoid System, the ECS plays a vital role in regulating almost all bodily functions. Essential for overall health, the ECS is a complex physiologic system that also regulates brain, organ, and connective tissue health.
When you or your cat ingests a CBD product or any other cannabinoids present in cannabis, your ECS responds to the compounds. Although the research is still limited, scientists acknowledge a positive connection between cannabis and the ECS. CBD oil works with your cat's ECS when taken orally, providing overall health and well-being.
Benefits: CBD Oil for Cats
Once your cat ingests CBD oil, their cannabinoid receptors, CB1 and CB2, act as a bridge - sending signals to their brain. Once the ECS identifies these receptors, inflammation decreases, and many potential health benefits occur. Although research is still limited, as most studies have been conducted with humans or mice, some studies show promise.
In 2019, researchers demonstrated that CBD oil was safe and well-tolerated for cats and dogs. Eight cats were given orally twice daily for twelve weeks. Healthy cats given CBD and hemp supplements showed no biochemical or adverse effects. Researchers also demonstrated a pharmacokinetic connection between CBD and cat metabolites.
CBD Oil for Cat Joint Pain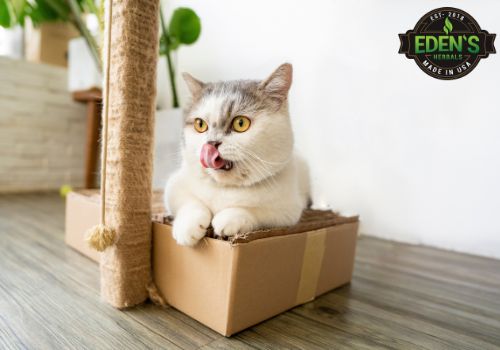 Eight out of ten cats have arthritis. Fortunately, CBD may help relieve many symptoms associated with joint pain. In one study, scientists applied CBD to test subjects with arthritis. After only four days, researchers showed that CBD improved their joint pain without adverse effects.
CBD Oil for Cat's Anxiety
If you've got your cat from a shelter or are introducing them to a new environment, CBD oil may help relieve their anxiety. CBD has demonstrated the ability to help reduce several anxiety disorders, including PTSD and Generalized Anxiety. CBD oil also makes a great treat to give before or after travel.
CBD Oil for Kidney Disease
Chronic kidney disease is common in cats. While irreversible, chronic kidney disease symptoms may be alleviated with CBD oil. CBD oil provides a calming effect and decreases inflammation.
CBD Oil for Allergies
Allergies, like most diseases, are partially caused by inflammation, not just a reaction to outside stimuli. Cats may be allergic to pollen, food dander, fleas, and ticks. By mitigating their inflammation levels, you may see improvement from allergic reactions. A recent study of CBD's effectiveness in treating skin allergies.
How to Use CBD Oil for Cats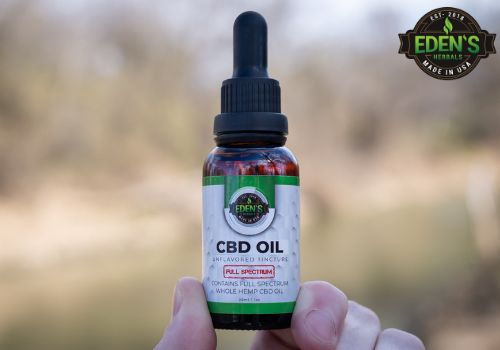 CBD oil is best used by placing it under your cat's tongue. This method is known as sublingual delivery. When your cat absorbs CBD oil under their tongue or cheeks, it bypasses the digestive system and enters the bloodstream. To administer CBD oil to your cat, consider following these tips:
Use a dropper, usually included with your CBD oil.

Measure out the desired amount based on their condition.

Gently place the desired amount under your cat's tongue or on the sides of their cheeks.

Don't force your cat to take CBD oil - use it as a reward.

You can also place a few CBD oil drops onto their favorite treat if all else fails.
How Quickly Does CBD Oil Work in Cats?
This question depends on your cat, CBD oil, and delivery. For example, if your cat's over 20 pounds, it might take a little longer for CBD to kick in than a normal-sized cat. CBD oil strength also plays a role. Full-spectrum CBD oil, for example, contains well over 100 cannabinoids, including THC, that maximize its effectiveness.
As a general rule, CBD oil takes about 30 minutes to "kick in" if given sublingually. Absorption rates increase significantly if you're giving your cat CBD oil with a treat. Your cat will generally feel the effects of CBD oil for around 5 hours after administration, depending on their activity level.
CBD Oil Dosage for Cats
As always, consult your veterinarian before starting a CBD regimen for your cat. Because some cats are finicky with new things, see if they're first receptive to a dropper. Sometimes it helps by adding a bit of fish oil with their first CBD oil dose.
Start with the smallest possible dose. Once they're comfortable, you can slowly increase their CBD oil. For maximum benefit, use this dosage chart.
One dropper = 1mL (5mg CBD)
Use 2x Day
Large cat (10 to 20 pounds): 1 Full Dropper

Medium Cat (Under 10 pounds): 1/2 Dropper
Side Effects: CBD Oil for Cats
CBD is all-natural but may cause some side effects in your cat. The World Health Organization (WHO) lists CBD as safe and well-tolerated in humans. Although the science is limited to animals, based on the WHO statement, it's safe to assume that CBD poses little risk to your cat. However, if you shop for organic CBD oil for your cats, such as Eden's Herbals your chances of side effects are less.
That said, cats are different from humans (even though we both have an ECS system). When first giving your cat CBD oil, consider watching out for the following side effects:
Change in their appetite

Nausea or vomiting.

More sluggish than usual.
If you want to learn more about CBD for cats, contact Eden's Herbals at [email protected] today!
*These statements have not been evaluated or approved by the Food and Drug Administration and are not intended to diagnose, treat or cure any illness. Medical advice should be taken from a medical professional.
All of the articles on this site are written by 3rd party content providers, expert bloggers, or doctors not directly affiliated with Eden's Herbals.
Individuals should learn the risks and side effects prior to taking CBD. Make sure to always check with a medical professional before starting any new CBD treatment or medication that is not FDA-approved.