How CBD Oil is Made [From the hemp plant to the tincture]
Posted by Eden's Herbals Staff on 8/6/2020 to
Information
CBD's rapid rise to popularity has shocked even the most die-hard of CBD proponents. The compound was first legalized at the federal level in 2018. In no time, it has exploded in popularity, becoming increasingly easy to find.
Since CBD oil is so new, many consumers have questions about the product. One of the most common questions pertains to CBD oils manufacturing. How is it made? Read on to find out.
Where does CBD come from?
One of the most popular myths about CBD is that it comes from marijuana. This is not true. CBD does not come from marijuana. There are legal specifications required by the United States Food & Drug Administration. As long as those are followed, it will not get you high or result in any sort of intoxication.
CBD itself comes from the hemp plant. Hemp is a member of the cannabis family. The relationship between marijuana and CBD is more akin to 2nd cousins, rather than siblings. They are not the same thing.
Hemp Harvesting
Since its formal legalization in 2018, hemp can be grown in any state. However, according to the FDA, states must meet certain regulations in order to grow hemp. In order to be approved to grow hemp, a state must submit a plan to the United States Department of Agriculture. That plan must contain a variety of information, including all state regulations about their licensing, security, background checks for employees, and more.
Once that plan has been approved, a state may grant licenses to growers. Licensed growers can begin growing, producing, and manufacturing hemp. That hemp may then be processed into CBD.
There are, of course, 50 states, and each has a different plan and regulatory scheme for growing hemp. For example, in Pennsylvania, the state Department of Agriculture sets the guidelines for how hemp may be grown. Applicants must pay for a permit and provide information on how the hemp will be grown and tested.
Furthermore, as set by the parameters within the 2018 Farm Bill, no hemp may contain more than .3% THC. THC is the active cannabinoid in marijuana associated with intoxication. CBD, like THC, is a cannabinoid, of which there are around 110 different types. However, THC is what is responsible for the "high" feeling. Any CBD that is found to contain above .3% THC must be destroyed.
Fortunately, THC-free CBD oil is very popular as well. It is perfect for individuals who want to take CBD to improve their wellness without any concerns about a positive drug test. It is also a very natural form of CBD.
CBD Manufacturing & Processing
There are multiple methods to manufacture CBD oil, once the hemp is grown and harvested. The most popular methods include:


Carbon Dioxide (CO2) extraction:

CO2 and the hemp are placed in a closed-loop extractor. The CBD is absorbed by the CO2 into a liquid state, where it is pumped into another chamber. In that chamber, the carbon dioxide is returned to a gas state, leaving behind the CBD in a crude oil form. This crude oil is then mixed into a carrier oil in order to make it palatable. This is the most common way in which CBD oil tinctures are created.
Other Liquid Solvents:

While Carbon Dioxide extraction is a popular and common method, it is not the only way. Other substances may be used for these purposes, like ethanol or types of alcohol. However, depending on the liquid used, it can alter the taste, texture, sight, or smell of the CBD. As such, the liquid must be chosen carefully, or a manufacturer risks creating a sub-par product.
Oil Extraction:

This method is popular with home growers. Hemp is first decarboxylated, which means that its carbon-like molecules removed. From there you add an oil such as olive oil and then heat to a specific temperature. That carrier oil ultimately bonds with the CBD, creating the CBD oil. The downside is that the oil cannot be evaporated out, so you end up using a lot more oil to get the same effect. This method is commonly used by DIY at home manufacturers as it is an easy and accessible method.
Using any of these methods will ultimately result in the extraction of CBD from the hemp. But there is one more decision the manufacturer must make when extracting CBD. What type of CBD are they going to create?
Full or Broad Spectrum?
There are many cannabinoids in the hemp plant. The choice of which ones to extract and which ones to leave in will decide if the CBD is considered Full Spectrum CBD or Broad Spectrum CBD.
Full Spectrum CBD contains all naturally occurring components, including its terpenes, flavonoids, and cannabinoids. This includes both CBD and THC.
Broad Spectrum CBD has identical ingredients, with one critical exception: It is THC-free.
Fundamentally, what kind of CBD you consume comes down to your personal choice. Broad Spectrum contains all of the benefits of CBD but without the risks associated with THC. It is possible to test positive to a drug test due to Full Spectrum CBD. This depends on how much CBD you have consumed and just how sensitive the drug test is. If this is something you want to avoid, Broad Spectrum THC is unquestionably a better bet.



Forms of CBD
One of the things that makes CBD so popular is its flexibility. CBD comes in many varieties: There are CBD tinctures, CBD isolate, CBD edibles, and more. You can also purchase CBD in a variety of doses, ranging from 1000mg or even 4000mg. Thankfully CBD has been found to be safe, even at relatively high doses, according to the World Health Organization.
As noted above, CBD oil tinctures are created by refining crude CBD oil and combining it with carrier oils. A variety of carrier oils can be used but MCT (coconut oil) is the most common choice. Tinctures can be placed under the tongue or into a food or drink. They can also be rubbed onto skin topically, making them very versatile.
Other forms include:
CBD Isolate:

This is a form of CBD which has everything else removed, including its flavonoids and terpenes. It can be purchased as a white powder, and it is the purest form CBD. Many users like to use it for creating their own mixes or adding it to recipes.
CBD Dog Treats:

Many anecdotal stories, and some studies, have found that CBD has the potential to help our four-legged friends. CBD may help them deal with pain or seizures, just like in humans. You should consult a veterinarian before starting anything new, including CBD. CBD dog treats are made by adding CBD isolate to the ingredients and cooking at a low temperature. Too high a temperature can render the CBD useless.
CBD Gummies:

CBD is often inserted into a snack-food form, and gummies are one of the most popular options. This version of CBD allows you to get your dose of CBD as a tasty treat. Gummies are infused with CBD and can be made with full spectrum, broad spectrum, or isolate CBD.
Third-Party Analysis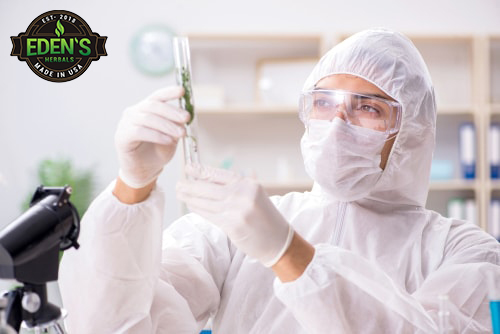 This leaves just one more step. Many companies have their CBD products tested by a third party laboratory. Unfortunately, a few bad actors have given the CBD industry a serious trust problem. This problem was perfectly illuminated by a 2017 University of Pennsylvania study. That study tested dozens of CBD products and found that nearly 70% were mislabeled for a variety of ingredients and amounts - including THC. This, of course, could create a major problem for consumers.
CBD companies have turned to third-party analysis in order to prove to consumers that they are being honest about what is in their products. A CBD manufacturer will pay a third-party laboratory to analyze their product and confirm its ingredients. That analysis will then be made publicly available with the sale of their product. This way consumers can see exactly what they are buying.
You should only purchase CBD from companies that make a third-party analysis publicly available. One such example is Eden's Herbals.
Conclusion
There are many ways to make CBD Oil, some more popular than others. Each method has several steps, from growing and harvesting the hemp, to extracting the CBD, to infusing it in a carrier oil. CBD can be used to create other products besides CBD oil, such as lotions, dog treats, and gummy bears. Make sure to find a company you trust and check to see if they have a third party lab analysis. With the knowledge you've gained from this article, you could even ask them about their extraction method!