Cannabidiol [Learn the Basics of CBD]
Posted by Edens Herbals Staff on 12/27/2018 to
What is Cannabidiol and why all the hype?

As CBD takes the world by storm, you might be starting to wonder. Just what is CBD, and what's all the fuss about?
Let's break down the basics of CBD.
Cannabidiol (CBD) is a chemical compound derived from the cannabis and hemp plants. Cannabis contains over 104 different cannabinoids and many of them have been found to treat a variety of health issues.
Due to cannabis's poor reputation as being recreational drug among adults and teens, it was not really researched for its healing powers until recently.
The reality is, only one compound of the 104 listed actually gives people the high that has given the drug a bad rep. That psychoactive compound is Tetrahydrocannabinol (THC). However, THC can be removed through chemical processing.
Beneficial compounds like CBD can be isolated and extracted, so they have no psychoactive effect. It's important to realize that THC and CBD are two different compounds.

Is CBD an illegal drug?
No, not at all!
As it's become harder and harder to deny CBD's natural healing and pain relief abilities, legislation has changed over the last decade. CBD is being researched more regularly and has become widely available to consumers.
The results so far have been promising. For years the questions remained; is CBD oil safe? The answer seems to be an inequitable yes.
In addition to its healing effects, CBD has very low side effects. Overdosing is not an issue.
How Does CBD Oil Make You Feel?
With any new plant-based compound, people often worry that they won't like the effect, regardless of how safe it might be. So how does CBD make you feel? Users report pain relief and feeling relaxed and calm as the primary effects of CBD, with none of the intoxicating effects associated with THC.
Federal law has made it legal to ship CBD to all fifty states. While the substance is still not FDA approved or regulated, most states in the US and Canada have legalized the use of CBD. Many states in the US and Canada have even legalized marijuana for recreational and or medical uses.

What is CBD used for?
Now that it's becoming popular, what is CBD used for?
Cannabidiol is an all-natural remedy used for many common health issues without the mind-altering effects of THC. Some of the ailments that CBD works with;
Insomnia

Pain and Inflammation

Help with Cancer Symptoms (Pain, Dizziness, and Appetite)

Acne

Epilepsy

Heart Health

Anti-Depressant

Skin Disorders

Diabetes
Full Spectrum CBD
While many people prefer their CBD to be THC-free, there are a growing number of people who are not worried about drug testing, who want more of the chemical compounds derived from hemp and cannabis.
CBD products that contain THC and other cannabinoids are called full spectrum products. They are touted by many for their entourage effect; the combined effect of multiple cannabinoids coming together.

What are people saying about CBD?
Having interviewed many people who use CBD products we have found interesting results.
Insomnia is probably one of the most common issues we have heard about. Many people take a few CBD gummies before bed, providing them a sense of calm and allowing a full night sleep.
They also claim the sleep is far deeper than usual and they feel more rested during the day. This improvement seems to be a life-changer for many.
Conclusion
CBD is now being studied for its various symptom-relieving effects in many common medical issues. It is a natural remedy that has not been chemically altered or processed.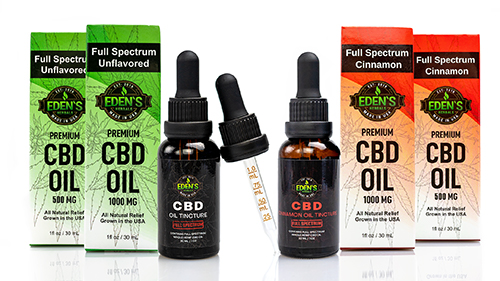 This pure plant based compound can be used in the treatment of acne, pain, anxiety, heart disease, and much more.
Science and research will continue to find more benefits to this miracle cure. CBD has been shown to be safe and with few to no side effects.
CBD has not been approved by the FDA to diagnose, treat or cure any illness. All of the articles on this site are written by 3rd party content providers, expert bloggers or Doctors not directly affiliated with Eden's Herbals. All statements made here have not been evaluated by the Food and Drug Administration. Individuals should learn the risks and side effects prior to taking CBD.