CBD from Marijuana vs Hemp
Posted by Eden's Herbals Staff on 1/11/2021 to
Information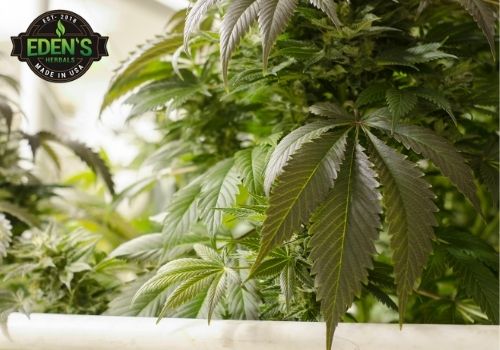 CBD has been taking the world by storm lately.
Despite it's growing popularity, many people still have questions about it. Is it cannabis? Is it marijuana? What's the difference?
CBD is a cannabinoid with a variety of health benefits. And yes, it can be extracted from hemp or marijuana. In this article we dive into both of these types of CBD, how they differ, how they're similar, and where to find them!
Hemp vs. Marijuana
While both are considered "cannabis", hemp and marijuana are two different sativa strains.
CBD from Hemp
The legal definition of the term "Hemp" is used to categorize cannabis that has 0.3% or less THC by dry weight. Hemp was legalized by the Agricultural Act of 2018.
Different countries set their own limit for THC content. For example, The European Union has a limit of 0.2% THC while in Great Britain the limit is zero. The term "hemp" is usually used to detail non-intoxicating cannabis derived for a variety of purposes.
For more than 10,000 years, hemp has been used for a variety of purposes. Fiber is created from the stem of the plants, protein from the seeds, and oils and smokable from the leaves and the flowers.
Hemp fiber is used for textiles (clothing, diapers, handbags, etc.), industrial textiles (rope, canvas, tarps, etc.), paper (printing, newsprint, cardboard, etc.), building materials (fuel, acrylics, printing inks, etc.), and body care (soaps, shampoos, lotions, etc.).
Many are concerned about whether you will get high from hemp products. The truth is that hemp plants don't have enough THC to give intoxicating effects when consumed.
CBD from Marijuana
The term "Marijuana" is used to categorize cannabis that has more than 0.3% THC by dry weight.
Marijuana is known for its psychotropic and euphoric effects when consumed and/or smoked. This effect comes from it's high THC content.
It also contains other active compounds like cannabidiol and CBD which don't have any psychoactive effects.
Marijuana can be used in a variety of ways, it can be rolled and smoked like a cigarette, this is known as a joint. It can also be smoked as a cigar, known as a blunt.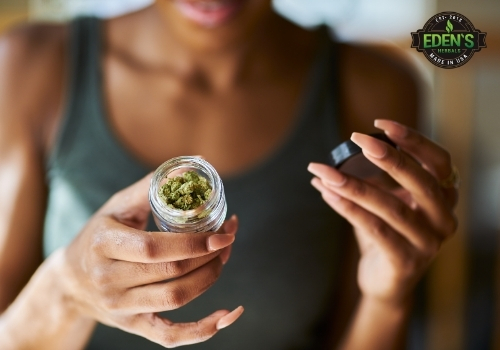 Some people extract the oil and use it to make treats, known as edibles. Some people also "dab" which is when they smoke the oil, concentrates, and extracts from the marijuana plant.
The marijuana plant is known to properties that help to alleviate symptoms of various health problems. Thus, more and more now states are legalizing the use of Marijuana for medical purposes.
Scientists are currently studying the effects of CBD and think it might help children control seizures as CBD targets a different part of the nervous system than THC.
As we previously mentioned, CBD can be found in hemp or marijuana.
Difference Between CBD Types
The use of CBD, also known as cannabidiol, has grown largely over the decades due to its health benefits.
There are three types of CBD products that can be made, full spectrum, broad spectrum, and isolate.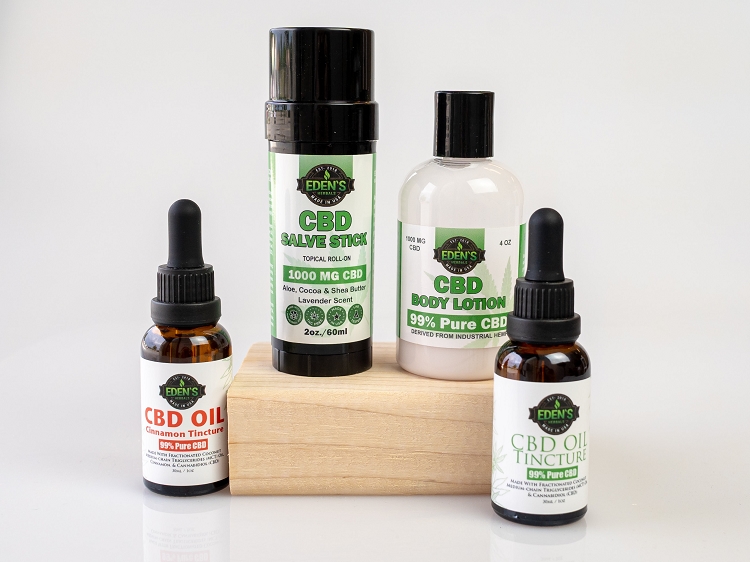 1. Full Spectrum - Contains all of the components of the plant, including other cannabinoids besides just CBD, terpenes, THC, flavonoids, and more.
2. Broad Spectrum – Contains all of the components of the plant, but with the THC removed.
3. CBD Isolate – Contains CBD, and only CBD.
The difference between hemp CBD and cannabis CBD lies in the classification, name, and makeup of the plant. To prepare hemp CBD, usually the leaves and flowers of industrial hemp plants are used to make any and all CBD products.
Hemp plants differ from marijuana plants in terms of appearance. Hemp plants are skinny and a very vibrant green.
Also as mentioned before, CBD concentration is much higher in hemp plants. The benefits of hemp CBD are very similar to that of marijuana CBD and will be discussed shortly.
On the contrary, marijuana plants are thick and lush leaves and flowers. The CBD found in marijuana plants is the major part of the plant that does not have any psychoactive effects.
Marijuana plants are high in THC, so full spectrum CBD products made from marijuana, will be higher in THC than those made from hemp.

Benefits of CBD from Hemp and Marijuana
CBD from both marijuana and hemp has been found to offer a wide variety of medicinal benefits.
It is hailed as an anti-inflammatory, anticonvulsant, antioxidant, antiemetic, anxiolytic and antipsychotic agent. It also has effects that are neuroprotective, immunomodulatory, and anti-tumor.
Other advantages of CBD include pain relief, antipsychotic effects, anxiety reduction, nausea relief, seizure prevention, reduction of diabetes incidence, and the promotion of cardiovascular health.
Both in plant form and when delivered from extract, CBD lessens the hallucinogenic effects of THC.
Cannabis plants containing small quantities of CBD and high THC levels, like marijuana, contribute to a stronger "intoxicated" feeling, whereas plants with more CBD and less THC, like hemp, produce a weaker "sensation."
Because of the immense demand of medical marijuana, growers are currently cultivating hybrids with a higher CBD to THC ratio.

CBD Extraction Process
In order to create consumable CBD products from hemp or marijuana, the CBD must be extracted From the plants.
Not only is it hard to chew on raw cannabis, but it does not have the same intended result as a distilled extract.
They must be decarboxylated, which means heat has to be applied, in order for the compounds in cannabis to give the same effect.
Even though it may not seem significant, the various methods of extracting CBD oil from hemp and marijuana may generate substantially distinct byproducts with varying effects on human health.
There are three popular ways to extract CBD from hemp and marijuana. This includes solvent, olive oil, and CO2 extraction.
1. Solvent
To isolate the CBD, the solvent extraction process requires the use of ethanol, butane, propane, isopropyl, or alcohol. The nutrient rich plant waxes are dissolved by this solvent technique.
Flowers and plant trimmings are placed into a tub to start the liquid solvent procedure.
The solvent is then saturated or passed through the substance, removing the cannabinoids. The vaporization leaves the concentrated cannabinoids as an oil residue.
2. Olive Oil
The olive oil process starts with decarboxylation, which means heat is applied to the fresh organic materials to the appropriate temperature for a specific period of time in order to stimulate the compounds in the plant.
Olive oil is mixed and heated again with the organic matter. This removes the cannabinoids. There is no complete evaporation of olive oil, so the resultant extract is not as strong as the other techniques.
3. CO2
The method of CO2 extraction is performed using a "closed-loop extractor." There are three chambers in the unit.
The first contains compressed, rigid CO2 or liquid nitrogen. The second chamber has a processed plant aid component in it. The final mixture is separated by the final chamber.
CO2 is drained into the second chamber from the first chamber, which comes in the form of carbon dioxide between both the gas and the liquid state.
The supercritical CO2 then passes through the compounds and the cannabinoids are removed.
In the final chamber, where the CO2 floats to the top, it is then injected. This renders the extract separated from the CO2 at the base.
CO2 is considered the safest extraction method and is used most commonly in commercial CBD products.

Buying CBD
When it comes time to purchase CBD products, you will find that hemp derived CBD products are widely available. Hemp is federally legal in all 50 states since the 2018 farm bill, which makes it the more common source for CBD.
When purchasing CBD it is important to ensure you are getting what you paid for. CBD from hemp or marijuana is not regulated by the FDA.
It is up to the consumer to do their homework and purchase their CBD from a trustworthy source.
How do you know which retailers are trustworthy though?
First look for a third party lab analysis of the companies products. A good third party lab analysis should test for heavy metals, pesticides, and accurate levels of CBD and other cannabinoids.
Secondly, contact their customer service and make sure they have strong open communication with their customers. Lastly, look for transparency about where their hemp is grown and how their products are made.
One company that meets all of these requirements is Eden's Herbals. They will also ship CBD anywhere in the United States for free!
By following these recommendations, you can buy hemp and rest assured that you are getting high quality products.
*CBD is not intended to cure or treat any particular disease or illness. While side effects are rare and mild, it is important to consult a qualified physician before beginning a new CBD regiment.