CBD for Alzheimer's
Posted by Eden's Herbals Staff on 7/29/2021 to
Information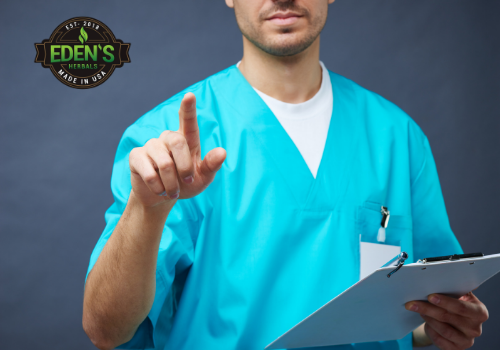 There is nothing more important than your health and wellbeing. Self-care is something that we all strive for, and have all struggled with at some point or another.
Life tends to throw us all a few curb balls. Injury and illness are an unavoidable part of life. Everyone will go through them at some point in time.
Fortunately, modern medicine has a solution to ever problem.
Unfortunately, those solutions are not always natural and can come with many unintended side effects.
Man-made chemical compounds can help the body heal in a number of ways, but they are not always worth it. Sometimes the side effects can make you feel worse than the illness itself.
Conventional medicine can also be very expensive, which is a deal breaker for many people.
Luckily there are all-natural solutions to many for many injuries and ailments.

CBD & How It Can Positively Affect Your Body
If you haven't heard of CBD as of late, then you must be living under a rock.
CBD, or cannabidiol, is a naturally occurring compound that's found in plants or resinous flowers of cannabis plants such as hemp.
This natural compound has been used for thousands of years, and it has a rich history in providing relief via illness/injury. Cannabidiol can be extracted from the hemp plant, a relative of marijuana in the cannabis family.
CBD is one of many cannabinoids found in cannabis. Users won't get high when taking CBD alone. THC is the cannabinoid which creates the high feeling associate with marijuana.
CBD products in the United States are legally required to contain less than .03% THC, a negligible amount.
In other words, if you want the health benefits without the high, then CBD is a wonderful choice.

What Is Alzheimer's Disease?
As we begin to age, it is common that our memory isn't as sharp as it once was, but sudden memory loss could be an indication of a serious issue.
Have you ever heard of Alzheimer's disease?
Alzheimer's is a brain disorder that drastically destroys the memory and thinking ability. The ability to carry out simple tasks can diminish once this brain disorder takes effect.
This debilitating disease can manifest in two ways; late-onset later in life and early-onset at a younger age.
Dementia is a related condition and leads to the loss of cognitive functioning such as remembering, thinking, and reasoning. Dementia will range in severity. While it afflicts many people as they grow older, it is not considered a normal stage of the aging process.
Dementia is the most common cause of Dementia for older adults. It is also the sixth leading cause of death in the US.
There are treatments for Alzheimer's but no cure.

Does CBD Help Treat Alzheimer's?
Research on the benefits of CBD is easy to find.
A growing number of studies are being performed on how this natural compound can treat bodily illness and injury. From this research CBD has been shown to reduce inflammation and oxygen buildup within the brain.
Some studies even indicate that inflammation, oxygen buildup and brain cell decline can be reversed with consistent CBD use.
Elevated protein levels within the brain help remove plaque and dead cells. Patients have shown better motor function as well as an increase in memory.
Inflammation in the brain releases oxygen buildup, and greater inflammation tends to lead to more profound damage.
Since CBD is also an antioxidant, it does a great job of reducing oxygen stress levels, which significantly improves memory. Australian researches Tim Karl and Carl Group found that this natural compound promoted brain cell development during a 2011 study.
Thanks to CBD's higher production level of proteins in the brain, more plaque was removed for better brain function.
This increase in protein level is medically known as IL-33 and TREM2. The same information can be applied to individuals who suffer with Dementia.
Cannabinoids have also been shown to reduce anxiety and stress as well as stiffness within the body.
According to the journal "Therapeutics & Clinical Risk Management", CBD oil does an effective job of providing pain-relieving properties while producing anti-inflammatory effects.

CBD Oil and Alzheimer's
CBD oil works with the endocannabinoid system that's present in humans and animals. It improves the activity of endocannabinoid receptors for greater brain and bodily function.
CBD oil will also serve as a neurogenesis stimulant by aiding in the formation of neural tissues.
When it come to Alzheimer's disease, the neural tissues tend to rapidly deteriorate. This can result in memory loss, cognitive loss and severe changes in the person's behavior.
High quality CBD oil actually serves as a neurogenesis stimulate to slow down the deterioration process. This oil will also aid in the formation of neurons, which helps to combat Alzheimer's disease.
CBD Dosage for Alzheimer's
If you are going to try CBD for the first time, you might be wondering how much CBD to take for Alzheimer's. The best idea is always to start slow. Take the minimum recommended dosage and then increase the dose slowly if necessary.
As you can see, cannabidiol interacts with the brain in multiple ways for positive effects.
For more information about the best CBD for Alzheimer's Disease, contact Eden's Herbals at [email protected] today!
*These statements have not been evaluated or approved by the Food and Drug Administration and are not intended to diagnose, treat or cure any illness. Medical advice should be taken from a medical professional.
All of the articles on this site are written by 3rd party content providers, expert bloggers or doctors not directly affiliated with Eden's Herbals.
Individuals should learn the risks and side effects prior to taking CBD. Make sure to always check with a medical professional before starting any new CBD treatment or medication that is not FDA approved.