CBD Salves for Nerve pain
Posted by Eden's Herbals Staff on 10/12/2022 to
Information
Have you ever hoped you could find something that naturally fights nerve pain?
Here's your chance to see how applying CBD salve may be one of the best options to fight your nagging pain. CBD is non-addictive and provides a sense of calmness and overall well-being.
Most of the information regarding CBD is very new. That's because CBD was only recently legalized, thanks to the 2018 Farm Bill Act. But what researchers have found, especially regarding CBD's ability to mitigate pain, is impressive.
Keep reading to use CBD salve to fight nerve pain and find its many other benefits!
What is Nerve Pain?
According to the CDC (Centers for Disease Control and Prevention), 10% of Americans suffer from nerve pain. Among these 10%, most rely heavily on pain relievers.
Nerve pain, known as neuropathic pain, can be felt as a throbbing or stabbing sensation throughout your arms, legs, hands, and feet. For example, an injury to your back might cause nerve pain to travel down your legs.
Caused by damaged nerves and a lack of good blood flow, several conditions may cause nerve pain:
Slipped disc in back

Chemotherapy

Broken foot or ankle

Multiple Sclerosis

Shingles infections

Stroke

Carpal tunnel syndrome
How To Tell if I Have Nerve Pain?
According to Loma Linda University, a leading neuropathic pain treatment center, nerve pain symptoms include the following symptoms:
Sharp, throbbing sensations

Loss of coordination

Numbness in hands or feet

Muscle fatigue

Low blood pressure

Extreme sweating
Does CBD Salve Work for Nerve Pain?
Cannabidiol (CBD) is one of over 100 cannabinoids in the hemp plant. A variety of cannabis, hemp contains a relatively low amount of THC, making it ideal for CBD production.
Because CBD is only recently legalized, thanks to the 2018 Farm Bill Legislation, we are still in the early stages of knowing how effective it is in pain relief. However, there has been some exciting development, particularly in topical CBD applications for nerve pain.
CBD Salve for Peripheral Neuropathy
Caused by damaged nerves outside the spinal cord, peripheral neuropathy makes it challenging just to get out of bed. CBD cream may hold the answer.
In 2020, scientists applied 250mg of CBD to patients with peripheral neuropathy. After four weeks, researchers found that topical CBD "significantly" improved pain outcomes.
CBD Salve for Nerve pain in Back
Back pain affects almost all of us at some point. Even more challenging is the dangerous lure of addictive painkillers such as opioids. The National Institute of Health (NIH) is heading a program called the Heal Initiative, looking for alternatives to addictive painkillers.
CBD may have anti-inflammatory properties that make it a perfect replacement for opioids. One study showed that topical CBD, such as Eden's Herbals Salve, significantly improved back pain without using addictive painkillers.
CBD Salve for Nerve Pain in Feet
One of the more common complaints, especially for diabetics, is foot pain. Caused by a lack of blood flow to the extremities, foot pain may also be caused by an injury or sciatic nerve pain - which shoots down the leg.
CBD salve makes an excellent remedy, mainly because of its ability to hit the pain directly where it hurts. Studies have shown CBD also may improve metabolic function, making it ideal for diabetic application.
CBD Salve for Shingles Nerve Pain
Shingles are a form of chickenpox, usually more common in those over 50. When affected by shingles, your nerves are essentially exposed - making it very painful. CBD may hold hope, but more research is needed.
CBD Salve for Fibromyalgia
CBD works by interacting with your ECS or Endocannabinoid System. Your ECS is responsible for virtually all your bodily functions, including pain receptors in your nervous system.
Researchers studying fibromyalgia, a painful nerve condition, found that CBD isolate and creams may help treat myofascial pain associated with the disease.
What Type of CBD Is Best for Nerve Pain?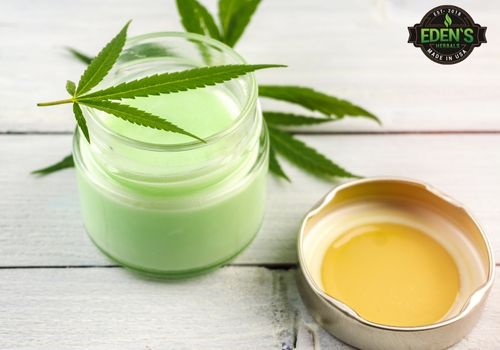 There are several forms of CBD available to treat nerve pain. CBD soft gel pills, for example, are an easy, pre-dosed option you can take-on-the go. Another option, typically used at home, is a high-quality full-spectrum CBD Oil, which contains THC and gives you an entourage effect.
Benefits: CBD Salve for Nerve Pain
CBD salves offer you CBD directly at the source of pain. Besides numbing your pain, CBD salves may also contribute to calmness and overall well-being.
CBD salves have the added benefit of soothing dry, cracked skin. Our CBD salve, for example, contains beeswax, sunflower oil, and cocoa butter that soften skin and leave you feeling younger.
How To Use CBD Salve for Nerve Pain
CBD salve is super convenient, perfect for bringing to the gym or keeping by your bedside for night cramps. To use, apply directly to the source of irritation. You can use CBD salve any time of the day. Some of the following ways to use CBD salve:
Use right before bed

Use it after your workout

Use on a stiff neck

Apply to your hands to relieve achy joints

Sunburns

Cracked and aging skin

Reduce pain easily on the go
How Long Does It Take for CBD Pain Salve To Work?
CBD salve stops nerve pain directly at the source. While traditional CBD delivery, such as tinctures, are processed first through the liver, CBD salves work by first penetrating the skin. CBD salves work instantaneously to provide relief and interact with your Endocannabinoid receptors.
Are CBD Salves Safe?
Yes. According to The World Health Organization (WHO), CBD is safe and well-tolerated in adults. In addition, our CBD salves are THC-free, meaning there's no concern about getting high or testing positive on a drug test.
Concluding Thoughts: CBD Salve for Nerve Pain
When buying CBD salves, consider checking out your prospective manufacturer's website. Look for a lab report, also known as a Certificate of Analysis (COA). Not only do lab reports test for THC content, but they also show the purity of each batch sold.
We provide lab reports and source all our CBD from organic hemp growers in the U.S. This ensures your CBD salve is free of impurities and other harmful pesticides. Other advantages to buying from Eden's Herbals include the following:
CO2 Extraction

No prescription required

THC-Free

No toxic ingredients

Natural essential oils
If you want additional information about CBD Salves, contact Eden's Herbals at [email protected] today!
*These statements have not been evaluated or approved by the Food and Drug Administration and are not intended to diagnose, treat or cure any illness. Medical advice should be taken from a medical professional.
All of the articles on this site are written by 3rd party testing content providers, expert bloggers or doctors not directly affiliated with Eden's Herbals.
Individuals should learn the risks and side effects prior to taking CBD. Make sure to always check with a medical professional before starting any new CBD treatment or medication that is not FDA-approved.