CBD Salve for Dogs
Posted by Eden's Herbals Staff on 10/24/2022 to
Information
If you're familiar with success stories and CBD, that's no surprise. In fact, CBD is now being used in FDA-approved medications to treat severe epilepsy. And because you and your dog both have an Endocannabinoid System, we can apply the same therapies to your dog that benefit you.
CBD salve may be the best way to offer your dog soothing relief because it hits its pain point directly. If your buddy suffers from any of the following conditions, CBD salve is the perfect remedy:
Dry nose

Cracked paws

Dry elbows

Skin tags

Broken nails
Not only will CBD salve help them achieve health, but your pup will also even feel better mentally - like a mini-vacation.
Today, we'll examine CBD salve, its benefits, and how much you should give your pup for optimal health. Their joints, skin, brain, and body will thank you for reading this!
What Is CBD Salve?
CBD salve is a topical form of cannabidiol, one of the primary cannabinoids found in cannabis Sativa. Unlike cannabis' other primary cannabinoid, THC (tetrahydrocannabinol), CBD is non-psychoactive. That's because CBD is sourced from hemp, the low-THC variety of cannabis. By law, CBD products, like our full-spectrum tinctures, contain 0.3% or less THC.
Aside from cannabidiol, CBD salve contains other potent ingredients nourishing your dog's skin. Eden's Herbals, for example, uses the following ingredients in our proprietary CBD salve stick:
Soybean Oil

Bees Wax

Sunflower Oil

Cocoa Butter

Shea Butter

Aloe Vera

Essential Oils

Coconut Oil

1000 mg CBD
How Does CBD Salve Work on Dogs?
CBD penetrates your dog's skin and directly affects its trouble spot. Unlike CBD oil or dog treats, CBD salve bypasses your dog's liver and digestive system. Once applied, CBD salve works with your dog's ECS, or Endocannabinoid System, to provide immediate relief.
As mentioned, all mammals have an ECS, a complex physiological system regulating virtually every mental and bodily function - from pain receptors to organ function and emotional well-being. Once your little guy gets some CBD, their ECS "interprets" the cannabinoids and sends signals for therapeutic relief.
Benefits: CBD Salve for Dogs
CBD salves are ideal for your dog's skin, mood, and overall health. CBD salve may help your dog feel relief faster than a tincture or CBD treat when applied directly to their affected area. Because CBD bypasses your dog's digestive system, valuable hemp oils stay intact. Oral administration may alter the amount of CBD absorbed.
CBD studies on dogs are limited, but because they also have an ECS system, it's easy to determine its effectiveness by looking at several studies. Applying CBD salve directly to your dog's skin may benefit them in the following ways:
1. Reduce Itching
Research indicates that CBD may significantly reduce itching. If your dog is suffering from mange or just dry skin, apply a dime-sized lotion of CBD cream or
salve. Our roll-on stick makes it super easy to apply to your guy's hot spots or fungal infections.
2. Pain Relief
CBD may be their best bet if your dog's suffering from arthritis. Because CBD is natural, you don't have to worry about putting them on painkillers or other pricey prescriptions. Research shows CBD helps achy joints and even relieves symptoms associated with fibromyalgia. CBD has also been shown to promote wound healing naturally.
3. Anti-Seizure
Many dogs, especially as they age, suffer from seizures. While research is limited on canines, the Food and Drug Administration (FDA)recently approved a CBD-based medication for treating severe epilepsy in children.
4. Anxiety Relief
In studies with PTSD survivors, CBD effectively treated several anxiety-related symptoms. Although the studies were conducted on humans, CBD may be effective in treating dogs from abused environments, such as rescue canines.
Is CBD Salve Safe for Dogs?
CBD is considered safe by the World Health Organization. Some side effects may occur, including:
Drowsiness

Lethargic

Dry mouth

Loss of appetite
Additionally, CBD is ideal because it doesn't interact with other medications. CBD works naturally with your dog's mind and body to provide optimal relief. Our CBD salve is also THC-Free, meaning your dog won't get high.
How Much CBD Salve Should I Give My Dog?
There's no risk of your dog overdosing from CBD. Our handy CBD roll-on stick is ideal for treating arthritic joints, cracked and dry skin, and everyday aches and pains. Spread a healthy layer to the affected area, wait 15 minutes, and you'll notice your dog's condition improve dramatically.
Use your own judgment as to how much CBD salve your dog needs. Smaller dogs, for example, may only need one application daily. Consider using it for at least 30 days to see the long-term benefit. Once the CBD has built up in their ECS, you can scale usage back to maintenance application.
What To Look For When Shopping for CBD Salve
Not all CBDs are created equal. While CBD is, in itself, natural, the way it's sourced varies. For example, some manufacturers use chemical extraction to obtain valuable CBD cannabinoids. This process, while cheap, leaves impurities and unwanted residue.
We extract all our CBD through a CO2 extraction process, which leaves a clean, finished product free of chemicals. Additionally, we provide a lab report, which indicates the THC content of every batch. Finally, we source all our CBD from organic, American-based farms in Oregon and Colorado.
Is CBD Salve Legal?
Yes. CBD was legalized in 2018. Because CBD is sourced from hemp, the low-THC variety of cannabis, CBD is perfectly legal. Because the CBD industry is not well-regulated, consider buying from a reputable manufacturer first. By law, CBD can contain no more than 0.3% THC.
Final Thoughts: CBD Salve for Dogs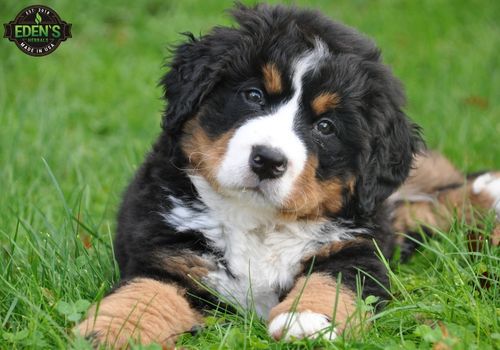 As always, speak with your veterinarian before starting your dog on a CBD regimen. CBD salves are a great starting point for almost every dog. Once you notice their skin's relief, you can check out our CBD oil for dogs and CBD dog treats.
Adding CBD tinctures to your dog will give their mind, body, skin, and overall health a double dose of nature's hidden therapy. By incorporating all CBD offers, you can help your furry guy live the quality life they deserve!
If you want to learn more about CBD salves for dogs, contact Eden's Herbals at [email protected] today!
*These statements have not been evaluated or approved by the Food and Drug Administration and are not intended to diagnose, treat or cure any illness. Medical advice should be taken from a medical professional.
All of the articles on this site are written by 3rd party content providers, expert bloggers or doctors not directly affiliated with Eden's Herbals.
Individuals should learn the risks and side effects prior to taking CBD. Make sure to always check with a medical professional before starting any new CBD treatment or medication that is not FDA approved.