CBD Oil in Kansas City
Posted by Eden's Herbals Staff on 6/2/2022 to
Information
Kansas City - Waterfalls, great sports, and, most importantly, great BBQ! But did you know KC is also a great place to enjoy CBD? Missouri has very relaxed laws about enjoying CBD and even allows it in drinks and food.
In this post, we'll cover all you need to know about CBD oil in Kansas City. Keep reading to find out the following:
What is CBD oil?

Is CBD legal in Kansas City?

CBD laws: Missouri

CBD laws: Kansas

Best places to enjoy CBD in KC

Where to buy
What Is CBD Oil?
CBD oil, short for Cannadabiol, is a low THC (tetrahydrocannabinol) compound derived from the hemp plant. Shortly after CBD's legalization in 2018, the CBD-based drug Epidiolex was approved by the FDA to treat severe epilepsy.
Unlike marijuana, which is very high in THC, CBD doesn't leave you feeling high. According to The World Health Organization (WHO), CBD is also safe and well-tolerated. Because we're in the beginning stages of legalization, we still know very little about CBD's benefits.
Research has shown tremendous promise, however. Some potential benefits of CBD oil include the following:
Is CBD Legal in Kansas City?
Kansas City, or 'kanscity' as locals call it, is unique in that it's a central metropolitan area that's located in two states. Sometimes city ordinances dictate laws, while other times, states supersede the local mandates.
Federally speaking, CBD is legal in all 50 states, as long as it contains less than 0.3% THC. But possession and point-of-sale laws differ by state. For those of you in KC, CBD laws will fall into which state you reside in.
CBD Laws in Missouri
Missouri has a tolerant view of CBD laws and legalized CBD even before the Farm Bill Act of 2018. HB 2238 legalized CBD in 2014 for the treatment of epilepsy. In 2018 the Missouri statehouse removed hemp from the state's controlled substance list.
There are no restrictions on CBD foods, like CBD gummies or CBD drinks, in Missouri. The agency responsible for regulating CBD in Missouri, the Missouri Division of Alcohol and Tobacco Control, lists the following legal criteria:
CBD is allowed for use in foods and drinks (including alcoholic beverages)

No minimum age for CBD.

No prescription is needed.
Vendors may legally sell CBD (although quality can be suspect - more on that later).
CBD Laws in Kansas
Although Kansas, like Missouri, has lenient CBD laws, there are some differences you might consider before crossing state lines. Kansas passed two CBD laws in 2018, the Alternative Crop Research Act and SB 282.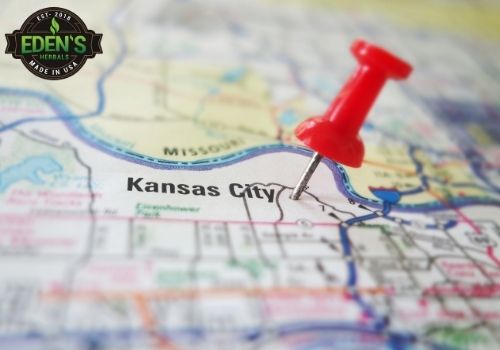 The Alternative Crop Research Act, or SB 263, allowed public universities and local farmers to collaborate on hemp research. The second bill, SB 282, legalized CBD throughout the state. Unlike Missouri, however, only THC-free CBD is accessible in Kansas.
In 2019, the Kansas Industrial Hemp Program was created and laid out the following criteria for CBD in Kansas:
Full-spectrum oil and other CBDs with THC are considered illegal.

Parents who use CBD-approved products are protected from child removal.

No prescription is required.

No minimum age requirements.
CBD is legal to buy from local vendors, but buying online reduces your risks.
Where Are the Best Places To Enjoy CBD in KC?
Although growing, Kansas City, Kansas is considered a suburb in greater Kansas City. That's good news for CBD enthusiasts, as most vibrant city attractions are found on the Missouri side of town.
While THC-free CBD oil is a great product, especially if you're concerned about an upcoming drug test, you'll benefit more from a full-spectrum CBD product. That's because full-spectrum contains trace amounts of THC and over 100 compounds found in the cannabis plant.
This combination of THC and CBD provides an 'entourage effect' and helps you enjoy the sights and sounds of one of the most beautiful cities in the U.S. Some of the main attractions that CBD will help intensify include the following top four locations:
1. Let's start with BBQ - after all, CBD might stimulate your appetite, according to recent studies. Joe's KC Gas Station BBQ is off the beaten path (but locals know about it!). You have to get there early because you'll find a long line - but it is worth the wait!
2. Delaware Street: Located next to City Market is trendy Delaware Street, a row of excellent restaurants and coffee houses. Since CBD is legal in KC, you can put a shot of CBD in your beer or coffee for an extra boost of fun.
3. The Plaza District: This historic district may have more waterfalls than any city in the U.S. (and the world!) and offers shopping and incredible views.
4. 39th Street West District: This funky strip contains excellent food and drinks, as well as Prospero's, a historically used bookseller, where you can easily get lost in the three stories.
Where To Shop: CBD Oil Kansas City
When it comes to purchasing CBD in Kansas City, there are a few things you'll want to consider, including:
Which State Are You Purchasing From?
As discussed, Kansas and Missouri have different laws regarding CBD. Although there's no minimum age for CBD in each state, Kansas only allows THC-Free CBD oil.
Does Your KC Vendor Have Lab Report?
A lab report, or analysis, ensures you buy CBD from a reputable manufacturer. If you live in Kansas, check out our THC-Free lab report. If you're purchasing in Missouri, and want the maximum effect found in 0.3% THC, Full-Spectrum CBD Oil, check out this link.
Is Your CBD CO2 Extracted?
Traditional CBD extraction uses chemicals and solvents that break down the final product. While cheap, this process dilutes your CBD and includes harmful solvents. Eden's Herbals uses an expensive CO2 extraction process that removes all toxic residues and leaves a fine end-product.
Is It Organic?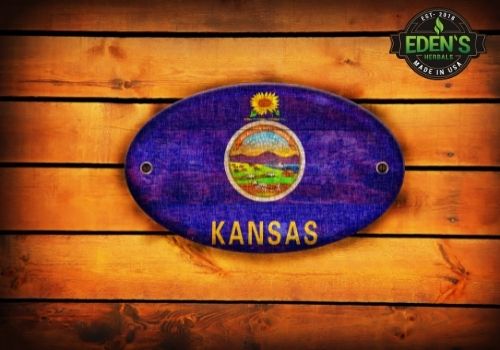 As more of our food supply faces scrutiny, many of us now look for organic for optimum health. We source all our CBD from Organic Farms, meaning no pesticides. As an added bonus, we use only American-made hemp, ensuring better quality control.
If you want to learn more about buying CBD oil in Kansas City, contact Eden's Herbals at [email protected] today!
*These statements have not been evaluated or approved by the Food and Drug Administration and are not intended to diagnose, treat or cure any illness. Medical advice should be taken from a medical professional.
All of the articles on this site are written by 3rd party content providers, expert bloggers or doctors not directly affiliated with Eden's Herbals.
Individuals should learn the risks and side effects prior to taking CBD. Make sure to always check with a medical professional before starting any new CBD treatment or medication that is not FDA approved.