CBD Lollipops
Posted by Eden's Herbals Staff on 11/29/2021 to
Information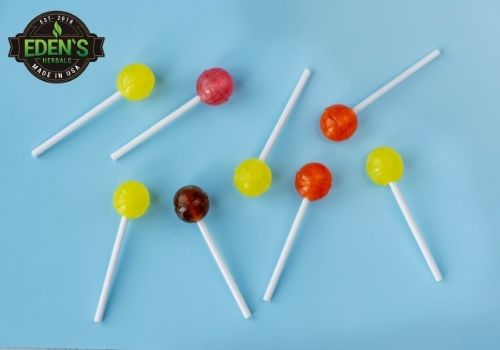 CBD lollipops satisfy your sweet cravings while delivering the benefits of CBD (cannabidiol). CBD edibles, including gummies and lollipops, are increasingly popular because of their convenience and great taste. In addition to the health boost you'll receive, CBD lollipops are a great way to reduce anxiety and relieve pain.
CBD lollipops, also known as CBD suckers, are CBD oil-infused candy. Numerous studies have shown CBD to be effective at treating a range of conditions, including a recent FDA approval for seizures.
You can find CBD lollipops online or, even better, create your own! In this post, we'll cover the CBD lollipop benefits, what happens when you eat a CBD sucker, and a DIY CBD lollipop recipe.
Do CBD Lollipops Make You High?
No, CBD doesn't get you high. CBD (cannabidiol) and THC are the two primary compounds found in cannabis Sativa. Both THC and CBD provide potent anti-inflammatory properties. Even though CBD is isolated from THC through an extraction process, it still retains its therapeutic benefits.
While CBD oil contains trace amounts of THC (0.3%), these are too small to produce intoxication. CBD itself is derived from the hemp plant, which has no psychoactive compounds. Fortunately, there are also Hemp and THC-free CBD oil available for those that want to be completely free of THC.
What Are the Benefits of CBD Lollipops?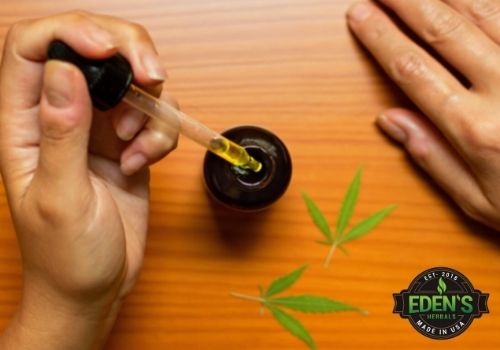 CBD lollipops are a legal and safe way to receive all the benefits of cannabis. CBD suckers are a convenient and discreet treat you can bring to work or other conspicuous situations where a CBD bottle might be unsuitable. Best of all, they taste great and are good for your health.
CBD works by interacting with your endocannabinoid system (ECS), a physiological system that regulates your body's response to inflammation. Researchers in the 1990's discovered that the cannabidiol compound in cannabis reacted favorably with the ECS, and several disease biomarkers responded favorably to CBD treatment. Studies suggest that the following conditions could potentially be relieved with CBD:
Pain
Because of CBD's anti-inflammatory properties, research has shown it to be effective at treating pain. One NIH study found "therapeutic potential for relief of arthritis pain-related behaviors and inflammation without evident side-effects."
Anxiety
Recent studies showed that CBD effectively treats PTSD, SAD (seasonal affective disorder), and many other anxiety-related issues.
Acne
CBD's an anti-infective, meaning it can help clean pores and clear up acne.
Diabetes
Recent studies have shown positive responses to diabetes management.

What Happens When You Eat a CBD Lollipop?
CBD lollipops work much like CBD tinctures as both are placed under the tongue and absorbed through mucus membranes. Because the liver is bypassed when ingesting CBD orally, users experience a higher absorption rate.
In addition to the higher absorption rate, CBD lollies are in your mouth much longer than a tincture, giving you additional bioavailability.
While most prefer sucking on lollipops, what happens when you chew and eat one? Your mucus membranes will absorb some of the CBD, even if you eat your lollipop.
When digested, enzymes in the stomach will also do some of the CBD conversion. By ingesting your lollipop, both your stomach and bloodstream contribute to supplying your body with CBD.
How Long Does It Take for a CBD Lollipop to Work?
Because of the increased bioavailability of CBD lollipops, users report feeling effects in as little as twenty minutes. An additional advantage of CBD lollipops is that your bloodstream receives a continuous flow of CBD while it's in your mouth.
If you eat your CBD lollipop on an empty stomach or have a high metabolism, this will affect how fast the CBD is absorbed in your system. In addition, your body weight can affect the amount of time it takes for the CBD lollipop to take effect.
CBD Lollipop Recipe
Unfortunately, some shops sell CBD that's inaccurately labeled. If you're not sure where to buy CBD lollipops, we've created the ultimate DIY CBD lollipop recipe for you. Our CBD oil has been third-party tested and contains only 0.3% THC. Full-spectrum CBD oil will give you the most health benefits, as it contains cannabinoids and terpenes present in the hemp plant.
Supplies You'll Need
Before starting your Homemade CBD lollipop, make sure you have the following utensils:
CBD tincture

Parchment paper

Lollipop mold

Lollipop sticks

Candy thermometer

Stirring equipment

Medium saucepan
If you're looking for a third-party and purity-tested CBD, Eden's Herbals has both full-spectrum and THC-free CBD oil for your tincture ingredients. If you're new to candy making, consider baking a few batches until you're comfortable.
Ingredients: CBD Lollipop
Most of these are common ingredients, easily found at your nearest grocery store or online.
3 Tablespoons of your favorite CBD tincture

3 Teaspoons of flavor extract (cherry, orange, etc.)

1 cup of regular sugar

1/2 cup of corn syrup (light)

1/4 cup of water

Food coloring
DIY CBD Lollipop Instructions
Lay parchment paper out on all countertops before you begin. Next, lay out all your ingredients. Follow the steps below to make CBD lollipops.

Mix sugar, water, and corn syrup together in your saucepan.

Stir the mixture over medium heat until the sugar dissolves.

Stop stirring when your mixture starts to boil.

Immediately put the candy thermometer in the liquid. Please don't stir.

Watch the thermometer and remove the mixture from the stovetop when it reaches 300 degrees Fahrenheit. Leave the candy thermometer in the mixture.

As the mixture cools down, watch the candy thermometer until it reaches 250 degrees Fahrenheit. Next, stir in 3 teaspoons of your choice of flavor extract. You can skip this step if you prefer the earthy, nutty taste of CBD.

For the next step, stir in your favorite CBD tincture and food coloring. Set the mixture aside.

While your mixture is hardening, place your lollipop sticks in the lollipop molds. If you're making hard candy, you can skip this step.

Before the mixture has hardened and is still somewhat malleable, pour your mixture into your molds. If the mixture hardens, re-melt it on low heat.
After half an hour, your lollipops are ready!
Store them in a cool, dark room with an airtight container.
If you want to learn more about CBD Lollipops, contact Eden's Herbals at [email protected] today!
*These statements have not been evaluated or approved by the Food and Drug Administration and are not intended to diagnose, treat or cure any illness. Medical advice should be taken from a medical professional.
All of the articles on this site are written by 3rd party content providers, expert bloggers or doctors not directly affiliated with Eden's Herbals.
Individuals should learn the risks and side effects prior to taking CBD. Make sure to always check with a medical professional before starting any new CBD treatment or medication that is not FDA approved.