Buying Full Spectrum CBD Oil
Posted by Eden's Herbals Staff on 10/26/2020 to
Information
CBD's massive growth in popularity has, by and large, been a wonderful thing for customers. The CBD business has exploded, with at least one estimate calculating that the industry will more than double in size every year for the next three years. This affords consumers a wide array of choices for all-natural pain relief from CBD.
However, with those choices come challenges. CBD is popular, but that doesn't mean that all CBD products are created equal.
Unfortunately, the United States Food & Drug Administration has failed to issue regulations that keep up with the massive surge in the popularity of CBD. Regulations regarding labeling, testing, and more are not expected until a later date.
This is not a hypothetical problem for consumers - it is a very real one. In 2017, the University of Pennsylvania conducted a study in which they examined 81 different CBD types. Astonishingly, they found that nearly 70% were mislabeled.
This means that consumers were buying CBD products that weren't accurately labeled for basic ingredients - to say nothing of whether or not they were high quality.
So, what makes a product high-quality? And where can you find them? Thankfully, there are answers.

What Makes for High Quality, Full Spectrum CBD?
Full Spectrum CBD comes with as many of its naturally occurring elements as possible. This means that it is minimally processed to include all naturally occurring cannabinoids, terpenes, and flavonoids from hemp plants.
This also includes THC, or tetrahydrocannabinol, which is a specific type of cannabinoid. It is most well-known as the cannabinoid found in marijuana that is responsible for intoxication. However, in legally produced CBD, there is no more than .3% THC, an amount that is far too low to result in any sort of intoxication for users.
THC's presence is important, and it makes the difference between a Full and Broad Spectrum product.
Broad Spectrum CBD contains no THC. As such, it lacks the so-called Entourage Effect that is enjoyed by Full Spectrum Users. Indeed, there is some evidence to back up the idea that Full Spectrum CBD provides for a different experience. Some types of pain may respond better to full-spectrum CBD while pure isolate CBD may work best for others.
So, what makes for high-quality, Full Spectrum CBD?
1. High-quality processing: Remember, when it comes to processing CBD, there are some methods of processing CBD that are superior to others. Arguably the best method is carbon dioxide extraction, in which pressurized CO2 is used to push CBD and related compounds from the cannabis sativa plant to create CBD.
This method is also the most expensive, as it involves a decent amount of equipment and gasses to operate. However, it creates the purest forms of CBD and leaves no other impurities on a product. This is not the case for other methods of extraction, like when a product is infused with oil.
2. A reasonable price: Like most things, high-quality CBD will not be cheap. High-quality CBD relies on cash-intensive testing, processing, and research. This isn't inexpensive, and it's not unreasonable to be asked to pay a fair price for high-quality CBD.
3. Transparent lab results: If a CBD company does not have a third-party Certificate of Analysis, it has something to hide. This Certificate shows the lab results of the batch of CBD that you are purchasing.
This, in turn, will show all of the various levels of cannabinoids and any pesticides or harmful materials. If a company doesn't have its lab results available, you should not buy from them, as they clearly have something to hide.
4. High levels of CBD: There is no "set" CBD level that operates better than others. However, this is why you should always comparison shop, and one of the reasons that using the internet to shop for CBD is often a better method.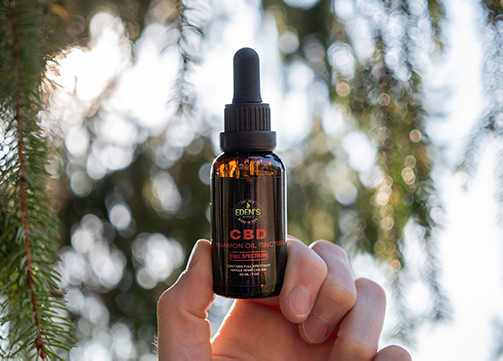 It is important to remember that CBD is not meant to treat, cure, or prevent any diseases, but it has been proven to reduce pain and anxiety. CBD products are not evaluated by the food and drug administration and are not intended to treat certain medical conditions.
CBD has been found to have very few and mild side effects and is considered very safe for short and long-term consumption. We recommend consulting a qualified physician before starting a CBD regimen, but the most important thing is to find a trustworthy and reliable CBD store.
Where Can You Buy High Quality, Full Spectrum CBD?
Now that we have established what makes a Full Spectrum product high-quality, let's review where you can find it.
Generally speaking, you can buy CBD in one of two places. First, there are brick and mortar stores. No state in America requires that any store have a special license to sell CBD, so you can purchase CBD almost anywhere, from a gas station to a highway rest stop to a grocery store.
While this may be convenient, it can also be dangerous. If you have questions about the CBD product, it is highly unlikely you will get an informed answer. Given the wide variety of CBD products out there and their wide range of quality, this can be a huge problem for consumers.
You can also make the purchase in a CBD specialty store. These employees likely know more about a product than anyone in a gas station. However, it may be hard for you to do your own research and compare one product to another.

Buy Full Spectrum CBD Online
You can also purchase CBD online. A good store will offer a variety of benefits, including:
1. Easy access to 3rd party lab analysis: As noted above, all CBD products should come with a third-party analysis. When you purchase a product online, you'll be able to click on the link and easily read the analysis. If you have any questions about a product, you can also use their customer service widgets or Google an item.
2. Quality customer service: You should only buy CBD from internet companies that have good reviews on Google or other related services. Keep in mind that people usually only share their experiences if they have an extremely positive or negative one, but multiple negative reviews should set off warning bells.
Additionally, a website should have a variety of online customer service options, including phone, Emails, and online chat.
3. In-depth information on the source and manufacturing of the CBD: If you have to dig hard to find how a company grows and processes its CBD, they clearly have something to hide. That information should be available front and center.

Conclusion
Of all of these, it is clear that Eden's Herbals presents educated customers with all of these benefits and more. It allows you to easily read their CBD Certificate of Analysis, as the company wants its consumers to be informed and understand what they are purchasing.
It has great reviews on a variety of services and allows you to easily contact them with questions that you may have, and it discusses its CBD manufacturing processes on its front page. Additionally, Eden's Herbals has a sharply formatted website that makes comparison shopping a breeze.
No matter where you purchase CBD, make sure that you are an informed customer. However, if you are looking for a great CBD website that offers high-quality, Full Spectrum CBD, check out Eden's Herbals.