2022 CBD Holiday Gift Guide [Bonus Recipes]
Posted by Eden's Herbals Staff on 11/30/2022 to
Information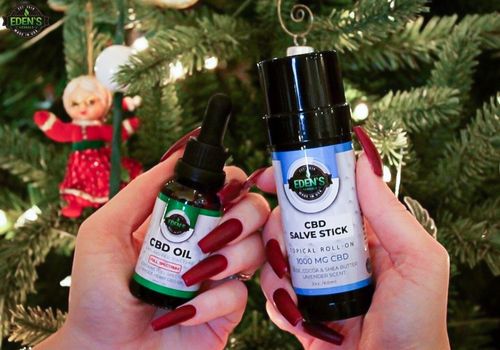 With the holidays right around the corner, finding that perfect gift can get a little stressful. Let us help take the stress away with this simple and sweet CBD holiday gift guide.
Whether you are looking for a gift of relief for a loved one or looking to relax during the holiday season, these gift ideas and recipes are sure to hit the spot.
In this guide, we will include the following:
Why Choose CBD?

Best CBD Gifts

Who Can Use CBD?

CBD Holiday Recipes

Where to Buy CBD Gifts

Conclusion
Why Choose CBD?
CBD is a natural alternative to traditional OTC medications. This cannabinoid provides relief from inflammation, pain, anxiety, and more. It is non-toxic and is an effective supplement for a variety of ailments. CBD can also be used as part of a healthy lifestyle or as a way to relax during the hustle and bustle of the holidays.
Best CBD Gifts
When finding the right CBD product to gift, there are a few things to remember when shopping. The first thing to consider is how the CBD product will benefit your loved ones or friends. Let's discuss some best-selling CBD products that make the perfect gift for anyone!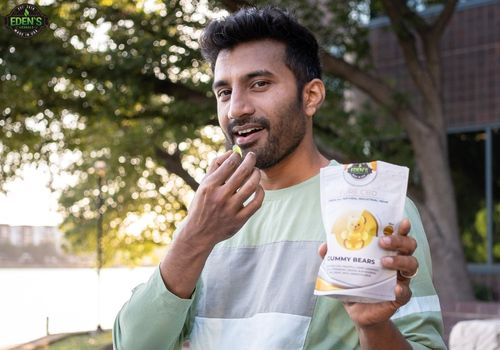 CBD Lotion - A CBD lotion is a great solution for anyone suffering from skin disorders, painful muscles, and even dry skin! CBD lotion works by penetrating the skin's surface to provide relief deep into the skin's layers. CBD lotion also works great for painful arthritis and muscle aches.
CBD Gummies- CBD gummies are the perfect sweet treat that packs a punch of relief. Gummies are a perfect gift for someone who wants quick relief without the fuss. By purchasing pre-dosed CBD gummies such as Eden's Herbals 1000mg CBD Gummies, you will receive 20mg of CBD per gummy, making dosing a breeze.
CBD Oils- CBD Oils are the most effective and direct way to get relief fast! CBD oil is a great gift for anyone suffering from:
chronic pain

anxiety

sleep disorders

nausea
Another great thing about CBD oil is that it is versatile. You can add CBD oil to your favorite drinks and food or just take it straight from the bottle. With many options available, the most popular oils are THC-Free or Full-spectrum CBD oils. Eden's Herbals provides a large variety of strengths as well as two flavor options for both THC-free and full-spectrum CBD oils.
CBD Salve Stick- CBD Salve sticks are a great gift for someone who is always on the go. CBD salve sticks provide targeted relief to specific areas of the body, such as an achy knee or sore shoulder.
The combination of natural herbs, essential oils, and hemp-derived CBD in these products helps reduce inflammation and offers soothing comfort throughout the day.
CBD Pet Products- That's right, CBD for your pets! Fill your furry loved ones stocking with CBD pet oils and treats! Not only do we crave relief, but so do our pets. By adding CBD to your pet's daily regimen, you can expect pain relief, inflammation reduction, and better well-being.
Who Can Use CBD?
Anyone curious about exploring the natural benefits of CBD can use it safely! From children to the elderly, those who suffer from chronic pain or anxiety, and even athletes looking for a competitive edge. While it is highly suggested you consult with your doctor before starting any new supplements, numerous studies have been done on the safety of CBD.
Additionally, high quality CBD is not psychoactive and does not contain any THC, so no worries about your loved one getting high from their CBD gift!
CBD Holiday Recipes
The holidays are the perfect time to gather with family and friends to enjoy some of our favorite recipes. Let us help bring some relaxation and peace into your home this holiday season with these mellow treats.
CBD Hot Chocolate
Cozy up this winter with this rich and delicious hot chocolate recipe!
Ingredients:
2 cups of almond or coconut milk

3 tablespoons of unsweetened cocoa powder

2 tablespoons of sugar or honey (optional)

1 teaspoon of vanilla extract

Pinch of sea salt

1 dropper full of Eden's Herbals 1000mg CBD oil
Instructions:
1
. In a pot over medium heat, add the almond or coconut milk and stir in cocoa powder, sugar (or honey), vanilla extract, and sea salt until combined.
2. Bring to a simmer for about 5 minutes, stirring often.
3. Remove from heat and stir in 1 full dropper of Eden's Herbals 1000mg CBD oil.
4. Serve and enjoy!
**Note: For a stronger dose of CBD, add an extra dropper full to your hot chocolate.
CBD Chocolate Brownies
There's no better way to get that warm fuzzy feeling on the inside than with some hearty chocolate brownies. Perfectly balanced with CBD, these brownies are sure to hit the spot!
Ingredients:
1 cup of semi-sweet chocolate chips

¾ cup of melted butter (or coconut oil for a vegan option)

¾ cup of white sugar

2 teaspoons of vanilla extract

2 eggs (or flaxseed eggs for the vegan option)

¾ cup of all-purpose flour

Pinch of sea salt

1 dropper full of Eden's Herbals 1000mg CBD oil
Instructions:
1. Preheat the oven to 350 degrees F (175 degrees C). Grease an 8-inch baking dish with butter or cooking spray.
2. In a large bowl, melt the chocolate chips and butter in the microwave for 30 seconds at a time, stirring between intervals until melted and combined.
3.
Stir in the sugar and vanilla extract into the melted chocolate mixture until combined. Add in eggs (or flaxseed eggs) one at a time, stirring until combined.
4. Slowly add the flour and sea salt to the chocolate mixture, stirring until just combined.
5. Stir in 1 dropper full of Eden's Herbals 1000mg CBD oil into the batter until fully incorporated.
6. Pour the batter into the prepared baking dish and bake for 20-25 minutes or until a toothpick comes out with moist crumbs.
7. Let them cool and enjoy!
**Note: For a stronger dose of CBD, add an extra dropper full to your brownie batter.
CBD Candy Canes
While also perfect for a sweet treat, CBD Candy Canes also make a great tasty holiday gift. Not only do they look great hung up on a Christmas tree, but your friends and family will be thankful for the relaxation they receive!
Ingredients:
¾ cup of white sugar

¼ cup of light corn syrup

½ teaspoon of peppermint extract

2 drops of red food coloring (optional)

1 dropper full of Eden's Herbals 1000mg CBD oil
Instructions:
1. In a large pot, add the sugar and corn syrup together over medium heat until melted.
2. Bring to a boil, stirring often, then reduce to low heat for about 7 minutes or until it reaches 300 degrees F (150 degrees C) on a candy thermometer.
3. Remove from heat and stir in peppermint extract, food coloring (if using), and 1 dropper full of Eden's Herbals 1000mg CBD oil until fully combined.
4. Pour the mixture onto a greased baking sheet and let cool for about 10 minutes or until cool to the touch.
5.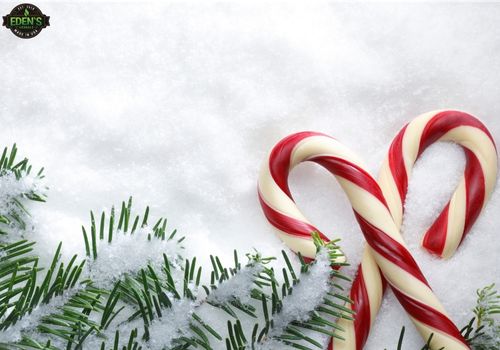 Once cooled, use a greased rolling pin to roll out the candy cane mixture until it's about ¼ inch thick. Cut with cookie cutters into desired shapes and sizes, then transfer onto parchment paper or wax paper to harden.
6. Let cool for another 30 minutes, then hang it up on the Christmas tree or package it into a festive container for gifting!
**Note: For a stronger dose of CBD, add an extra dropper full to your candy cane mixture. Enjoy!
Where to Buy CBD Gifts
When shopping online for CBD, doing a little research first is always important. Make sure you buy from a reputable company with customer service to answer any questions or concerns you may have. Also, look for lab reports on their website to ensure the quality and potency of their CBD product. Eden's Herbals is proud to offer all these things and more, so shop with confidence, knowing that you're getting top-notch CBD products!
Conclusion
CBD makes the perfect gift for anyone and everyone this holiday season. With all the delicious recipes included, you can relax and enjoy your holidays, knowing that CBD is taking care of everything else.
Shop with confidence when looking for quality CBD products for your holiday gifts, and don't forget to have some sweet treats yourself! Enjoy! We all of us here at Eden's Herbals wish you a happy & healthy holiday season! Cheers!
If you want to learn more about CBD Holiday Gifts and Recipes, contact Eden's Herbals at [email protected] today!
*These statements have not been evaluated or approved by the Food and Drug Administration and are not intended to diagnose, treat or cure any illness. Medical advice should be taken from a medical professional.
All of the articles on this site are written by 3rd party content providers, expert bloggers, or doctors not directly affiliated with Eden's Herbals.
Individuals should learn the risks and side effects prior to taking CBD. Make sure to always check with a medical professional before starting any new CBD treatment or medication that is not FDA-approved.